ICYMI
OU Football Preview Q&A with The Athletic's Jason Kersey
1:09 PM EDT on August 30, 2018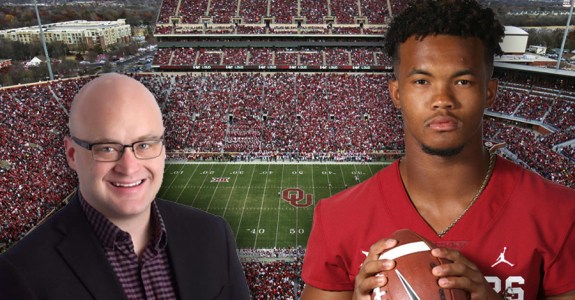 Where has 2018 gone?
This Saturday, the University of Oklahoma kicks off the post-Baker Mayfield era with an energy zapping 11:00am kickoff against The Fighting Schnellenburgers of Florida Oceanic University at Memorial Stadium in Norman. Or something like that.
To help get me, and hopefully you, caught up on things and prepared for the upcoming season, I conducted a back and forth email Q&A with Jason Kersey. He's the former OU football beat writer for The Oklahoman who now covers any and all things Sooners for The Athletic (subscribe today like I did and you get 40% off). We take a look at the depth chart, schedule, give some predictions and even make fun of OSU.
Here we go...
Patrick: Thanks for agreeing to do this! We should probably start with the question everyone will be asking during the season – when will Lincoln Riley fire Mike Stoops? I predict after the Baylor game. That always seems like a safe bet.
Jason: Oh boy, so we're diving right in, huh?
Here's what I think about Mike Stoops' job security: This is an absolutely crucial season for him. This is without a doubt the most talented defense Oklahoma has had since he's been back on the job. The staff -- and Lincoln Riley in particular -- has recruited its way out of the talent problem that has plagued the OU defense for almost the last decade. The defensive line and linebackers are -- on paper -- deeper than they have been in years. So this is a big year for Mike.
Patrick: It seems like we say the same thing every year about his defense. Has the modern game passed him by?
Jason: I think Mike had some legitimate gripes about the way the game is tilted toward offense a few years ago, but those excuses just don't hold water anymore. This is the way football is now, and simply throwing your hands up and saying, "What can I do?" isn't going to cut it anymore. Oklahoma won't be able to win a national championship until it gets its defense back into the top 40 or 45 nationally -- at the very least. I think last year, given that Lincoln got the job in the middle of the summer and got it from Bob, it was probably hard for him to make a change at defensive coordinator, even if he wanted to do that. Now that he led the team to a Big 12 title and Playoff appearance and is in his second season, I would think Lincoln probably feels -- and this is pure speculation on my part -- a little more freedom to do what he wants to do without having to worry too much about how that might affect his relationship with the Stoops.
And it's interesting you mention the Baylor game, because I think the OU defense is going to have a bunch of pretty tough tests right out of the gate. Lane Kiffin and Chip Kelly are both offensive gurus, and then in Week 4, OU gets Army, which I honestly think might be the toughest non-conference offense OU faces just because of how different it is. My gut says that if he is going to make any changes, Lincoln wouldn't do it until after the season. But if OU looks terrible in the first few weeks? Maybe those circumstances would demand more drastic action.
Patrick: I went with Baylor because it always seems like it's when Mike Stoops turns in his worst performance. They're the one opponent where Mike throws his hands in the air and says "Let's just keep the cornerbacks 20 yards off the receivers and see what happens."
You mention this is the deepest front seven OU has had in years. What about talent? Who are the next great Sooner defenders out of this bunch?
Jason: There are a lot of guys on that front seven with great potential. I think it starts with Kenneth Murray, who has really taken ownership of the OU defense at a remarkably young age. He was the first true sophomore I've ever seen represent OU at Big 12 Media Days, which I think speaks to that. Caleb Kelly was a 5-star kid out of high school who still hasn't quite lived up to that on the field, but could this year in his new position. Neville Gallimore's move to nose guard could mean a breakout year for him. Other names to watch are Amani Bledsoe, Ryan Jones, Addison Gumbs. The list really goes on and on in terms of talent on the defensive front, but it comes back to what we were talking about before: Scheme and coaching.
Patrick: What about the secondary? Motley and Norwood have the corner positions locked down, right? How many players will get to audition for safety? Who's this Brendan Radley-Hiles I keep hearing about?
Jason: Motley and Norwood definitely have the corner spots locked down, which allowed Jordan Parker to move to safety. I expect he will be one of the starters there. Parker was a highly-recruited kid who started several games at corner as a freshman, but was injured last season, allowing Norwood to secure that other corner spot. I like Parker and sophomore Robert Barnes to start at the two safety positions, although Kahlil Haughton and former OKC high school star Justin Broiles have pushed them this fall and will probably get to play a pretty good amount. Radley-Hiles -- better known as Bookie -- is one of the most hyped defensive freshmen OU has had in years and will play nickelback this season. He is smart and athletic enough to make an impact right away, and versatile enough for that impact to come in a variety of ways -- pass coverage, blitzing, etc. It may not be long before he's considered the best overall player on a defense that really is filled with talent.
Patrick: Is it really a good thing that a 5-10 freshman cornerback has the potential to become the "best overall player" on a defense? Isn't that a testament to Mike Stoops inability to recruit more talent?
Jason: We're talking about a 5-star recruit who held scholarship offers from Alabama, Clemson, Florida State, Michigan, Notre Dame, Penn State and Ohio State. And it isn't like undersized defensive backs are all that uncommon, so I'm not sure I agree with your premise. This is a highly talented, versatile and intelligent player that I think any college football fan would be thrilled to have on their team. If anything, I think this is a sign of how much better the recruiting has gotten in the last couple years on the defensive side.
Patrick: Let's talk about the other side of the ball. How will Kyler Murray do at QB? It's not a perfect analogy, but the situation reminds me of 2010 when Landry Jones replaced Sam Bradford. Jones threw 32 touchdowns and OU went 10-2, but there was still an obvious drop off from the Heisman winner.
Jason: Obviously, Mayfield is going to be quite difficult to replace, but I have to believe Murray is going to be a better, more dynamic playmaker than Jones was. Murray's talent is especially unique because of his running skills, and I'm going to be really interested to see how that changes Riley's playcalling. If Murray lives up to the billing, he could make one of the most prolific offenses in the country that much more difficult to stop. Of course, that doesn't account for the intangibles Mayfield brought to the table, and in that department, I don't know if anyone we'll see anyone replicate that for a long, long time.
Patrick: To be clear, I'm not comparing Murray, talent wise, to Jones. I just think they're in similar spots. The only difference is Murray has baseball to worry about, while Jones had a wife and bible study. Baseball will be a distraction, right?
Jason: Riley and Murray can say all they want about how dedicated Murray is to football -- and hell, he did come back despite that huge MLB contract -- but you have to wonder how much that stuff will be on his mind. Is he going to fight for those extra few yards on the ground and perhaps risk an injury? If things start rough, is he going to care as much as he might have knowing that baseball career is waiting for him? To be clear, I'm not saying there have been any warning signs about that stuff. It's just human nature, and I think it's fair to wonder that until we see him in action.
Patrick: I'm not worried about him "fighting for the extra yard." That seems like an instinctual thing that won't go away in the middle of a game. But I am very worried about how a set-for-life baseball signing bonus will affect a 21-year-old kid's motivation and preparation for a sport that he's not getting paid to play.
Let's play a game of realistic hypotheticals – say OU's offense struggles early, or maybe Murray gets a minor injury and Kendall plays well. Should Riley stick with Kendall because he'll be here longer? He was also a coveted recruit, right?
Jason: If the offense struggles, then Kendall comes in and plays well, there is no question. You stick with what is working. I have a hard time believing that Murray was ever really going to lose the preseason QB battle with Kendall, but I do think Kendall's practice performances made the battle last longer than most expected and maybe even made the decision harder. And yes, Kendall absolutely was a highly-recruited kid. Not only that, he was the first quarterback to commit to Riley after he became OU's offensive coordinator, so there is a special connection and relationship there.
The injury question is where things get a little more dicey, and really that comes down to a philosophical debate that coaches have been having forever: Should a guy lose his job because of an injury? I tend to think in most circumstances, no, he shouldn't. Of course, New England Patriots fans have never complained that Drew Bledsoe lost his job that way. And if Kendall comes in and lights it up with Murray injured, it would be hard to see him losing the job. Especially since the Oakland Athletics -- who, remember, have invested millions of dollars in Murray -- might have some say in whether he returns to the gridiron in that case.
Patrick: One thing that either QB will have is a stacked WR core. OU has CeeDee Lamb and Hollywood Brown, and I think every OU fan is high on Grant Calce... hold on... let me google his last name... Calcaterra. Anyone new we should watch for?
Jason: In addition to having the most badass-sounding name on the team, Charleston Rambo is a guy to keep an eye on. It sounds like he may not play in Week One because of a preseason injury, but he was a very highly-recruited kid who was ranked right around the same place nationally as Lamb. Nick Basquine is back after missing last season injured, so he should have some kind of impact. The only impact A.D. Miller has made in his OU career so far came in that 2015 classic win at Tennessee, when the then-true freshman drew a very questionable fourth-quarter pass interference penalty in the end zone that helped the Sooners come back and win. Miller redshirted last season and it sounds like he's had a nice offseason. But the name that is standing out the most right now is Drake Stoops. Everyone knows who his dad is, but the walk-on freshman has made noise this preseason and is legitimately in the running for significant playing time right out of the gate.
Patrick: I wonder if the players randomly say "Love The Drake" and "Hate The Drake," because you know, Seinfeld is a culturally relevant show to today's 18 - 22 year olds.
Jason: Many of these guys weren't even alive when the Seinfeld finale aired, but at least my bald role model Larry David remains somewhat culturally relevant, right? Sadly, I can't imagine any of these guys anxiously awaiting the new season of Curb.
Patrick: I guess we should say something obligatory about Rodney Anderson. He reminds me of a middle-class man's DeMarco Murray. The line is going to be solid again, too, right?
Jason: Rodney Anderson is a terrific running back and should be primed for a big season. This may even be his last year if he puts up big enough numbers, but I'm just not quite there in terms of believing he is a legitimate Heisman Trophy candidate as some have suggested. Lincoln Riley said the other day that he believes Anderson is in the same category as Samaje Perine and Joe Mixon, but I'm not sure I'm ready to buy that yet. I think when all is said and done, Trey Sermon will have had a more prolific career.
And yes, the offensive line should be solid, even if all of those positions aren't firmly decided yet. I think Bill Bedenbaugh is taken for granted at this point because he's done such a fantastic job with that offensive line. Compared to OU standards, that group was pretty bad when Bedenbaugh arrived and it took him a couple years to fully right the ship. But his recruiting and player development have been tremendous. I would go so far as to say that Bedenbaugh is the most valuable assistant coach on the staff.
Patrick: I like Bedenbaugh. Do you think he's the next OU coach to get what Dean Blevins would call a head job?
Jason: I don't think so, only because it's often pretty hard for offensive line coaches to get those kinds of jobs. Especially offensive line coaches who haven't called plays. I think the next OU assistant to get a head coaching job will be Shane Beamer. He isn't a coordinator, but he has a lot of experience in a lot of different places and has a great reputation -- not to mention a pretty good last name for such things.
Patrick: Changing gears. If I remember correctly, OU had big first half leads against Texas, Iowa State and Georgia. What happened in those meltdowns and how does Riley fix them?
Jason: I think those problems stemmed from a couple things. Obviously, defense was a big problem that we have already covered. I also think -- and this was especially applicable in the Rose Bowl -- that Lincoln Riley got too conservative with leads. If Oklahoma had kept its foot on the gas offensively in the Rose Bowl, it would have been playing Alabama in the national championship game and just might have won -- even despite that defense.
Patrick: Conservative policies continue to haunt Oklahoma?! What a shock!
Before we move on to the schedule, is there anything else on the roster we need to know about? What about special teams.
Jason: Austin Seibert is a senior this year, which seems crazy to me, but I think he's a guy Oklahoma fans will miss when he's gone. He's been a solid, reliable kicker and punter for his entire career, which is a pretty rare thing. There are still some questions about kick and punt returner. I will be interested to see how much Shane Beamer helps the special teams, which, overall, have been pretty mediocre for a long time.
Patrick: You touched on the schedule earlier. I know predicting what 18 - 22 year olds are going to do for a few hours on a Saturday is tough, but who's going to give OU that one shocking loss that nobody saw coming?
Jason: I don't see OU losing any of the non-conference games, but once you get into Big 12 play, there are a lot of potential landmines. I find it absurd that the media and coaches keep giving Texas the benefit of the doubt and ranking it in the preseason top-25, but the Longhorns have shown that they can beat OU when no one sees it coming. Those 2013 and 2015 Red River games are still totally confounding to me. TCU is always tough. Kansas State has won two of its last three games in Norman. The West Virginia game is really interesting to me because it's on a Friday night, and I feel like those kinds are games are always dangerous to the visiting team -- especially in a place like Morgantown. And OU might have to turn right around and play West Virginia again a week later! The Big 12 really has things figured out, doesn't it?
Patrick: Yeah, I can't wait until OU leaves to join a real conference. But while they're stuck, how do you see the Big 12 playing out this year?
Jason: I still expect OU to win the Big 12, and why not? The Sooners appear to be the clear class of the league and although I think there is a chance they drop one or two games in conference, I've seen nothing that would make me think they won't end up with a fourth straight conference title.
Patrick: In the name of equal time, let's talk about OSU, but before we do, I say we watch my favorite play in the history of OSU athletics:
With that out-of-the-way, what will the Pokes do this year?
Jason: There is a lot to like about Oklahoma State this year. I think Justice Hill will have another big year and I'm very intrigued by what Jim Knowles will do with the defense. But OSU's identity and success are so identified with great quarterbacks and receivers that it's hard for me to see them as a serious Big 12 title contender. I'm just not sold on Taylor Cornelius yet, and for as good as Spencer Sanders may end up being, it's hard for me to see him stepping in and being a dynamic, championship-level quarterback as a freshman.
Patrick: What about Texas? Please tell me they are going to suck again, and their coach is going to spend more time in Austin strip clubs.
Jason: I'm on record as being enduringly skeptical of Texas until the Longhorns do something to deserve the preseason hype they get every year. I mean, how the hell is it possible that anyone could vote for them in any top-25 poll right now? It seems to me that the Longhorns should have to show they can win eight or nine games before we think of them as a legitimate Big 12 title contender again. Sure, they have talent, but that's not new; Texas has had great talent every season for as long as I can remember. Texas has lost to Oklahoma State in six out of the last eight seasons, so I'm not willing to believe the Longhorns are ahead of OSU until that changes. And I've already expressed my skepticism about OSU this season, so let's just say I don't see Texas finishing in the top four of the Big 12 standings this year.
Patrick: I can't believe we just wasted space on Texas. Let's talk season predictions. I'm going to go out on a limb and say OU goes 10-2 like they always seem to do. I have a strange hunch that the Mayfield to Murray transition won't be as smooth as people think, and that we may see some Austin Kendall, but the improved defense you seem so high on actually makes some plays to win some games. In other news, I should probably stop day drinking.
Jason: So I'm picking OU to win the Big 12 and make the College Football Playoff again, but actually for the opposite reasons you made your pick. I do think the defense is definitely more talented than it's been in years, but I'm still skeptical that we will see drastic improvement statistically. I'm at the point where I'll need to see it to believe it. On the flip side, what I have seen offensively is that Lincoln Riley is a genius and has tons of playmakers at his disposal and a very good offensive line. I think Murray and the offense will be just fine, and that the Sooners' continued dominance of the Big 12 combined with a weak Pac-12 makes a Playoff berth virtually guaranteed if OU can go 12-1 and win the Big 12 title game. The Sooners will slip up somewhere during the regular season, but it won't be enough to keep them out of the final four.
Patrick: WTF! You hyped the OU defense and got me to believe in it, but when it comes time for your prediction, you're suddenly not so confident??? I think someone may be trying to influence Vegas betting lines. To stay on that theme, my playoff final four that I just picked out of a hat is Alabama, Washington, Michigan and Miami. What about you?
Jason: Alabama, Clemson, Wisconsin and OU make the Playoff, but OU won't win the national championship because -- again -- it still doesn't quite have the defense to get that done.
Patrick: This was fun. I already feel more informed about the season, and I bet the 12 people who made it this far do to. We'll have to do another one soon. Remind everyone one more time how they can get The Athletic.
Jason: So the fine TLO readers — and everyone else, I suppose — have two more days to subscribe to The Athletic and get 40% off for a year. With that, you get everything The Athletic has to offer from our rapidly growing national network of reporters with no ads and no auto-play videos. And with as fast as we are growing and the NBA season fast approaching, there might be another incentive for Oklahoma City sports fans to subscribe here in a few weeks. Who knows. But definitely don't wait until then to subscribe. Do it now. Ad over.
Stay in touch
Sign up for our free newsletter