Everything Else
Is the abysmal mishandling of SQ 788 Mary Fallin's swan song?
3:49 PM EDT on July 19, 2018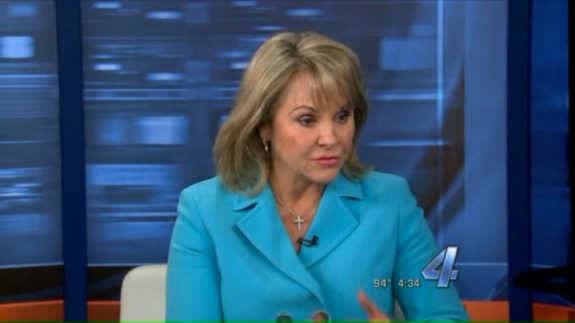 In some ways, Mary Fallin is lucky.
In any other universe, I'd say there's a good chance she's probably managing a Ramada Inn in Stillwater or living in a trailer in Tecumseh collecting government disability while complaining about the government. But in this disturbing dimension, she's risen all the way to Governor of Oklahoma. When you consider her general ineptitude, poor decision-making, lack of leadership skills, and penchant for making embarrassing gaffes, it's quite a lucky accomplishment.
Speaking of accomplishments, it looks like butchering the implementation of SQ 788 is going to be Mary Fallin's swan song as Governor. She's taken the relatively simple task of following the will of the people and implementing a new law and turned it into yet another embarrassing administrative shit show that somehow plunges her legacy even deeper into the toilet.
Yesterday afternoon she called for the Oklahoma Board of Health (a group of people she primarily appointed) to rescind their overreaching "emergency rules" to SQ 788 (a set of rules that she voluntarily signed into law) because Attorney General Mike Hunter (a person she appointed) found some of the amendments to be improper.
Via The Tulsa World:
Despite approving emergency rules from the Board of Health last week regulating State Question 788, Gov. Mary Fallin said the board should rescind its adoption of two last-minute amendments that Attorney General Mike Hunter found were improper.Hunter said Wednesday in a letter to Interim Health Commissioner Tom Bates that the board overstepped its authority when it approved the two amendments — a ban on smokable marijuana sales and a mandate that a pharmacist be at each medical marijuana dispensary during business hours.
Wow. A rare occurrence of an Oklahoma elected official doing something right!!!
Wait. Mike Hunter wasn't elected. That explains a lot.
He recommended that the Board of Health convene a special meeting to amend the rules, which board President Tim Starkey — one of five members who voted in favor of the ban — announced will take place "as soon as possible."Fallin issued a statement Wednesday asking the board to rescind the amendments because she thinks the public didn't have enough time to express their concerns about them. Their inclusion in the emergency rules, which Fallin approved July 11, drew widespread bipartisan outrage and has increased calls for a special legislative session.
I, admittedly, have never held public office and do not have an IQ under 100, but if she thought "the public didn't have enough time to express their concerns," why the hell did she sign the rules into law?! She had something like 30 or 40 days to review the law, and consult with lawyers, advisors and Hipster Boo Boo! She signed it only a few day later. It's like Mary Fallin is the dumb customer who tries to return the car she bought for her teenager to the dealership one week later because she doesn't like the color.
Okay, that's not a perfect analogy, but I still like to remind people of the stupid things Mary says.
Here's more:
"State Question 788 was written with a 30-day implementation deadline," Fallin said in her statement. "It is unfortunate there was not more consideration given by proponents of SQ 788 as to how challenging it is to place such a quick turnaround on a very complicated subject. However, the state will carry out the responsibility of administering this law."
I'll be the first to admit that SQ 788 isn't perfect. The 30-day implementation deadline is kind of whacky, but it's not like this was a surprise. Everyone knew it was going to pass! Hell, just check out this KOCO report from the day before the election.
Oklahoma Gov. Mary Fallin says she expects to call lawmakers back to the Capitol for a special session if Oklahoma voters approve a state question next week to allow the use of marijuana for medicinal purposes.Fallin on Monday expressed reservations about State Question 788 and said the Legislature would need to establish a legal framework for regulating the use of medical marijuana if the measure passes.
As we know, Mary Fallin's tune quickly changed. The day after SQ 788 passed, she was told by her puppet masters to shift the burden of creating rules for SQ 788 to the unelected Board of Health (that she appointed) in an effort to protect embattled Republicans in the legislature from doing their job with an election around the corner:
Then, just days after the Board of Health made overreaching changes to the scope and integrity of the law, and ignited outrage from hundreds of thousands of Oklahomans for overruling the will of the people, Mary did this:
And here we are today:
Once again, we live in a universe where this type of person can become Governor. Oh well, I guess it could be worse – she could be our President.
Stay in touch
Sign up for our free newsletter