Food
TLO Restaurant Review: Tacoville
5:40 AM EDT on May 8, 2018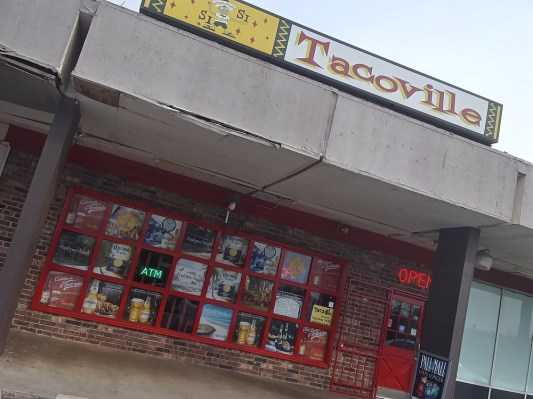 Tacoville seems a little too cool to be in Oklahoma City, doesn't it?
Ran out of a crumbling strip-mall in a bleak part of town where S.W. 29th crosses with Newcastle Road, this mostly modest cash-only Tex-Mex joint, with its refrigerator case full of cheap beer and it's precise menu of even cheaper eats, feels like something out of a Robert Rodriguez movie. You half expect Cheech Marin to be slinging tacos with expert vulgarity or Danny Trejo sitting in the back, cutting onions with a machete.
Located at 3502 Newcastle Rd., the décor inside is a loaded mix of touristy Mexican mementos and as many free beer promos as they could fit in the place, the very few scattered tables being cleaned by waitresses with rock and roll hair and the tatts to match. I would've killed for a Link Wray tune to start warbling overhead as I made my way to the counter, ready to pick an edible streetfight with their fabled menu in an effort to put my hunger down in a bloody blaze of glory.
While the more authentic taquerias are further up the street—and mas power to them—Tacoville has specialized in the unappreciated art of borderland-based fast food for over 50 years, proudly cooking up pots of ground beef and refried beans and steadily simmered nacho cheese every day as shredded lettuce, grated cheese and sliced jalapenos wait to be anonymously bedded like an airbrushed puta on the side of mi primo's custom van.
As my stomach rumbled, so did my loins.
I rattled off a series of menu items to the cashier and popped open a cheap domestic tallboy just to keep it full tilt boogie. A telenovela actress cried "Por que…por que?" over my left side while some news channel went about their business over my right while I genuflected over a take-out copy of the Tacoville menu and how just about everything here was two or three bucks. Most of this stuff ain't even that cheap at the Bueno, baby.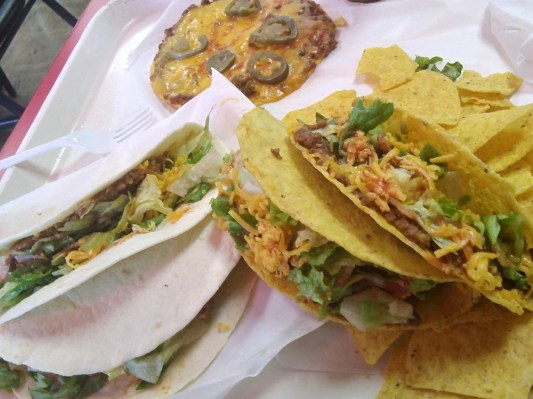 Looking like something from the Tres Hombres gatefold, as I unwrapped my tacos with a slight tremble of Christmas morning enthusiasm, the basic hardshell ($1.39) was noticeably packed with plenty of beef, cheese and their homemade sauce; with a crisp, freshly made taste that took me back to those homemade tacos I was born and bred on growing up in Tejas, right down to the toasted shell that didn't crack as much as it did crunch, I could've gotten up and taken a bag of these little darlings home and been five-star satisfied.
That goes double for the chicken soft taco ($2.39), hoss. A couple of strips of grilled pollo dowsed in a dangerously spicy marinade are crammed into a fresh tortilla with sour cream, onions and cheese come together beautifully like a Tejano jam at Gruene Hall. A few extra squirts of the red-hot bitch-slap that their house hot sauce and I should've been done, but then the hot glisteningly greasy mess that is the nacho supreme ($1.89) made eyes at me from across the room; a fat fried corn tortilla made up all nice and pretty with beef, cheese, hot sauce and jalapenos, wrap it up, son…I'll take it.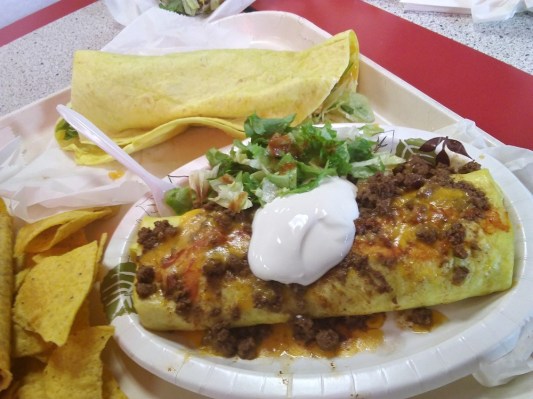 As the Okie sun started to set and I was scraping bare any errant remains of both a chicken burrito ($5.19) and a chili burrito ($4.49) like a child told to clean his plate, I pushed my tray away, wholly satisfied. That was the type of classic Tex-Mex meal, I thought, where once you're done and step outside the door, who's gonna be waiting but three leggy dimes and a custom 1933 Ford Coupe nicknamed the "Eliminator," waiting to drive you and your full Tejano belly off into the desert dusk. Cómpralo ya!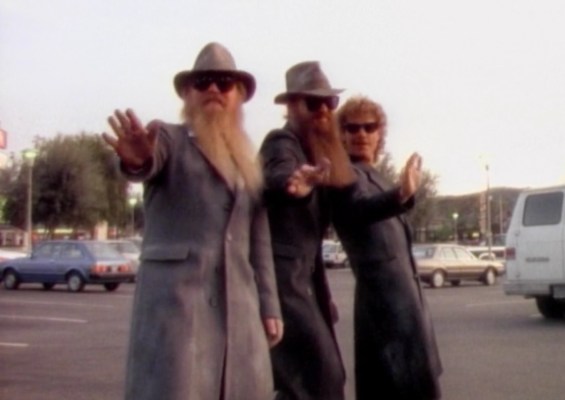 _
Follow Louis on Twitter at @LouisFowler and Instagram at @louisfowler78.
Stay in touch
Sign up for our free newsletter