ICYMI
Wow. Scott Pruitt is even more crooked than we thought!
3:02 PM EDT on April 23, 2018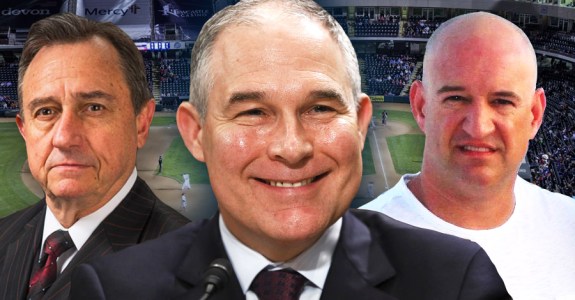 It seems like you can't go an hour without some national media outlet producing some story about Scott Pruitt doing something stupid, shady or borderline illegal at the EPA – the agency he's in charge of destroying.
For informed Oklahomans, the news is never really that big of a surprise. This is Scott Pruitt. As if his smarmy smile isn't a dead giveaway, he's always come across as nothing more than a self-serving, opportunistic, sleazy politician. Whether he was suing the federal government on behalf of Larry Nichols, or pitching cock logos for the Redhawks, he's always seemed as genuine and trustworthy as a David Stanley salesman.
Over the weekend, though, the New York Times released an in-depth profile about Scott Pruitt that chronicled his two-decade rise from an obscure Tulsa lawyer to Oklahoma Attorney General to embattled EPA chief that reads like some long-con fan fiction.
Specifically, the report documents how Pruitt, and a close circle-jerk of friends / business partners, regularly engaged in shady, questionable business dealings with lobbyists, corporations and benefactors dating back to the turn of century. These dealings put money in Pruitt's pocket, provided him with much-needed exposure and name recognition, and helped rocket him through the Oklahoma political ranks and into one of the most influential government positions in DC.
Here's a snippet:
Early in Scott Pruitt's political career, as a state senator from Tulsa, he attended a gathering at the Oklahoma City home of an influential telecommunications lobbyist who was nearing retirement and about to move away.

The lobbyist said that after the 2003 gathering, Mr. Pruitt — who had a modest legal practice and a state salary of $38,400 — reached out to her. He wanted to buy her showplace home as a second residence for when he was in the state capital...

A review of real estate and other public records shows that Mr. Pruitt was not the sole owner: The property was held by a shell company registered to a business partner and law school friend, Kenneth Wagner. Mr. Wagner now holds a top political job at the Environmental Protection Agency, where Mr. Pruitt, 49, is the administrator.

The mortgage on the Oklahoma City home, the records show, was issued by a local bank that was led by another business associate of Mr. Pruitt's, Albert Kelly. Recently barred from working in the finance industry because of a banking violation, Mr. Kelly is now one of Mr. Pruitt's top aides at the E.P.A. and runs the agency's Superfund program...

According to real estate records, the 2003 purchase of the house for $375,000 came at a steep discount of about $100,000 from what Ms. Lindsey had paid a year earlier — a shortfall picked up by her employer, the telecom giant SBC Oklahoma.

SBC, previously known as Southwestern Bell and later as AT&T, had been lobbying lawmakers in the early 2000s on a range of matters, including a deregulation bill that would allow it to raise rates and a separate regulatory effort to reopen a bribery case from a decade earlier. Mr. Pruitt sided with the company on both matters, state records show.

In 2005, the shell company — Capitol House L.L.C. — sold the property for $95,000 more than it had paid. While shell companies are legal, they often obscure the people who have an interest in them, and none of Mr. Pruitt's financial disclosure filings in Oklahoma mentioned the company or the proceeds — a potential violation of the state's ethics rules.
TL;DR – Scott and his buddies engaged in a profitable, extremely shady land deal with large corporations that basically comes across as an under-the-table bribe.
The New York Times profile is long, in-depth and deserves to be read. There are numerous angles and things to digest. One part that I found fascinating was how it knocked a dent in Pruitt's Redhawks origin story.
Like most Oklahomans, my first exposure to Scott Pruitt came in the early to mid aughts when he was the very visible "owner" of the Oklahoma Redhawks. He would regularly appear in TV and radio commercials for the team, encouraging families to come out to the ballpark to watch future big leaguers in action before they moved on to choke in the World Series.
I was in my early to mid 20s at the time, and cared way more about sports, beer and girls than politics, so when Pruitt ran for Lt. Governor in 2006, I didn't think much about it. I just assumed he was like our President at the time – a nice, wealthy, good ole' boy who owned a baseball team and was trying to use his name and money to buy his way into politics. I figured the same when he ran for Attorney General in 2010.
According to the Times, it turns out my assumptions were only half right. Yes, Pruitt was trying to use his ownership of a baseball team to build name recognition and effectively buy his way into Oklahoma politics, but he wasn't wealthy. In fact, he needed his lawyer, banking buddy and other wealthy benefactors to make it happen:
During his eight years as a Republican state senator, Mr. Pruitt also upgraded his family residence in suburban Tulsa from a small ranch-style home to a lakefront property in a gated community. In addition, he bought a sizable stake in a minor league baseball team, and took a second job at Mr. Wagner's corporate law firm. Mr. Kelly's bank, SpiritBank, would be there for much of it — providing financing for Mr. Pruitt's Tulsa home and his stake in the baseball team, as well as the mortgage for the Oklahoma City house...

Around the same time Mr. Pruitt invested in the house in Oklahoma City, he had finished a big business deal that involved Mr. Kelly, Mr. Wagner and a campaign donor who ran a large staffing company.

A baseball player in college, Mr. Pruitt bought an approximate 25 percent stake in the Oklahoma City RedHawks and became the team's managing partner, making him a highly visible spokesman for the local team. Mr. Wagner also purchased a small stake, and Mr. Kelly's bank provided financing for the deal, as first reported by The Intercept, which also disclosed the bank's loans for one of Mr. Pruitt's suburban Tulsa homes.

Mr. Pruitt's main partner was Robert Funk, the business magnate who ran Express Services, the staffing firm. The sale price was not disclosed, but news reports suggested they paid over $11.5 million, with Mr. Funk carrying the biggest load...

In September 2010, as Mr. Pruitt was on his way to successfully winning his race for attorney general, he and Mr. Funk announced that they had sold the RedHawks. They did not disclose the price, but Forbes estimated its value a few years later at $21 million. SpiritBank, where Mr. Kelly was still chief executive, "played a key role in facilitating" the deal by providing acquisition financing, a news release said.

As a candidate for attorney general, Mr. Pruitt was not required to disclose the extent of his assets and how much money he made, but there were hints that his finances had improved since his early days as a state senator. Early into his term, he and his wife paid $1.18 million for a 5,518-square-foot Cotswold-style stone residence, featured in a book on Tulsa homes. It has five fireplaces, a library and a guest apartment.
Interesting, huh? Pruitt wasn't some wealthy good old boy who owned a baseball team. He was just your regular old ambitious, bright and extremely calculating nobody who used friendships, political connections and other people's money to make it to the top. That's actually kind of impressive. We've been critical of Pruitt on this site since he was elected attorney general, but kudos to him on orchestrating a political long con that landed him in big Washington DC. Hell, he was even able to bring his shady buddies with him! No wonder President Trump likes him so much.
Stay in touch
Sign up for our free newsletter