Education
Oil Overlords select James Gallogly to be next OU President…
2:02 PM EDT on March 26, 2018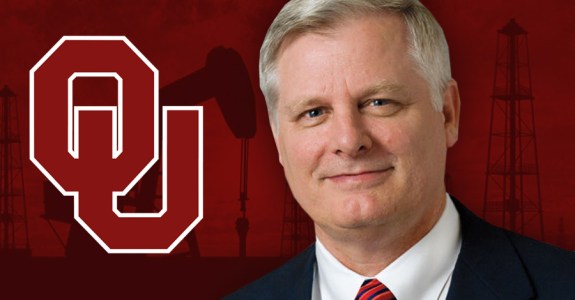 It's nice to see a wealthy, white, Republican energy industry executive finally catch a break in Oklahoma!
Earlier today, the University of Oklahoma introduced Jim Gallogly – a Canadian-born lawyer who has made hundred of millions of dollars as an executive for oil and chemical companies – as the president designate of the University of Oklahoma.
He will assume official presidential duties in July, and plans to build upon David Boren's proud legacy of exceeding aggressive fundraising, increased student tuition and more man-made earthquakes.
Here are some of the details via NewsOK.com:
James "Jim" Gallogly will become the 14th president of the University of Oklahoma this summer. The OU Board of Regents made the appointment in a special meeting Monday morning.

Gallogly, 65, a former energy executive and graduate of the OU College of Law, was selected from seven finalists interviewed for the position.

Both the Gallogly College of Engineering and the $43 million, 70,000-square-foot Gallogly Hall, set to open in fall 2019, are named in recognition of his large financial gifts to OU.
Wow. $43-million? That's a generous donation, but it seems like a high price to pay to get yourself named the president of a middle-tier public university. Oklahoma City Community College offered me their president gig for only a $500 donation and a week's worth of free advertising for their arts festival. I turned it down.
Gallogly has held executive positions with ConocoPhillips, ChevronPhillips and Phillips Petroleum over a 30-year career. In 2009, he became the chief executive officer of LyondellBasell in Houston, Texas, and guided the company out of Chapter 11 bankruptcy and successfully repositioned it as one of the world's largest refining companies and makers of polymers and petrochemicals. He joined the DuPont board of directors in February 2015.
One thing The Oklahoman didn't mention is that Gallogly is a major donor to establishment Republicans like George W. Bush, John Boehner and Mitt Romney. In fact, his open secrets page goes three deep!
Naturally, a major university hiring a super-wealthy corporate executive who has no experience working in government or academia as president raised a few eyebrows. As the OU Daily pointed out, outside of Gallogly's massive wealth and inside connections to our state's powerful and elite, he lacks many of the qualifications originally outlined by the University's presidential selection committee:
The OU Board of Regents' presumptive selection for OU's 14th president does not meet many of the higher education qualifications outlined early in the search process.

Within the presidential profile produced by the search committee tasked with finding President David Boren's successor are qualifications the search committee hoped for in the academic background of OU's next president. James Gallogly, the expected selection, misses the mark on some of those qualifications.

The profile was created by the committee and the search firm hired to assist in the search after holding several forums with OU students, faculty and alumni. Among the academic qualifications included in the profile, the committee was seeking a "distinguished record of executive level accomplishments, preferably in higher education, and a strong commitment to excellence in teaching, scholarship and research."

The profile also seeks someone who has "notable scholarly accomplishments" and "preferably an earned doctorate or its equivalent." It also says the candidate should have a deep knowledge of issues occurring in higher education at a state and national level.

Though Gallogly has a juris doctorate degree from OU's law school, he does not have a doctoral degree or further graduate work. Gallogly has also worked outside of higher education in the private sector for his entire career, serving in executive positions at ConocoPhillips and as CEO of LyondellBasell Industries. He has made significant gifts to both OU and the University of Colorado, where he also sits on the board of directors of the University of Colorado Foundation.
The OU Daily brings up some good points, but what they failed to consider is that just like his predecessor David Boren, Gallogly is a director for Continental Resources. If you remember correctly, that means he has all the education experience that's necessary to run a university: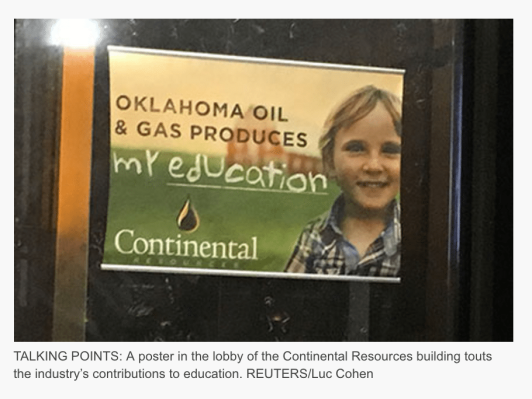 Some people may be alarmed that the oil industry has further tightened its grasp on our state government and educational institutions, but I don't think it's that big of a deal. First of all, oil, money and football have controlled the University of Oklahoma since the 1950s. This isn't anything new. Second, at least Gallogly is open and transparent about his loyalties to oil companies, the Republican party and other corporate interests. Basically, he's not a hypocrite about it like David Boren.
Anyway, we'll have more information on this late in the week. Until then, here's a video of Gallogly introducing himself.
Stay in touch
Sign up for our free newsletter