Everything Else
Warning – Goober lawmaker wants to take power away from the people
10:03 AM EST on February 23, 2018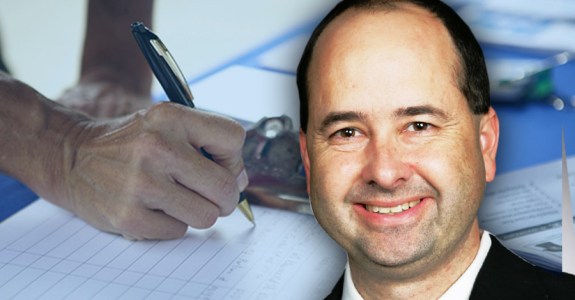 Since the Oklahoma legislature is filled with a bunch of spineless sellouts who don't like to do their job, the only real way for citizens in Oklahoma to institute any meaningful change or reform is through a ballot initiative petition – a long, time-consuming process littered with a litany of rules, regulations and requirements.
Knowing this path to reform is still semi-accessible to some people, lawmakers like Rep. John Enns, R-Enid are hard at work to make sure that getting a state question put on the ballot will be as difficult as possible.
Via The Tulsa World:
Fear of recreational marijuana legalization apparently prompts move to curb initiative petitions

Apparently, some legislators are so concerned about recreational marijuana becoming legal in Oklahoma that they want to make it harder for initiative petitions to get on statewide ballots.

House Bill 1603, by Rep. John Enns, R-Enid, proposes a constitutional amendment that could increase the number of signatures required for initiative petitions to be placed on the ballot and would require that a minimum number of signatures be obtained in each of the state's 77 counties.

"A lot of what's going around in these other states, like legalization of recreational marijuana, has been done through initiative petition," Enns said in explaining his bill to the House Rules Committee on Tuesday. "And (constituents) are like, 'We don't want to see that happen in Oklahoma.'"
They're doing this because of the threat of recreational marijuana?! Talk about getting ahead of yourself. They first need to focus on gutting and sabotaging the medical marijuana initiative that will be on the June ballot and then worry about blocking recreational weed.
"So really," asked Rep. Melodye Blancett, D-Tulsa, "the issue here is the fear — this is a pre-emptive strike — regarding a fear that some marijuana bill will come up and become a state question?"

"It's not a pre-emptive strike," Enns replied. "It's an effort to allow the rest of the state to have some say-so in the initiative petition process."
Yeah, it's a shame the "rest of the state" – where ever that is – doesn't have a "say-so" in the initiative process. It's not like they have a choice to sign or not sign a ballot petition, or vote either for or against the question in an election. These state questions are just forced upon them!
Here are the details of Nichols' plan:
Currently, initiative petitions seeking a statutory change must gather a number of valid signatures equal to 8 percent of the state's legal voters at the time of the last gubernatorial election. Constitutional amendments require 15 percent. Referenda, which allow voters to repeal legislative acts, require 5 percent.
Enns' bill would require that those minimums be achieved in each of the 77 counties. It also would remove the provision that the number of signatures required be based on the number of legal voters in the last gubernatorial election. That would seem to leave open the question of how the baseline for determining the number of required signatures is to be determined.
Listen, I'm not a dorky lawmaker who looks like he has a fine selection of pleated khakis, but maybe instead of spending time trying to make state questions more difficult to put on the ballot, perhaps Enns and his buddies should work harder to defeat state questions they don't like at the ballot box. That's what the "rest of the state" did when Derplahomans tried to give corporate farms immunity from laws and regulations, or when David Boren and the education establishment tried to implement a 20% sales tax increase to fund teacher pay raises. 
Anyway, you can read more about this at The Tulsa World. In addition to this report, they also released a salty editorial that further explains the stupidity of this plan. Check it out.
Stay in touch
Sign up for our free newsletter