Everything Else
7 Ways to Fight the Flu via Your Neighborhood Mexican Supermercado
9:25 AM EST on February 22, 2018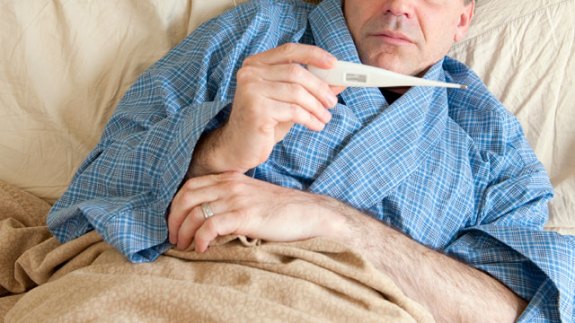 The flu epidemic in Oklahoma has reached an all-time high, with over 150 people dead from the dreaded sickness and an astonishing 3,400 plus hospitalized as of September 2017. It's a pair of numbers, via the Oklahoma State Department of Health, that's set to put the Sooner State in the record books once again and doctors aren't even sure if we've hit peak yet.
And, to make matters worse, with this current strain seemingly giving a big middle finger to even those of us who dutifully stood in line to take our flu shots back in the Fall, it's becoming obvious modern medicine is starting to fail society as a whole; if you're like me and can't afford to get sick, a need for alternative forms of prevention is something worth looking into. After all, desperate times call for medidas desesperadas.
Forget Obamacare—it's time to explore some traditional MexiCare. Growing up in poverty and unable to visit a doctor for even the gravest of concerns, often times our own private hospital was the Mexican grocery store, utilizing home remedies, family traditions and otherworldly cures that seemed to always work, regardless of the sickness, from a vaguely depressing head cold to straight-up skin-scarring chicken pox and everything in-between.
Passed down from generación a generación—or so I've been led to believe—these wholly holistic Hispanic remedies have been staples in my family for as long as I can remember and have yet to fail me which, if you know me personally, is a true testament to their healing power, placebo, faith-based, or otherwise. And the best part: all items are available and affordably-priced at the neighborhood Latino-supported mercado of your choice. Cómpralo ya!
_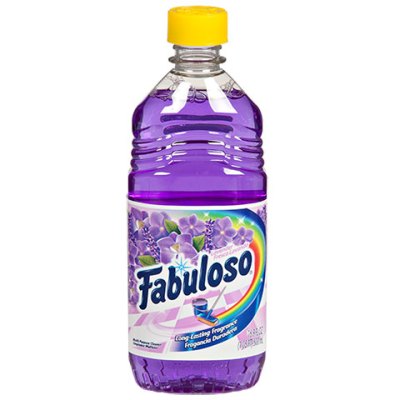 Fabuloso All-Purpose Cleaner
 With a menacing purple hue and an overpowering lavender scent, the entire neighborhood will know you've got the most disinfected casa on the block as this germ-killing elixir goes to work immediately, sterilizing your stagnant cesspool of a bachelor pad from all disease and pestilence, stopping any sicknesses or would-be future viruses at their somewhat scientific source, dead in their tracks, leaving nothing behind but fragrant memories.
_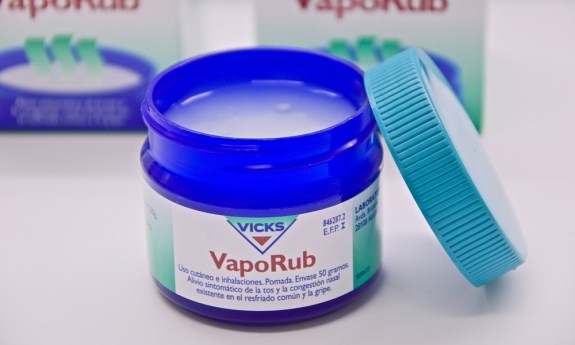 Vicks VapoRub
 Widely regarded as the Fabuloso of medicines, this all-purpose curative will heal everything from pounding headaches to sore feet. But it really works its gelatinous mágico when properly used: to fight the ravages of the flu, liberally apply a thick coating to the chest and forehead, preferably in a repeated "sign of the cross" movement while you recite barely audible prayers of healing, hopefully in Spanish to achieve the full effect.
_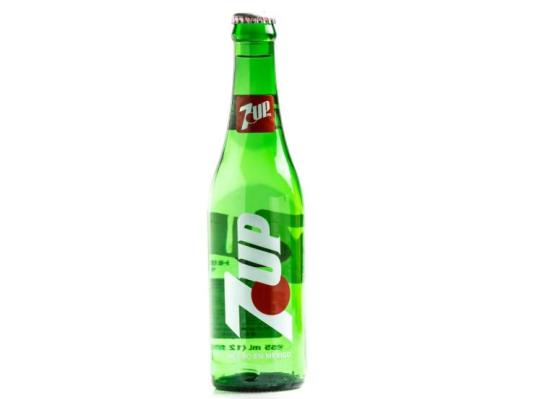 7-Up/Sprite
When my brother and I contracted chicken pox way back in the day, for two weeks we did nothing but lie on the couch watching classic UHF television, smothering our chests with Vicks and pounding one can of 7-Up after another, with the occasional Tylenol thrown in for buena medida every now and then. Maybe it's the exotic lemon-lime taste or the stomach-settling sugars, but Latinos have known for years that a bottle a day definitely kept the pediatricians away. The diabetes doctors not so much, but that's a whole other article.
_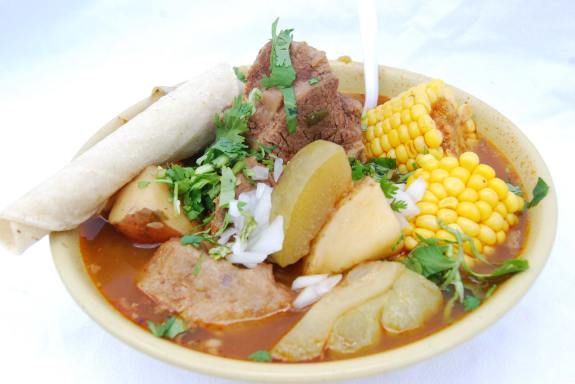 Caldo des Res
Chicken soup is for the birds! For the hearty Latino appetite, the constant imbibing of this Mexican beef soup while infirmed, an ultimate superfood best known for its flagrant use of whole corn-on-the-cobs and other thick-cut vegetables such as squash and yuccas, all swimming in a reportedly restorative base, is an absolute must. While it might be hard to make without an able and willing abuela on hand, many area taquerias—some even located inside mercados like Morelos—have plenty of the hot, freshly made soup ready to heal at a moment's notice. (While harder to find during the week, for more advanced sicknesses, a big tripa-filled bowl of sinus-clearing Menudo works about the same, if not better.)
_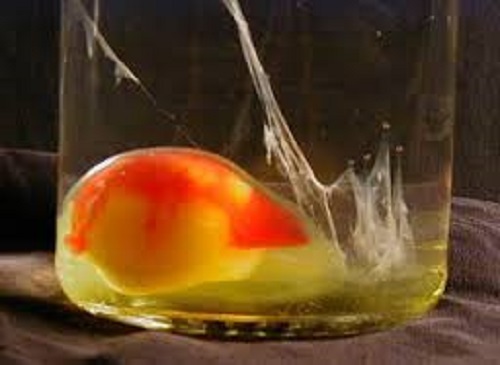 Large Grade-A White Eggs
 While many viruses might seem to be of scientific origin, the truth at times might be something far worse; have you recently wronged anyone who might be vindictive enough to throw an evil eye or two your way? Think about it hard, holmes. When modern meds fail time and again, the shamanic use of whole eggs as part of various limpias—or cleansing rituals--performed by someone who has been preferably taught in the proper healing traditions of our ancestors, will hopefully absorb that unholy curse and release you of whatever malevolent forces are wreaking havoc on your immune system.
_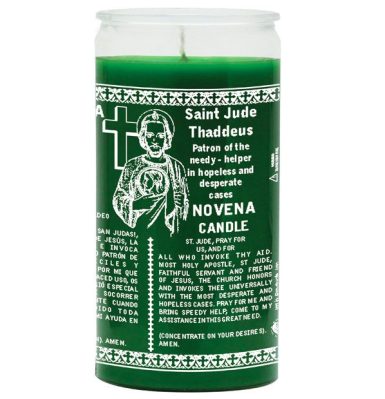 St. Jude Novena Candle
Light one up and repeat after me: San Judas, presenciaste el poder sanador de nuestro Señor Jesús. Viste su compasión por los enfermos y los moribundos. Tú mismo tocaste a los enfermos, compartiste los dolores de los dolientes y alentabas a los desesperados. Usted recibió esta autoridad y poder de curación para hacer maravillas, para curar lo incurable, para hacer que las personas se vuelvan sanas. Te pedimos que intercedas con nuestro hermano, Jesús, para que envíe Su gracia salvadora para sanar la enfermedad y el sufrimiento de __________________, para elevar su espíritu abatido e infundir esperanza en su corazón. Amén.
_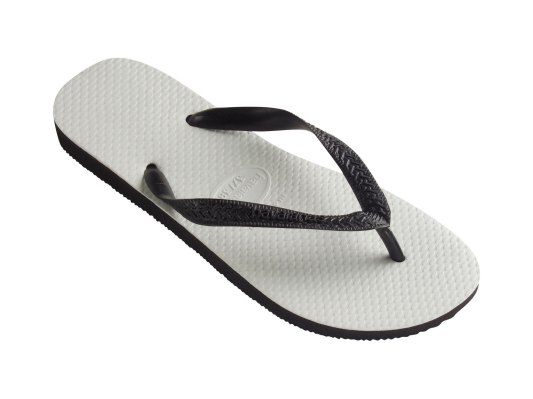 Chancla
When all else fails, beat that evil demon of enfermedad out of the body with the most feared weapon in any abuela's arsenal, a sturdy, well-worn house-shoe. The power of Payless compels you!
_
Was there a South of the Border remedy for sickness that I missed? Let me know in the comments. Follow Louis on Twitter at @LouisFowler.
Stay in touch
Sign up for our free newsletter