Everything Else
Unqualified Oklahomans Continue To Seek Employment in Washington DC
9:38 AM EST on January 9, 2018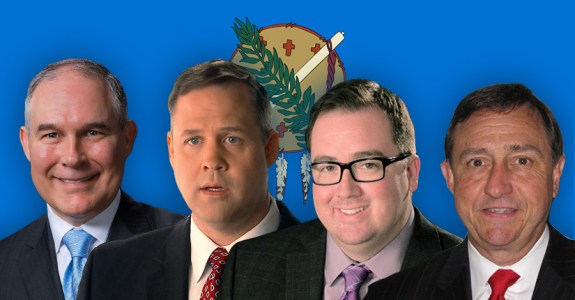 Say what you want about the Trump presidency, but it's been very kind to unqualified men from Oklahoma seeking employment. I thought it would be fun to post an update on some of these men, and see how they're doing.
First off, we have Oklahoma congressman Jim Bridenstine. The global warming denier was nominated a second time to be the chief administrator of NASA, an agency that he obviously has absolutely no business running. Here are the details via NewsOK:
President Donald Trump on Monday renominated U.S. Rep. Jim Bridenstine to be the next administrator of NASA.

Bridenstine, who was first nominated in early September, saw his nomination returned to the president in late December after the Senate failed to act on it. Trump's decision to renominate was widely expected.
As we mentioned backed when he was first nominated, Jim Bridenstine's only experience in dealing with spaceships came when he was director of the Tulsa Air and Space Museum and Planetarium. Knowing that, I bet his first act as NASA chief will be to improve and expand the agency's gift shop.
It's impossible to talk about "Unqualified Oklahomans Seeking Employment in DC" without mentioning  Scott Pruitt. Not only is he succeeding in his role of dismantling the EPA as chief of the EPA, but his best friend Albert Kelly – a disgraced former banker from Oklahoma who's now banned from the industry – is helping him do it.
Via The Intercept:
THE ENVIRONMENTAL PROTECTION Agency has tasked a banker who was banned from the banking industry for life with oversight of the nation's Superfund program.

In May, the Federal Deposit Insurance Corporation fined Oklahoma banker Albert Kelly $125,000. According to a consent order, which The Intercept obtained through the Freedom of Information Act, the FDIC had "reason to believe that [Kelly] violated a law or regulation, by entering into an agreement pertaining to a loan by the Bank without FDIC approval."

Two weeks later, EPA Administrator Scott Pruitt appointed Kelly to lead an effort to streamline the Superfund program. In July, the FDIC went further, banning Kelly from banking for life. The "order of prohibition from further participation" explained that the FDIC had determined Kelly's "unfitness to serve as a director, officer, person participating in the conduct of the affairs or as an institution-affiliated party of the Bank, any other insured depository institution."

But Pruitt, who had received loans from Kelly's bank, apparently didn't find Kelly's unfitness to serve in the financial industry as disqualifying his longtime friend from serving as a top official at the EPA. Since May, Kelly, or Kell as he was known in Oklahoma, has led the effort to streamline the Superfund program — which oversees remediation of some of the country's most toxic sites.
I hope Kelly doesn't get too comfortable in his new role, because it looks like old Scotty Boy is already positioning himself to be the next US Attorney General. If Scott gets the job, he'll probably put "Kell" in charge of overseeing all banking and mortgage regulations:
Scott Pruitt, the administrator of the Environmental Protection Agency, has told friends and associates that he's interested in becoming attorney general, according to three people familiar with the internal discussions.

With rumors swirling that Jeff Sessions could depart the administration and two members of the House Freedom Caucus calling on the former Alabama senator to resign, Pruitt is quietly positioning himself as a possible candidate for the job.

"Pruitt is very interested," a person close to him said. "He has expressed that on a number of occasions."

It's unclear whether Pruitt would be on the shortlist for the position, but people close to the president said Trump has grown to like him. Pruitt has emerged as the face of Trump's deregulatory agenda, taking steps to overturn former President Barack Obama's climate change regulations. He was also a leading advocate for pulling out of the Paris agreement on climate change.
Even though he never tried a case in private practice, I think Scott Pruitt would be an excellent choice for Attorney General. Our legal system can be repaired much faster than the environment.
Last on the list we have Robert Weaver. The Northeastern Oklahoma resident is Trump's pick to lead the the "troubled" Indian Health Service. According to the Wall Street Journal, he apparently got to where he is by lying on his resume:
Robert Weaver, the Trump administration's nominee to head the Indian Health Service, may have misrepresented his employment at a Missouri hospital, according to a report Friday in The Wall Street Journal.

Weaver, 39, is a member of the Quapaw Tribe of Oklahoma. The White House announced his nomination last October, saying he would bring "nearly two decades of experience in hospital, mental health administration, and entrepreneurship" to IHS.

Weaver reportedly told members of the Senate Indian Affairs Committee that he worked in "supervisory and management positions" at St. John's Regional Medical Center in Joplin, Missouri, from 1997 to 2006. His résumé, available online, says he managed "all accounts receivable, budgets, patient access, and physician recruitment" in "various positions" for the hospital.

But several employees who worked in those areas of the hospital between 1997 and 2006 told The Wall Street Journal they did not recall Weaver.

"I was the budget coordinator during that whole time," Rhonda Foust, who worked in finance at the hospital from 1981 to 2010, told The Journal. "If this person was over budgets, I would have known them."
Everyone lies on their resume. That's nothing new. Hell, I probably wouldn't be where I am today if I didn't lie about having graphic design experience when I applied for a creative services position at Midfirst Bank back in 2003.Then again, my little lie helped get me a job swapping out logos on brochures for $12 an hour. I wasn't asking to lead a large "troubled" government agency that needs real leadership.
Anyway, I guess that concludes this recap of unqualified Oklahoma men who continue to seek employment in Washington DC. I should probably wrap this up and polish my resume. I need to add some new lies to it.
Stay in touch
Sign up for our free newsletter