Everything Else
TLO Restaurant Review: Coney Island
8:55 AM EST on January 9, 2018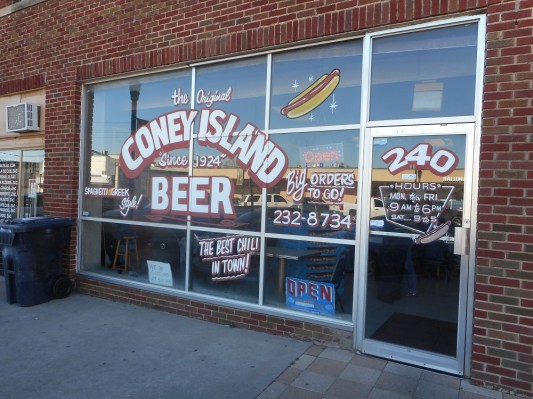 The secondhand delectabilities of culinary tales twice-told finally came to an edible fruition as I crossed the threshold of Coney Island and ordered not only a couple of their famous chili dogs, but a mountainous plate of that legendary Greek-style spaghetti. It was a meal that, to be sure, was a long time coming.
As I recall it, sometime after World War II ended, once my father was discharged from the Army, he left his hometown of Waurika for a job selling insurance here in Oklahoma City, moving up the ranks until he owned his own agency by the late 1950s. Apparently there was a downtown lunch joint that, while working his door-to-door racket, he would stop at for a bite and down a few dogs, always lamenting that their chili was some of the best he had ever had.
Eventually—and I'm not sure when, but eventually—the same place started selling said chili as a lecherous companion to a platter of hot spaghetti, a dish that left such an impression on my typically difficult-to-please father that, growing up, whenever he made his weekly pot of chili on Sunday afternoon, you could always guarantee that there would be plenty of spaghetti to go with it. As we would settle down to enjoy this bounty for dinner, he'd tell the story of how he got the idea for the home version of this unlikely combo for the umpteenth time.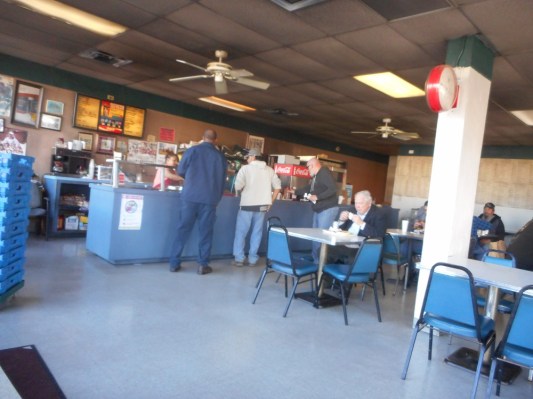 An Oklahoma City mainstay since 1924, Coney Island, at the very least in its original downtown location, must've been the place he'd always reminisce about, even up until his death in the late 90s. While he never mentioned it by name, once I walked into their location in Capitol Hill at 242 S.W. 25th St. and ordered a bit of long-awaited lunch for myself did it finally all tie together. This was the chili-drenched grail that my father had left behind and I had hopefully found it.
Like a brick-walled relic out of time, the place still has the feel of an old-school lunch counter from an era where men drank black coffee with everything, something I definitely did as I ordered up a pair of their timeless chili dogs with cheese and onions ($1.80 each) as well as the aforementioned spaghetti with chili and cheese ($5.00). On that note, hot damn if Coney Island ain't one of the cheapest places in town for lunch!
Man, look at them dogs, will ya? Ain't they the living end?
Using only high-quality red-stained Schwab's franks by the truckload, these fully-loaded steaming wieners are everything that hot dogs should be and with each bite, everything they still can be. From the taut tubing of that premium sausage to the disarmingly flavorful chili—not as spicy as you'd think, with palate-pleasing seasonings of various shades overtaking the thankless need for a tongue-searing heat—ladled across those warm buns, you can't eat just one and why would you want to?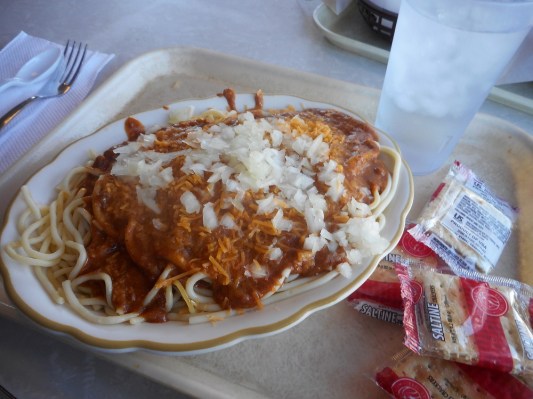 And with that, here I am full circle and back to entertaining the angels that are chili and spaghetti together again and affectionately referred to, at least via the hand-painted windows, as a Greek-style offering. Either way—yes, indeed, you better believe it absolutely lives up to the puffed-up legend I was regaled with; I doubt in the 50 years since my father had his last plate of the stuff the recipe has changed all that much and, thank Zeus, it shows.
The simple enough mixture of this steadfast sturdy chili and the steaming hot spaghetti, liberally topped with cheese and diced onions was the pure epitome of traditionally makeshift comfort food, pure warmth on a cold day, reeling in the blessed feeling of a meal that I was never sure I'd ever have again in my life. Too bad they ain't open Sundays. ¡Cómpralo ya!
_
Additionally, my father once claimed he invented serving chili on a hamburger bun. Follow Louis on Twitter at @LouisFowler.
Stay in touch
Sign up for our free newsletter