Everything Else
Kirk Humphreys will not go gently into that good night…
12:24 PM EST on January 4, 2018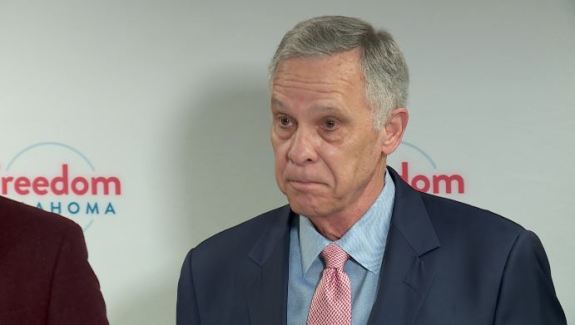 On December 19th, just a few days before he stepped down from the OU Board of Regents, former Oklahoma City mayor Kirk Humphreys participated in a press conference at John Rex Elementary School to formally apologize for sharing his backward "beliefs" about homosexuals, and in the process, try to salvage what's left of his public reputation and career.
If a downtown elementary school seems like an odd place to apologize for comparing gays to pedophiles, it is, but keep in mind that John Rex Elementary School is a charter school affiliated with the University of Oklahoma, and that OU appointed Kirk to serve on the John Rex Board of Directors. In addition to that, Humphreys was involved in the creation of John Rex and provided funding via his family's foundation.
At the conclusion of the Dec. 19th press conference, Kirk was whisked away for a private meeting with OKC School Board Chair Paula Lewis, OKC NAACP Chair Garland Pruitt, and Freedom Oklahoma's Troy Stevenson. At the last minute, a handful of outraged John Rex student parent protesters were invited to participate.
We acquired via the Ogle Mole Network a synopsis of the meeting that was put together by the parents in attendance. Instead of simply apologizing and listening to what they had to say, they portray Humphreys as being argumentative and combative, doubling-down on some of his controversial comments, and attempting to beat back any call for him to step down from the school's board. As one Mole in attendance put it:
"There was some shouting. By the end, nobody was really listening. Everyone was digging in their heels."
You can check out the synopsis in its entirety below. When you do, please keep in mind that it was, once again, compiled by angry John Rex student parents who do, deservedly so, have an anti-Kirk Humphreys agenda. It tells the story from their point of view, and is obviously one-sided and not very objective. Basically, it's like reading an article or editorial in The Oklahoman.
Here it is:
Paula Lewis: Something to the effect of, "These are John Rex parents. They have concerns about your recent comments."Humphreys: "John Rex doesn't exist without me." He then explains that he and two other people made that school and talks about he's proud of what he's done there. "It's my understanding that it's 1/3 Hispanic, 1/3 Black, and 1/3 White."Paula says his comments are part of a continuing pattern of bigoted statements.Humphreys: "Like what?"Paula Lewis tells an anecdote to Humphreys recounting the first time she met him, 10 years ago, when he was on the board of a certain school. "I shook your hand and you asked me where my kids went to school." She told him that her kids went to a certain private school. He told her that he lived in a neighborhood with some very wealthy people whose kids went to that school. One got pregnant and got married, and one went to college and turned into a lesbian."Humphreys Interrupts her and says, "It was nine years ago. If I was on that board, it was nine years ago." Sits there, silent.
At this point in the meeting, OKC NAACP Chair Garland Pruitt jumped in and brought up Humphreys infamous "Gene Pool" comments:
Garland Pruitt: "Mr. Humphreys. You have a track record of saying racist comments…"Humphreys interrupts: "Like what?! Like what?!"Everyone: "Gene pool!"Humphreys: "How is that racist? In any city, you have the upwardly mobile move out to the suburbs, it depletes the genepool." Goes into lecturing them about how the best move out, take the school resources, etc.Parent 1: Something to the effect of, "I'm a parent at the school and I am very concerned about your recent comments. We were excited about this school because it was going to be an inclusive, downtown school."Humphreys interrupts Parent 1 and asks where she lives. She tells him. He says, "So you don't live in the district? You're a transfer!"She says yes, he cocks head, and says "You made the decision to transfer because you thought it was the best thing for your kids. That's how everyone makes their decision. So the upwardly mobile moving out for better schools do what's best for their kids and it depletes the gene pool."
I think I get what Humphreys is trying to say, but isn't there a less racist way to say it? People flee to suburban school districts for a variety of reasons. Genetics has nothing to do with it. Well, unless you're a racist.
Everyone tries to get conversation back on track, saying "But these recent comments…""But these comments you made…"Humphreys: "What comments?"Everyone: "Your comments on Flashpoint."Humphreys: "I've apologized for that! I can have my beliefs. I challenge all of you to find anything I've done in public policy that has done anything to adversely affect blacks or homosexuals."Parent 2: "Except this? The reason we're all here? This is how racism and homophobia become embedded in a city. You apologized for comparing homosexuals to pedophiles, but not for saying it is morally wrong."Humphreys: "If you're going to yell at me I have better things to do than sit here. I believe it is morally wrong. It is morally wrong. There is nothing wrong with me having that belief. And it's wrong of you to ask me to act and talk outside of my belief system."Parent 2: "But you're a representative of people, an institution. It's not like you were recorded in secret in a private conversation, like this was a one off, like a kid on a bus on a field trip with OU who sings a racist song and gets kicked out of school and the fraternity kicked off of campus. You were on a Sunday morning television talk show, promoting Oklahoma, Oklahoma business, politics and culture."
Yeah, let's not get too crazy here. I think the only thing Flashpoint promotes is Mike Turpin's mouth.
Humphreys: "There's nothing wrong with me having my beliefs."Parent 1: "So you wouldn't be willing to step down from the board?"Humphreys: "I will only step down from the board if the board asks me to step down."Parent 2: "Or you could just step down."Humphreys, condescendingly: "It's called governance. There is a way this board is run. For me to be removed they have to ask me to step down."Parent 2: "Or you could just step down."Humphreys: "I am not doing that! I am on a lot of boards. A lot of boards! But only one board pays me. In fact, being part of the John Rex Board costs me money."Carrie: "So what is the process to have you removed from the board?"Humphreys: "I don't know, I don't speak for the board."Parent 2: "So to have you removed, the board has to vote you off?"Humphreys: "Yes. But it will need to be known by them where they are going to come up with the money I bring. And what effect it will have on donors…(look implying something). John Rex doesn't exist without me."
I asked around, and Humphreys does have a point. John Rex, in its current capacity, may not exist without him. He was actively involved in its creation. Then again, who really cares? If shareholders can kick Papa John out of Papa John's, parents or administrators should be able to kick Humphreys off the John Rex board. You can't state crazy homophobic beliefs on television and expect to keep your job overseeing an inclusive, progressive elementary school. That's what private schools are for!
Also, the creation of the school wasn't some random act of charity. Humphreys and his family are actively involved in downtown real estate development (a.k.a Wheeler District), and having a good school nearby like John Rex helps increase property values and get people from his preferred "gene pool" (a.k.a. affluent white people) to move downtown and raise a family.
At the moment, it appears the demands for Humphreys' resignation are not going to calm down. It also doesn't appear that Kirk Humphreys is going to give in.
Over the past a week, a mysterious group called "Friends of Kirk Humphreys" has surfaced online. It comes across as one of those campaigns put together by a PR agency that's intended to not look like it was put together by a PR agency:
Yep, it's time to move forward as a community... so I guess that means Kirk should just step down from the board and let everyone get on with their lives. That seems like the easiest approach, right? It's time for him to go gently into that good night... or at least to one of his extravagant lake houses near Eufaula.
Stay in touch
Sign up for our free newsletter