Everything Else
TLO Restaurant Review: Tamales El Patio
3:46 AM EST on January 3, 2018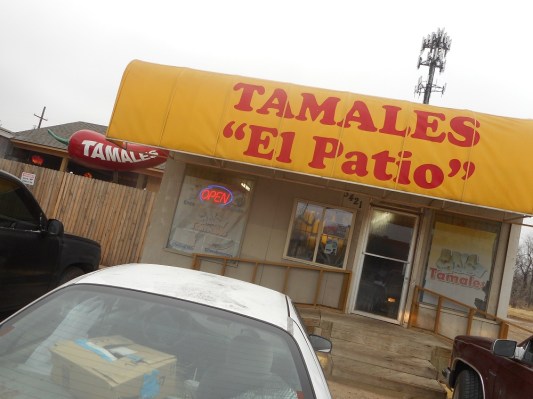 As the eternal birth canal of la Madre del Tiempo opens and the fresh life that is Baby New Year slides forth, covered in amniotic confetti and crying tears of "Auld lang syne!" to whomever is within champagne earshot, we as a collective people will coo over said infant and pinch its rosy cheeks while whispering a silent prayer for a safe, healthy and prosperous next 365 days, hoping they will be far better than the last few were.
To double-down on this need for a sense of temporal betterment, many of us will take part in various edible superstitions that are meant to instill, if only for the next few hours or so, the undying belief that the universe's Etch-a-Sketch has been shook and the future is currently unwritten, if only thanks to a full tummy of blessed foods.
In Germany, for example, marzipan Glücksschwein—good-luck pigs—may be eaten, while in the far East, when them midnight bells chime, the Japanese will down a massive bowl of toshikoshi soba noodles to welcome in the New Year. And, living in America, who among us hasn't stomached a steaming crock-pot of black-eye peas right after giving a loved one a kiss as the ball dropped on Times Square?
Within my Mexican-American family, however, it was all about tamales and it was always a very big deal.
Fresh from (more than likely) some sort of Catholic mass and running on little to no sleep, my abuela and all my tias, as well as other assorted older women who I'm somehow related to but have only ever met in passing, would meet up about 4 a.m. and spend hours putting what had to be thousands of these masa-based miracles together so when we'd wake up for breakfast, they'd be there waiting in a steaming embarrassment of pork-filled riches next to a freshly-made cup of that Mexican hot chocolate with the creepy old lady on the box.
Of course they would also be our lunch, our snack, our dinner, our dessert and, as the clock rolled over come twelve midnight, our ultimate sacrifice to both the past and present, a carpet-staining orgy of corn husks and red grease that rivaled any debaucherous celebration concurrently being held by the Illuminati down in the bowels of the Vatican, only with a far better soundtrack, sin mentiras.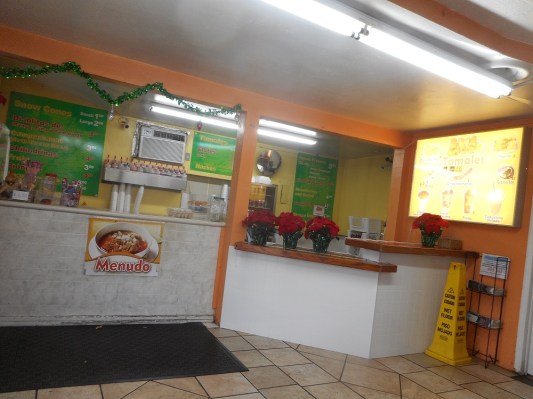 That was a lifetime ago and while families fracture, traditions die and the march of time goosesteps ever forward into an uncertain future, I have still managed annually to get in a healthy dozen or two tamales come the new year—and even throughout the ensuing new 52—thanks to all the help and hard work from the Godly people down at Tamales El Patio, 3421 S.W. 29th, hellbent on taking up that much-missed familial (or lack thereof) slack.
Located in a mostly bleak section of town that has enough urban blight to fill the background needs of at least a dozen local bands shooting press release photos—cut to the brick wall with the faded airport parking mural, bro—Tamales El Patio is the slightly more colorful anomaly in the area, with its huge red chile pepper poking up from the storefront screaming "This is me, here I am! See me, love me!" to passersby who don't know just how much they need a dozen of these yellow beauties in their life right now.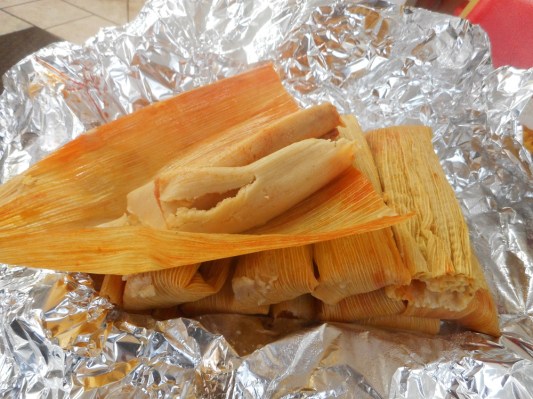 With the possible exception of someone randomly selling homemade tamales out of a cooler in the parking lot of an abandoned Sears, no one in town does this culinary artform better, which should make sense, as, for the most part, tamales are the only thing that Tamales El Patio really does. And it's all very simple: you walk in, you order a dozen, give the lady fifteen bucks (the place is cash only, by the way) and then sit out by the dumpster on the side of the building and gorge in rampant succession while you think about your dying grandmother, corn husks dancing in the wind.
At least that's how I do it.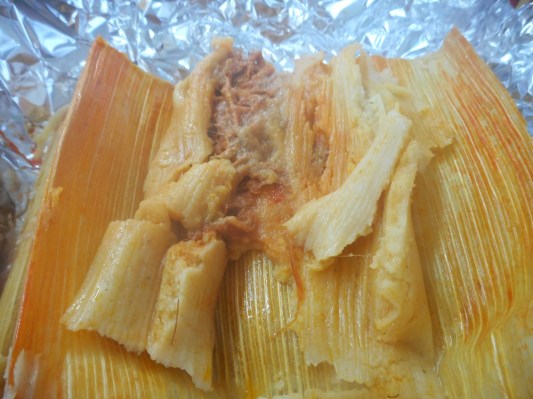 With a succinct, succulent steamed-shut masa shell that itself eschews the typical store-bought tamale blandness for a sweetly-intriguing sweet-corn surprise, the professionally packed fillings are no scrubs themselves as Patio fills each tamale to the point of bursting—la vida imita el arte, ¿no?—offering a spicy chicken and jalapeño slash cheese and jalapeño dynamic duo, as well as the even spicier red pork variety, all wrapped in foil like the most blessed contraband money can buy, continually made fresh as the day gets spoiled.
As the day eventually did turn to night and finally, the dawn of a 2018 was ready to take us into future, with each subsequent grand opening of one tamale after another, I whispered a mostly superstitious prayer under my lips that this would be a good year, my own private tradición familiar carried out one more time. And you know, if I'm back here next year, doing the same thing again, then it must've worked right? ¡Cómpralo ya!
_
Met my old lover at the tamale shop... Follow Louis on Twitter at @LouisFowler.
Stay in touch
Sign up for our free newsletter