Everything Else
TLO Restaurant Review: The Red Cup
8:27 AM EST on December 19, 2017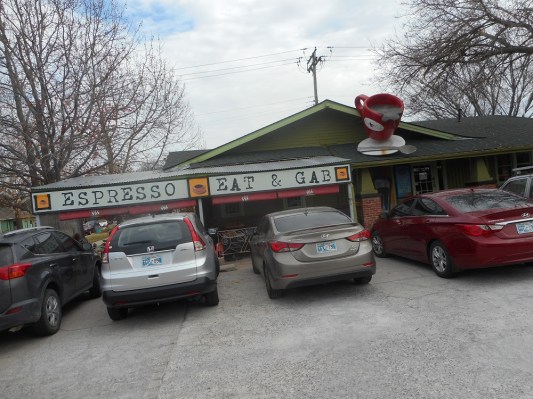 Twenty years ago, few places would cause my nerves to seize and my demeanor to sour more than a trip to the hidden hippie hideaway that was the Red Cup, 3122 N. Classen. A then-favorite after-school hang-out for the beautifully pretentious enrollees of the newly-opened Classen School of Advanced Studies, it was a mostly ramshackle coffee-shop with very little to eat, a parking lot full of junkers and a game of hack ready to bust out at any moment.
For me, however, it was more of a quick lesson in learning to know your place. Whenever I would step through the door, all those years ago, it was immediately felt and made quickly known that obviously I didn't get the memo about the secret handshake. Routinely ignored by the too cool for school staff and, when I was finally being helped, roundly dismissed and made to wait forever for a simple cup of coffee; I would often leave questioning what it is about me that they disliked so much, still naïve to the ways of the white world.
Even worse, after listing my soul-baring litany of presumed reasons for avoiding the Red Cup, it was still a major cause of far too many arguments among friends—and especially girlfriends—who wanted to see and be seen there, forcing me to, per usual, be the cold cup of yesterday's café con asshole that gets poured down the drain, feeling gaslit before it was even in the lexicon.
That was a very long twenty years ago.
Yet, still, when I pass by there to get myself a cup of coffee from the friendly neighborhood 7-11 next-door, that teenage trauma continues to momentarily grabs a hold of me, the aforementioned nerves seizing and demeanor souring, even after telling myself that I am a damn near 40-year-old man and no one (more than likely) knows me there anymore, if they even truly did in the first place.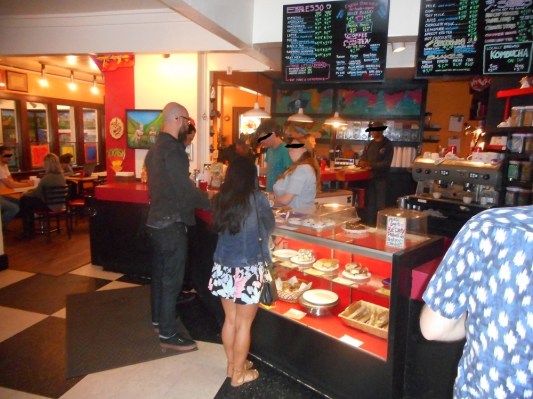 Turning a left instead of a right, I sucked in a lungful of chilled air and decided that I was going to revisit the Red Cup for the first time in two decades. The frontage was definitely far more put-together than I remembered, a neat and clean olive green paint job, professional signage, and a monolithic red cup and spoon welcoming patrons were all new details that must've been quite the investment.
But what truly stood out to me was the parking lot; gone were all the cheap clunkers and dented hoopties the Classen kids littered the gravel spaces with, instead replaced with newish Sonatas and Elantras and CR-Vs, neatly parked in a proper row, the scent of coconut air fresheners hula dancing out of each and every one. Coexist stickers blessed every bumper and Paycom security-lanyards hung off the rearview mirrors.
As the wooden porch creaked under my decidedly non-vegan girth, the local Sunday morning atheist's meet-up gathered on the porch all stopped what they were doing and turned to look at me, a record scratching somewhere in the distance. At least I didn't trip and fall and split my pants, Fatty von Scammerhorn going boom-boom and make a funny.
Bustling with a very smart, mostly salt-and-peppered contingency that were loudly discussing current events, quietly reading papers and plaintively coercing small children to finish their bagels, gone was the youthful aura of high school artistic malfeasance, instead replaced with a thoroughly modern yuppie crowd of what is now considered my peers, albeit ones with steady jobs and a presumed penchant for keeping all of their utilities on at once.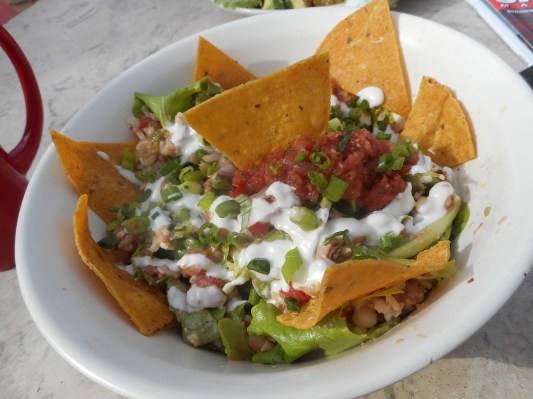 With a far more expansive vegetarian menu filled with far more intriguing dining options than I recall, the staff behind the counter were, despite a line and a rush, very friendly and very helpful, guiding me through my late breakfast order of the Gringo 2.0, a slice of strawberry cake and a Latin-themed espresso beverage troublesomely named but inquisitively concocted called the Sexi-Mexi. I was assured that it would be a few minutes and, with so many tables inside taken that I was more than welcome to dine al fresco by the goldfish pond, an offer I brazenly accepted, nervous breath exhaling.
While the food still took a short eternity to reach me, I could at least understand why this time. And, to be fair, when that voraciously packed Gringo 2.0 ($11.95) was placed in front of me, all was temporally forgiven. Loaded with Okie caviar (a decadent Pioneer Woman-style mélange of beans, corns, peppers, onions, tomatoes and oil) and pico de gallo, organic brown rice, organic cheese and crema, rough-housed together with home-made tortilla chips on a bed of local greens and grab-assed with plenty of lemon vinaigrette, it was a physically overpowering taste that burns as it soothes and puckers as it pleases. So many sensations going on at once.
With such as heavy bouquet of different extreme flavors, perhaps diving right into the Sexi-Mexi ($5.40) wasn't the best laid-out of plans, but, then again, when is it ever? A quality mixed espresso coffee drink that sears together chocolate, cinnamon and cayenne into a thoroughly arousing liquid mixed-metaphor that duele tan bueno John Cougar Mellencamp should write a corrido based around it.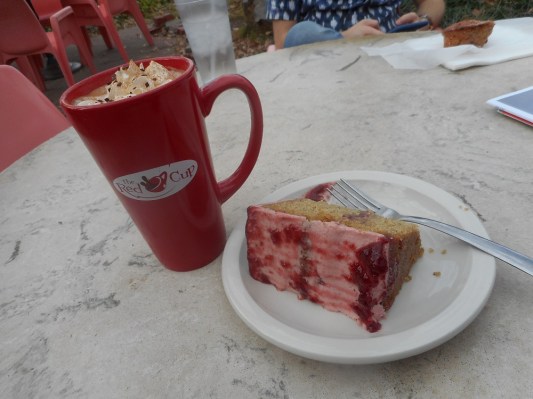 Now, with all this highly distilled positivity being bandied about, I would be a total jerk if I didn't admit that this here slice of strawberry cake ($4.95) did absolutely nothing for me and, as I'm sure you can guess by looking at me, it usually does. Vegan-aimed (and I think possibly gluten-free), it was just not for me or even someone like me, the type of comically inedible and oddly textured confection that was best left suited to a punchline made at the expense of Thelma Evans.
But of course I finished it.
Just like I finally finished up reveling in this two decades long fear of the unlikable unknown, I suppose. The Red Cup has apparently grown into a well-received respectable-enough family establishment, indubitably cultured and firmly greying at the temples, as most of us who came of age in this area are. That being said, more power to you and I guess I'll see you in another twenty years. ¡Cómpralo ya!
_
Vamos cariño, haz que duela tan bien. Follow Louis on Twitter at @LouisFowler.
Stay in touch
Sign up for our free newsletter