Everything Else
Lawmakers can't even pass constitutional anti-DUI laws
3:11 PM EST on December 19, 2017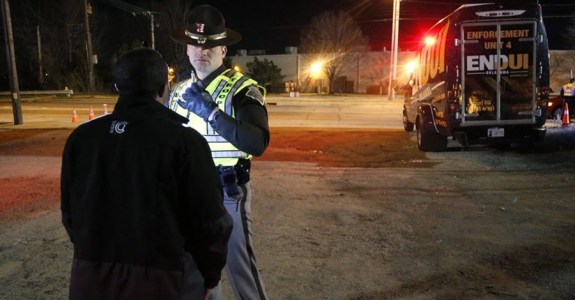 (Beautiful Photo stolen from The Tulsa World / Photo Credit Matt Bernard)
Back in June, Oklahoma lawmakers passed "The Impaired Driving Elimination Act."
The law created the Impaired Driver Accountability Program within the Department of Public Safety, and according to The Oklahoman, eliminated "the administrative appeals process drunken driving suspects use to challenge the revocation of their driver's licenses." Instead, revocations would "be left up to the criminal prosecution process."
A group of local DUI attorneys quickly challenged the lawsuit. They said it was unconstitutional because it violated the Oklahoma Constitution's single subject provision, and violated citizens' due process rights. Those claims were quickly shot down like unarmed citizen by lawmaker Scott Biggs. He's the guy who inspired my "Punch a Lawmaker Day" idea for the capitol:
It is unfortunate that a small group of attorneys, who make their living only on DUI cases would seek to put the public in harm by letting intoxicated drivers loose on our streets in order to keep putting legal fees in their pocket.

The subject of this bill is one, and only one subject, DUI reform in Oklahoma. This bill addresses the DUI epidemic in our state by setting up a diversion program for those low level, non violent offenders. It requires intoxalizers on vehicles, treatment program and offers rewards such as a driver's license back with no fees for reinstatement for those who complete the program...

This bill is constitutional, and will help curb the epidemic of DUI offenders in Oklahoma. It was a GIDPAC task force bill, and heavily supported by Mothers against drunk driving."
Earlier today, the Oklahoma Supreme Court issued their decision. Naturally, it was ruled unconstitutional. Here are the details via News 9:
The Oklahoma Supreme Court has ruled that a new drunken-driving law that created a new program for first-time DUI offenders and abolished the appeals process for those trying to keep their licenses after a DUI arrest is unconstitutional.

In 5-4 decision, the state's highest court invalidated the Impaired Driving Elimination Act Tuesday because it violates a state constitutional guideline that legislation pertain to a single subject.

The court's majority opinion states that the new law contains 17 sections pertaining to, among other things, revocation of driver's licenses, ignition interlock devices and blood and breath tests. The court previously blocked the law from going into effect.
Wow. Outside of sex criminals and minority drug users, there's not an easier – or more rewarding – group of unsympathetic people for lawmakers to target with excessive fines, penalties and public shaming than DUI offenders, and now they can't even do that right. I would say Oklahoma lawmakers have reached a new low, but they hit rock bottom a long time ago.
Then again, maybe that was intentional. Knowing what we know about our lawmakers' character and values, I would guesstimate that most of them drink and drive on occasion, especially after having what you would call a Bourbon and Coke. By making a law that greatly benefited the criminal justice system over the rights of individuals unconstitutional, they're technically doing themselves a favor. Just saying...
Update: I talked to my buddy John Hunsuker with OK DUI and here's what he had to say:
We spent countless hours at the capitol talking to legislators about the issues with this bill before it was voted on. Rep Biggs stood before his peers and told them that we were lying despite judges, district attorneys, and defense attorneys telling them this was a bad bill. It boiled down to they weren't going to let pesky things like due process and the Constitution get in the way of votes.
Stay in touch
Sign up for our free newsletter