Everything Else
Oklahoma GOP politicians blame each other for problems they all created…
6:55 AM EST on December 6, 2017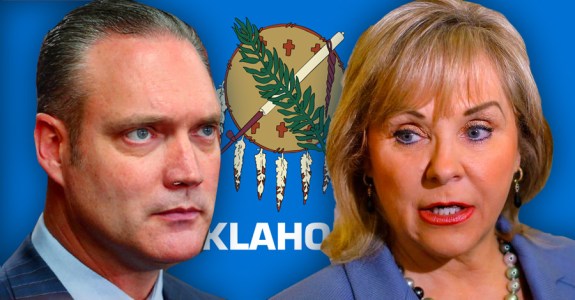 Last week, a Special Investigative Committee of the Oklahoma House of Representatives subpoenaed members of Mary Fallin's cabinet in a failed effort to blame our other dysfunctional branch of government for the problems they both created, and distract people from their own general incompetence.
The Oklahoma political sphere caught on to the tactic pretty fast, and the next day, the subpoenas were withdrawn. Via Non Doc:
Thursday, the House of Representative's new Special Investigative Committee sent subpoenas to the acting director of the Oklahoma Management and Enterprise Services agency, Oklahoma's secretary of finance and Gov. Mary Fallin's chief of staff.

But Friday, the committee's chairman, Rep. Josh Cockroft announced that the three state employees have agreed to cooperate and that subpoenas have been withdrawn.

Denise Northrup, Preston Doerflinger and Chris Benge were "commanded to appear" before the committee Dec. 19, 20 and 21, respectively. Each individual was sent a request to provide 10 documents and written answers for 39 questions, but now Cockroft said those documents and written answers will not necessarily be required...

The requests for documents included any and all communications between Northrup, Doerflinger and Benge and a slew of people on a slew of topics, including revenue measures, state agency mismanagement, the Department of Health, the Tobacco Settlement Endowment Trust and any rally planned for the Capitol. Time frames range from the past three to five years.
In case you're documenting all the reasons why Oklahoma is in the shit hole, just look at how much responsibility Speaker McCall has given to Josh Crockroft, a known plagiarist who I think graduated from the Derek Zoolander Center For Children Who Can't Read Good And Wanna Learn To Do Other Stuff Good Too. That guy shouldn't be put in charge of a boiling a pot of water, much less a government "Special Investigative Committee." Oh well, I guess we get who we vote for.
Mary Fallin and Speaker McCall are also trying to blame each other for Medicaid provider cuts, something they are both responsible for doing. Via McCarville Report:
House Speaker Charles McCall and Governor Fallin are bickering over her recent veto of the budget created during the special session. McCall is blaming the veto for Medicaid provider cuts. The Oklahoma Health Care Authority approved the cuts on Friday.

"The bill the governor vetoed would have stabilized the Health Care Authority's budget until a more sustainable solution could be reached during the upcoming legislative session or a later special session. The plan wasn't perfect, but it provided funding for those health agencies and programs most affected by the loss of revenue from the cigarette fee. We understand the affect that provider cuts have on access to care, particularly in rural areas of the state. If the governor had signed the budget agreement, those cuts to provider rates and any potential cuts to other healthcare services in the coming months would have been avoided," said McCall.

Fallin responded by saying the special session budget wasn't enough to fix the problems. She wants to the Legislature to come up with long-term solutions.

"The budget bill that I vetoed was a short-time fix to a long-term problem. When we return to regular session next year to begin work on the 2019 fiscal year budget, we will be facing a budget gap of as much as $600 million and the reality that provider rates would be cut again. I believe we missed an opportunity to address our long-term structural budget problems in special session by continuing to kick the can down the road and failing to develop a predictable solution to fix our budget and fund our core services. We didn't get our job done. Unfortunately, it took my veto pen to bring the proper focus and attention to this matter. I am committed to addressing the health care needs of Oklahoma as I always have, and I look forward to working further with legislators to find solutions," said Fallin.
That's ridiculous. It would be like the CEOs of Taco Bueno and Taco Mayo trying to blame the other for giving Oklahomans diarrhea. They're both equally responsible.
Stay in touch
Sign up for our free newsletter