Everything Else
Kevin Durant is still a whiny, pouty, immature crybaby…
6:23 AM EST on November 17, 2017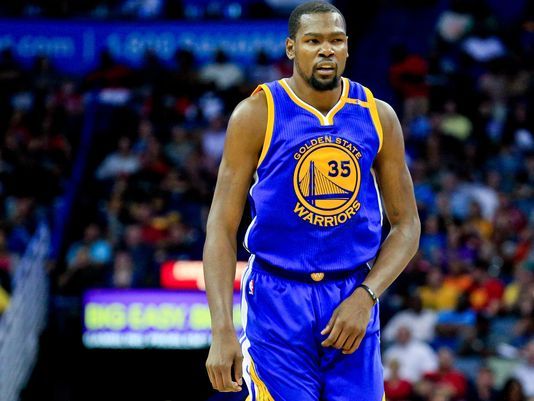 (Warning: Grown Up Language Ahead.)
Yesterday afternoon, Bleacher Report dropped an "epic" interview with Kevin Durant. It was about what you'd expect from the complicated, insecure, immature two-faced Koward we all once loved, but now dislike and disrespect.
In the interview, KD talked about how he's "at peace" with himself and has "let go of his (negative) feelings" towards the Thunder, and then proceeded to contradict it all by whining about petty sour grapes he has towards the organization he broke up with.
For example:
A month into his second season with the Warriors, Durant is raising his sights from insulting tweets to years down the road. He hasn't reconciled with his former teammate, Russell Westbrook, nor his former GM, Sam Presti, and, yes, it also initially bothered him that OKC gave his No. 35 to PJ Dozier, who signed a contract that allows him to play for both the Thunder and their G League team, the Blue. But he says he has let go of his hard feelings, and he is convinced everyone on the other side of the OKC equation will do the same. Eventually.

"Those people really mean a lot to me to this day," he says. "No matter if they talk to me or they're mad at me. Whether it's Sam Presti or Troy Weaver or Russell Westbrook or Nick Collison. Whether it's Wilson Taylor or Clay Bennett and his family, I love them from the bottom of my heart. We're not talking, but eventually we will.
"I didn't have that perspective at first. I didn't have it when I went back to OKC. I was like, 'F--k all of them.' I didn't have it when they gave my number away. I was, 'F--k all of them.' My best friend works for the team, I told him, 'F--k all y'all. That's f--ked up.' Then I had to get out of my head, tell myself, 'It's not that serious, it is what it is.' I understand it's not my number anymore, they can do whatever they want with it, but you hand that number to a two-way player, you've got to be, like, 'Nah, we've got too many good memories with this number, man.' But at some point, that thing's going to be in the rafters anyway; it's all good."
Question. Can we get Big Rich with Pink Parrot to print a bunch of P.J. Dozier No. 35 t-shirts for everyone to wear to the Warriors game next Wednesday? I'll buy a couple of dozen or hundred. They can sell them at Cuppies and Joe.
Also, "fuck all of them?" Hey Longhorn, that's exactly what you did! The Thunder offered you hundreds of millions of dollars, the keys to a flyover city, and the chance to compete for championships against the pretty boy Warriors, and you said "Fuck all of them" and ran away to jump on Draymond's dick. I guess you're too weak to move on from that decision – it obviously still haunts you – so you passive aggressively try to justify it with forced, misplaced anger and aggression to towards a city, state and organization that was nothing but good to you.
Here's KD's carefully crafted response to that logic:
"I'm a person," he says. "I've got real feelings and I'm not afraid to be vulnerable in front of people who watch us play or that follow the league. It's f--ked up that you're saying that stuff about me, because just a couple months before, I was the greatest thing since sliced bread because I was playing for your team. Your team is on TV every day, playing late into the playoffs and you get to brag about how good your city is to some other people around the country. It was all good when I was doing something for you. It was all good when I was representing you. Now I decided to take my career in my hands and I'm a 'bitch'?
No KD. You're not a bitch for taking your career in your hands. You're a bitch because you took the low class, easy way out that goes against the grain of everything we expect from our heroes and athletes. Basically, you did what a true bitch would do.
Dean Blevins would agree. Check out this Not Bill Walton tweet he RTed: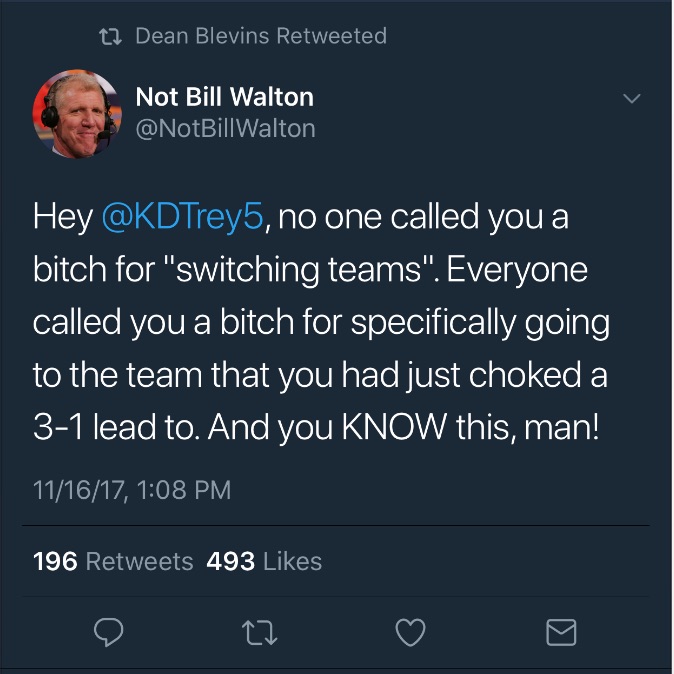 I wonder why Dean didn't tag @News9 in that one?
Anyway, you can read the rest of the piece here. In addition to the KD stuff, the writer Ric Bucher decided to rub it in and find some former Seattle Supersonics to remind everyone that, news flash, places like Seattle and the Bay Area are more fun, enjoyable and scenic than Oklahoma City, especially if you're a young, successful multi-millionaire athlete who doesn't have to worry about normal things like cost of living. I'm not sure why Bucher felt the need to include the cheap shots. Just like KD being an insecure bitch, I think it's all pretty obvious.
Stay in touch
Sign up for our free newsletter