Everything Else
What the hell is going on with the Oklahoma Health Department?
1:26 PM EDT on November 1, 2017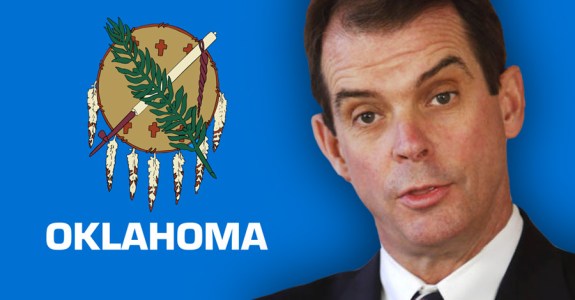 A new plotline has developed in the twisted reality drama "Oklahoma – America's Shithole."
Earlier this week, Terry Cline, the doofus pictured above, resigned as Commissioner of the Oklahoma Health Department following reports the agency mysteriously lost $10-million and will now have to layoff and furlough employees, affecting health services to thousands of Oklahomans.
Via Oklahoma Watch:
The top official and a senior deputy at the Oklahoma State Department of Health have resigned amid findings that the agency overspent and mismanaged finances for years.

In an emergency meeting Monday night, the Oklahoma State Board of Health accepted the resignations of Health Commissioner Terry Cline and Senior Deputy Commissioner Julie Cox-Kain, effective immediately. The department is grappling with an unexplained $10 million cash crunch, recently implementing furloughs and program cuts and announcing layoffs.

Cline was replaced on an interim basis by Preston Doerflinger, Oklahoma's finance secretary.
That's great. We're replacing the guy who lost $10-million in the health department budget with the speed demon Mary Fallin put in charge of the Oklahoma budget. To make this even better, Doerflinger is being replaced at OMES by Mary Fallin's former Chief of Staff Denise Northrup. I guess Oklahoma is the place where the Peter Principle goes to die.
Here is Terry Cline's "pretend everything is fine" resignation letter: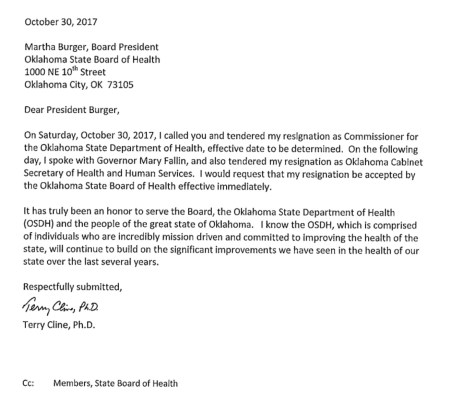 That's hysterical. He really wrote that OSDH "will continue to build on the significant improvements we have seen in the health of our state?" Is he moving to Chicago to write for The Onion? Since 2007, Oklahoma has jumped from 49th to 46th in the United Health Foundation's America's Health Rankings report. Unless it has to do with college football, leapfrogging Alabama is not considered "significant improvement."
Anyway, nobody really knows how or why the agency lost $10-million. Here's what State Auditor Gary Jones had to say:
"We've heard a lot of figures bantered around. I think that probably what we're looking at right now is probably a number higher than that," Jones said.

Jones said they will go through the accounting system; determine what money went where, if it was used improperly and who made the decisions.

He said they won't know exactly what they're dealing with until the audit is complete.

"It could be them in turn trying to balance their books by moving money from one account to another thinking that they can have the ability to pay it back at another time. It could be that there was fraud committed and somebody in turn took money and put it in their pockets," Jones said.

Jones said the resignations come at unusual time in the audit.

"Usually, we see resignations at the end of an audit, not the beginning of an audit," he said. "Once we start issuing our reports and once the information starts coming out, that's when we generally see the resignations or the indictments."
Can we get some offshore gambling website to come up with odds on how they lost the money? Knowing what I know about Oklahoma government and the idiots who lead it, I'd say the odds are even between incompetence and corruption.
Stay in touch
Sign up for our free newsletter