Everything Else
5 One-Day Oklahoma Road Trip Ideas
9:58 AM EDT on September 21, 2017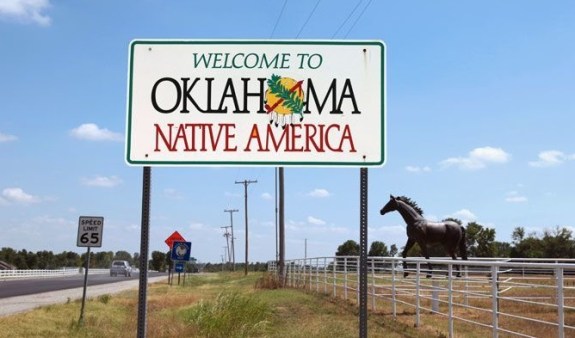 Back when I actually had a car and the accomplished freedom that came with it, there were few things I enjoyed doing more than just lazily driving in some rando direction, stopping at the first (or second) tourist trap that catches my eye, enjoying the surroundings with little to no irony or cynicism, and, finally, before heading back to the Metro, stopping at a local eatery that perfectly captures that municipality's flair and flavor, even if it usually covered in flour and deep-fried.
It's these little anonymous one day road trips, these twelve-hour of less getaways that can truly make a person feel like a free man and, to this day, I honestly miss how I took that freedom for granted. Always enjoy the road, no matter how short a trip or how long a drive. Get out of town for the day next weekend, if you can. Here's a list of 5 One-Day Oklahoma Road Trip Ideas to help recharge anyone's cabin fevered batteries. ¡Cómpralo ya!
_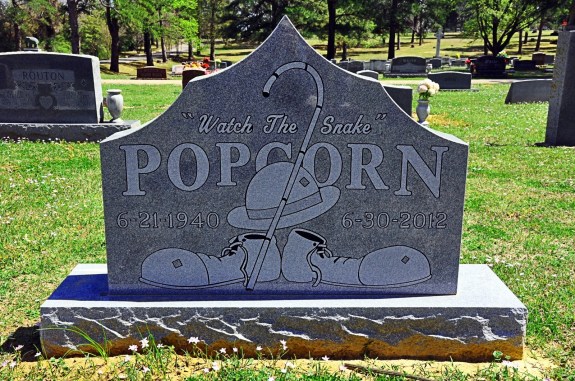 Circus Town USA — Hugo
Like something out of a wistful Ray Bradbury novel about youthful fears of autumns long gone by made mysteriously realized, once the temps come down and the leaves turn brown, the Carson & Barnes Circus, and the Kelly Miller Circus have made Hugo, Oklahoma their wintering home, with numerous circus-themed trailers parked in the grassy fields and an elephant sanctuary just waiting for the snow to thaw, with the shadows of deceased clowns and dust witches casting wide under the midnight sun in nearby Showmen's Rest Circus Cemetery. Bring your own forty of Dandelion Wine to tip and tribute.
Lunch tip: Might as well keep the nightmare material fresh and well-fed with a stop at Angie's Circus City Diner, whose motto is "Where everyday is a circus!" which is weird, considering they offer absolutely no circus-themed eats like Cotton Candy Fried Chicken with Jelly Green Beans and Creamed Popcorn. That being said, they don't clown around when it comes down to the All You Can Eat Catfish Special, served after 2 p.m.
_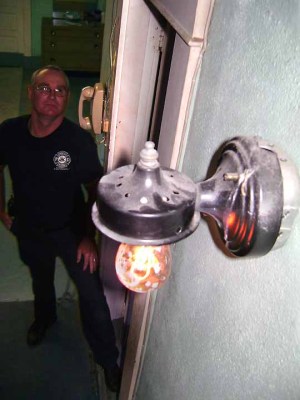 The 4th Oldest Burning Light Bulb in the World – Mangum
Who needs the World's 2nd Biggest Ball of Twine when a mere two hours and 24 minutes away is the 4th oldest burning light bulb, located in the Mangum Fire Department in Mangum, Oklahoma. Whether part of the firehouse tour or just a quick looksee, gazing at that 100 volt phosphorescent spectacle, it's amazing that this luminous invention known as Edison's Folly has been brightly a-lit over the fireman's bathroom entrance for almost a century; that's decades to me and you, Rusty.
Lunch tip: Once the tour is over—and believe me, it will be over quick—why not head over to the historic Hamburger Inn for an onion burger and slice of coconut cream pie. If you're a newly single mom – or dad – who is looking to start a new life away from the city, Hamburger Inn's Facebook page said they are currently looking for part-time waitresses, dishwashers & cooks. This might be a great chance for you start over. Think about it.
_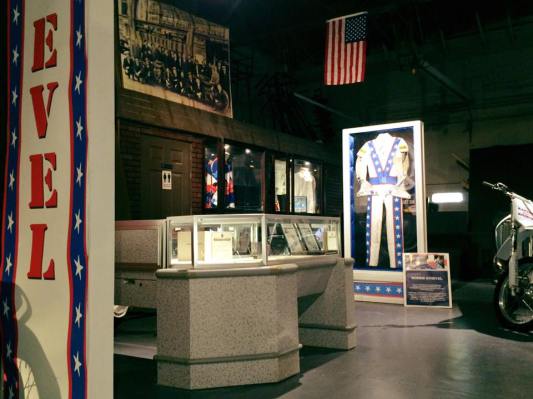 The Evel Knieval Collection — Miami
There was a time in this Godforsaken country's history when we were being torn apart from the inside. Classes were clashing in the streets, a corrupt government was in charge and a war nobody wanted raged on overseas. It wasn't until one man, a star-spangled daredevil clad in the ol' red, white and blue and armed with only a flaming motorcycle and a gutload of gumption, finally stood up and said "No more!", inspiring the population bedraggled and beaten down Americans as he attempted to cross Snake River Canyon in a homemade Skycycle X-2 rocket. He might have failed but America, for the first time in years, came together in a collective sense of can-do inspiration and won, at least until 1977. Relive that carnalistic pride viewing the Evel Knievel Collection located in the Route 66 Vintage Iron Museum in Miami, Oklahoma. Why Miami? Who knows.
Lunch tip: Known for their hot fresh-baked rolls—I can smell them baking now, which is weird, because I don't have an oven—the Buttered Bunns Café serves the most grotesquely abundant breakfasts who have seen, the kind that will uncomfortably sit with you (and in you) well into the next day; don't believe me, order up the especially monstrous Mishmash Plate featuring every breakfast item you can think, piled high onto a plate and literally smashed together in a huge, delicious clump. What a country!
_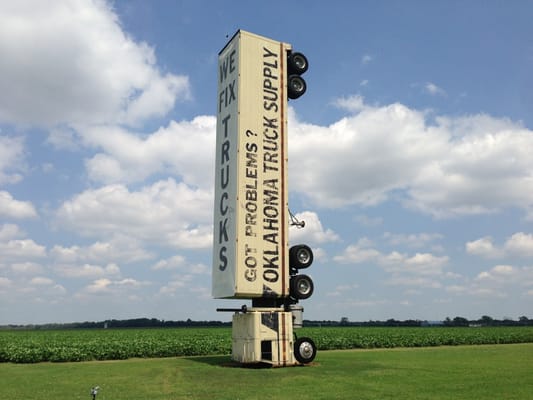 The Upended 18-Wheeler — Tonkawa
Huh. Well ain't that something? You don't see trucks do that everyday, do you? Used as a billboard and located in front of the Wilkins Truck Supply, this 18-wheeler is standing straight up and would probably be a great roadside attraction to stand next to and take a forced-perspective pic of you leaning against it. That's clever, right? I just thought of it. Please don't steal it.
Lunch tip: A part of the Tonkawa landscape since 1955, Mary's Grill offers a hand-breaded "Hungry Man" 8 oz. chicken fried steak made the old fashioned, chest-clutching way with plenty of white cream gravy and tender love that only small-town diners can truly provide. Ask for it "breakfast style" and they'll thrown on an egg and two slices of thick-cut bacon, all served on a bed of hash browns. While eating, take a moment to call up your cardiologist and tell him to suck on "deez nutz, bitch."
_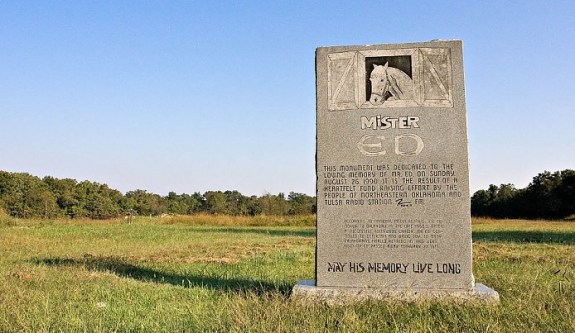 The Grave of Mr. Ed — Tahlequah
A corpse is a corpse of course, of course, and no one can talk to a corpse, of course, unless that corpse is the corpse of the famous Mr. Ed! The beloved talking horse from television's golden era of extremely dumb sitcoms was brutally euthanized in 1970, but was at least given a proper Christian burial, the tombstone located somewhere off Highway 82 in a vacant lot next to an abandoned house. They say that if you visit the grave at night and say "Wilbur" three times you'll hear the faint sound of clip-clops and canned laughter in the distance.
Lunch tip: Lay out a blanket and snort some freshly-harvested adrenochrome while stripping down and reciting the most erotic passages from Peter Shaffer's Equus. Smear warm, recently-rendered horse-grease all over your body and proclaim yourself the second coming of Der Todesking, asking the damned souls of Jay Livingston and Ray Evans to guide you to Valhalla as you choke on filthy handfuls of Great Value brand creamy peanut butter. "Goodbye horses…" is heard in the distance as you finally slip into eternal darkness, becoming one with the cosmos.
_
I'm dyin' dyin' dyin' over you. Follow Louis on Twitter at @LouisFowler.
Stay in touch
Sign up for our free newsletter