Everything Else
TLO Restaurant Review: VZD's Restaurant & Bar
10:00 AM EDT on September 12, 2017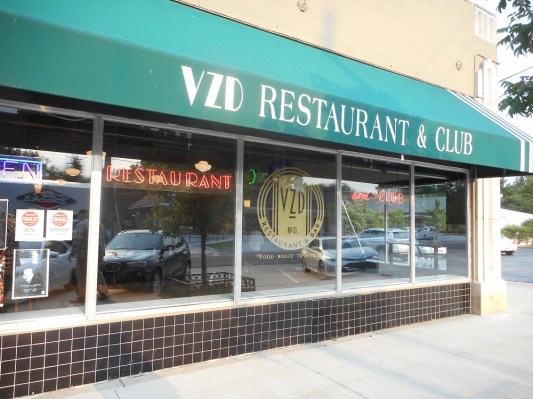 When I left home shortly after graduating high school, going (North) west young man, I spent many of the best years of my early days of forced manhood in a piecemeal duplex that was filled with roaches, spiders and ghosts, but, hey, it was mine and I loved it.
Roughly one block up the street was Western Ave., still in its dilapidated heyday. I had a part-time job washing dishes at Sushi Neko, the Will Rogers still had killer shows and the non-7-11 convenience store was a wealth of drug paraphernalia and three-packs of discount pornography. But, best of all, it was a two-minute walk to VZD's, where a lone wolf such as I could score a beer and a late-night burger as whatever local Red Dirt band was packing up their gear and heading home.
An absolute Oklahoma City staple of coolness past, VZD's Restaurant & Bar, 4200 N Western Ave., has had its various historical moments of being someone's own private Idaho, from failed dates—that was a long walk home alone—to successful concerts—remember that time Jonathan Richman played to like, 10 people?—this joint was part of a very vulnerable, venerable and volume-to-11 time in my life that, honestly, few places were ever able to compete with.
When I moved back to this area a few years ago, however, Western Ave. had changed and was changing even more; the streets were in the process of gaining French-inspired medians while stylized automotive repair shops and hipster fried chicken joints were the new de rigueur. As for VZD's, it was closed and then opened and then closed and then…opened? Who knew anymore?
My city, or, at the very least, my street, was gone.
The joint was remodeled and reopened sometime in 2015 with former Christina Fallin paramour Eric Smith at the helm, both as the general manager and the head chef, offering a "reimagined" menu that was supposed to pay tribute to the past while looking forward to the nouveau future of the newly-monikered Western District. Still, it was only recently when a fellow Native American foodie messaged me to let me know that VZD's is currently offering an Indian taco and I should check it out that my interest in the old girl was re-piqued enough to give this latest incarnation a whirl on the culinary dancefloor.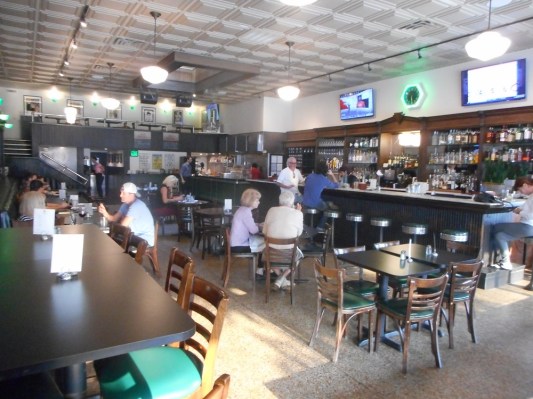 A local musician pal and I met there for dinner sometime last week, circa the after-work drinking hour, shocked to find not only the place mostly desolate, but those that were there primarily AARP cardholders, a far cry from the Dickies and tatts crowd that used to fill up the bar stools 'round this time back when. Even more so, my impoverished jaw momentarily dropped when perusing the menu; as high quality as I'm sure this churched-up fare is, it all seemed overwhelmingly pricey for well-to-do bar eats.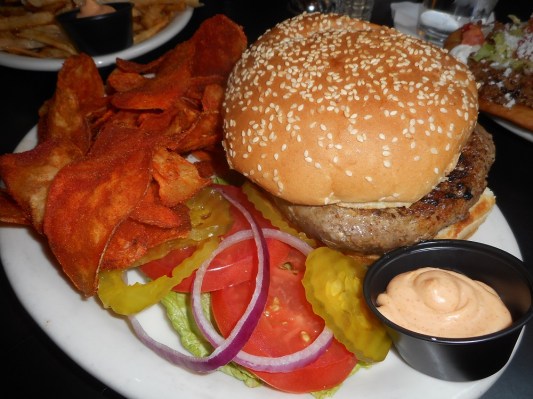 Wistful for a time when VZD's Classic Hamburger was an underrated late-night Godsend, I immediately ordered this redux ($9.00), served with house-made chips. While beautifully voluptuous and pressed with the ultimate of care, I'm sure, thank God for the side of spicy mayo because, ultimately, the beef patty itself was surprisingly flavorless, seemingly lacking in even the simplest dashes of salt and pepper. The chips, however, were pure potato splendor; brimming with the right amount of heat and the most fantastic of kettle-cooked crunches, they were a real treat.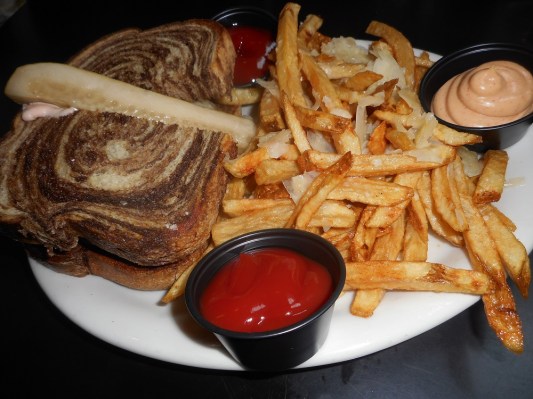 Even more so was the VZD's World Famous Reuben ($14.00) and, while I'm sure rumors of their global fame have been greatly exaggerated, there's no denying this is a damn good sandwich. Layered with a plentiful helping of their fragrant house 20-hour corned beef, a volume of tart kraut and a splash of 1000 Islands ensconced between two toasty slices of marble rye, there's very few Reubens locally that can compete with this taste-wise; sadly that's way too much to pay for a sandwich that's not made by the hands of God or, at least, one of his elected representatives. (While my friend adores the Parmesan dusted truffle fries upgraded on the side, I found them desperately overpowering and overkill after the first few bites.)
Saving the moment I was historically dreading for last, the relatively new addition of the aforementioned Indian Taco ($14.00). Giving it a fair enough shake, I will candidly admit the cumin-infused beef and surprise addition of cotija cheese was extraordinarily palate pleasing. It was the heart and soul, this supposed frybread, however, that was thin and crispy like a deep-fried and sun-dried Boboli pizza crust, that left so much to be desired, from both a flavor standpoint to a definitely monetary one.
And while there were a few intriguing selections on the menu, from the John Wayne Burger to the Beef Stroganoff (!), a sense of tepid closure washed over me, a sense of curiosity filled, for better or worse or, most accurately, indifferent.
Thomas Wolfe once speculated that you "can't go home again," and there's a cynical, lost part of me that wants to agree with that idea, especially after dining at the new VZD's. Either it's grown up or I have; it's a lot like running into someone you once passionately dated for a month or two almost twenty years later, a time of better-suited romantic madness where the past is deserves to be left right where it is: in the past. Nostalgic disappointment is a Hell of a harsh mistress. ¡Cómpralo ya!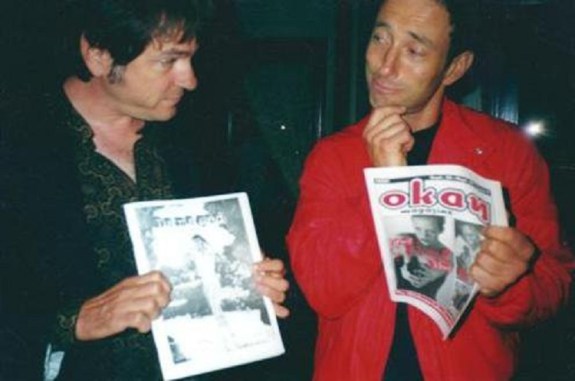 _
That summer feeling is gonna haunt you for the rest of your life. Follow on Twitter at @LouisFowler.
Stay in touch
Sign up for our free newsletter