Everything Else
TLO Restaurant Review: Cous Cous
8:46 AM EDT on August 1, 2017
For some unexplained reason, North May Avenue, from about N.W. 36th to around N.W. 63rd, has become the Metro's absolute Mecca for Mediterranean and Middle Eastern eats, with, at last count, at least five or six notable restaurants staking a kabob every few miles, and that's not even counting the immigrant-owned pizza joints that offer many of the same items for the fast food crowd, sometimes stuffed inside a calzone, God willing.
As I work my way down the street over the course of the next few months, I was truly blessed to be able to start with local favorite Cous Cous Café, 6165 N. May Ave. A relative newcomer to the scene, in the past few years, this establishment has managed to become a real bar-setter for Mediterranean dining, all from the confines of an unassuming mini-strip mall, easily overshadowed by the ever-looming Chick-Fil-A on the hill and their dumb cows.
To Hell with the beef, I say! Pass the lamb!
Specializing in Moroccan delicacies, places like Cous Cous always have so much fresh goodness on the menu that I want to try and/or re-try, but there's only so much space inside this useless Tupperware container of a body. Thankfully, cuisine of this sort is moderately healthy—or so I've been told, right?—so I probably won't feel as guilty if I push it a little more than usual, and that includes starting with an appetizer, preferably a sampler of some of Cous Cous' finest offerings...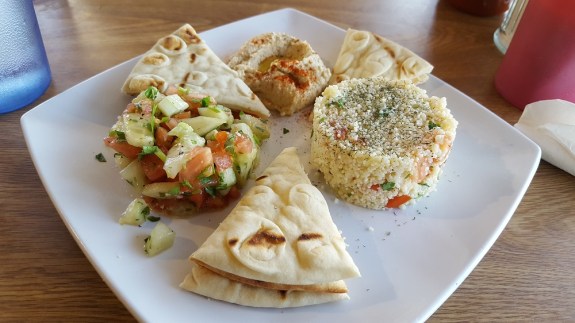 Par for the course, the Vegetarian Trio platter ($6.50) is a generous helping of mandatory pita bread and hummus, but with the Café sadly out of falafel (Editor's Note: I regularly have Cous Cous delivered via Postmates. Their falafel may be the the best in the city) for the time being, I was delightfully subbed some well-portioned and seasoned couscous as well as a cucumber and tomato-heavy Moroccan salad. The soft, pillowy pita bread slices were fresh out the oven, a warm and welcoming edible cloud from Heaven itself, begging to be heavily dipped in the graciously oiled and thickly hummus, delivering a beautifully tart consistency that, when paired with the absolutely zesty salad and dill-infused cous squared, mingled with more ballsy confidence than a salty gambler betting it all on the baccarat table at the Le Grand Casino de la Mamounia in Marrakech.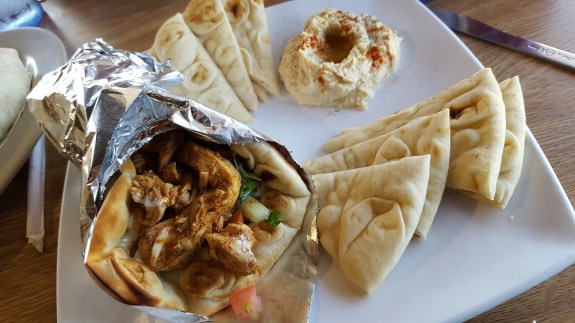 Perhaps I should've been a bit more adventurous like him after that rousing opener, but the Chicken Shawarma Sandwich ($5.25), absolutely loaded with lettuce, tomato, onions, pickles and that specially spiced and diced spit-roasted chicken was impossible to say لا to, especially when swimming in that minty cucumber sauce that totally validates not only this decision, but, retroactively, many I've made in the past week, each bite a poultry-based prayer-bead of culinary forgiveness.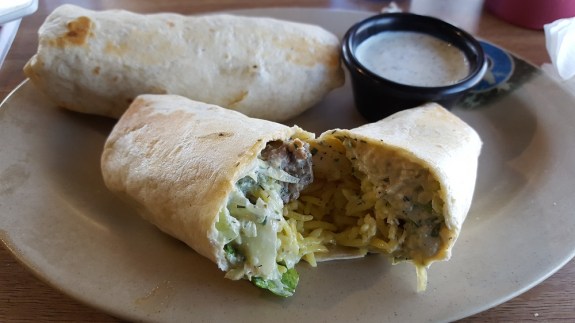 That being said, like an impetuous child on his birthday, instead of taking the time to order the timeworn and classic dish that is the highly recommended and highly vaunted Lamb Tagine, I went for the flashy and shiny firecracker of a finale with the dynamic duo of the Lamb Kabob Burritos ($5.95), two mucho gordo servings of that transcendentally smoky lamb, wrapped in a wheat tortilla with a bandito's booty of hummus, brown rice and Moroccan salad tightly squeezed into a taste sensation that qualifies as an act of creation so original, I'm really hope the chef gets Sundays off.
Let's be honest: the Cous Cous Café is kind of a given, right? When it comes to Mediterranean food, especially of the Moroccan bent, I'll always have the tagine and so much more waiting for me. In the meantime, wrap me another couple of burritos to go, Sam… ¡Cómpralo ya!
_
Tzatziki is also really good on tacos, as I've recently learned. Follow Louis on Twitter at @LouisFowler.
Stay in touch
Sign up for our free newsletter