ICYMI
Markwayne Mullin is a liar…
2:12 PM EDT on July 6, 2017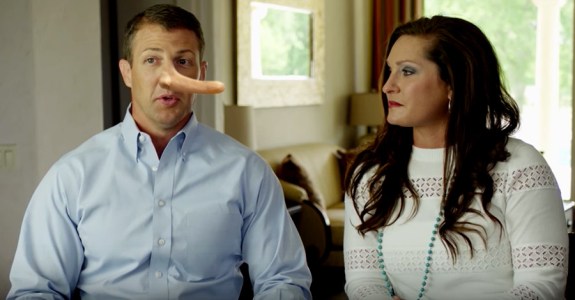 It looks like Oklahoma Congressman Markwayne Mullin isn't just an idiot. He's apparently a liar, too.
Back in 2011, when the Trust Fund Baby Who Inherited His Dad's Successful Plumbing Business first announced he was running for congress, he pledged to only serve three two-year terms if elected. We know this thanks to fake news sources like the Associated Press:
Taking a page from the political playbook of U.S. Sen. Tom Coburn, two GOP candidates for the open 2nd Congressional District seat in eastern Oklahoma said Monday they plan to serve no more than three terms if elected to Congress.

State Rep. George Faught, R-Muskogee, and Adair County businessman Markwayne Mullin both told The Associated Press they would limit themselves to six years in office.

Faught and Mullin both are seeking the seat in eastern Oklahoma being vacated by current U.S. Rep. Dan Boren, the lone Democrat in the state's congressional delegation.

"I don't want to be up there (in Washington) and become part of the problem," said Mullin, 34, owner and CEO of Mullin plumbing. "If we can't accomplish anything in six years, it's a waste of time anyway."
Well, it's officially been six years since Markwayne was elected, and considering his only accomplishment as a congressman is disrespecting the intelligence of constituents and making an ass out of himself on the national stage, it looks like the citizens of Oklahoma's eastern congressional district will finally have a new representative to pay his or her own salary through taxes.
Or maybe not.
Over the 4th of July holiday weekend, Markwayne announced on YouTube that he will seek reelection. He did so in a video that looks like a segment from a marriage counseling series at Crossings Church. Check it out...
Before we continue, I'd like to clarify that I only watched the first 30-seconds of the video. Maybe I'm old-fashioned, but I have better things to do than listen to a politician use prayer and religion as an attempt to justify why he lied to voters. I'm sure that got old thousands of years ago.
Some people don't seem to mind, though. The Tulsa World, as part of its new mission to apparently one up the right wing sympathies of The Oklahoman's editorial page, actually defended Markwayne's decision:
Second District U.S. Rep. Markwayne Mullin announced over the holiday that he is reneging on his promise to limit himself to six years in Congress.

In an 11-minute video posted on social media on Independence Day, Mullin and his wife, Christie, explain that after much prayer and thought, he has decided to run for re-election in 2018...

Mullins' promise was unwise from the beginning. As a small state, Oklahoma's only chance at political clout in Congress comes from tenure in office. Despite entering the ring as a self-limited short-timer, Mullin has risen to become a deputy whip, a position that allows him to do some good for the state and his district.

In the end, Markwayne Mullin is an effective salt-of-the-earth voice of the people of rural Oklahoma, and his efforts shouldn't be cut short because of a foolish mistake made before he understood the full challenge he was taking on.
Oddly enough, I agree with the Tulsa World on one point. Mullins' promise was "unwise." It was also short-sided, opportunistic and really fucking stupid. And guess what, he should live with it. Let Oklahoma voters elect some other dense, selfish, lying, hypocritical, "salt-of-the earth" trust fund Republican represent them in congress, preferably someone who wants to stay awhile, score us some earmarks, and continue to embarrass the state on the national level. We can always use a fresh face and new material.
Stay in touch
Sign up for our free newsletter