Everything Else
Hobby Lobby hypocrites fined $3-mil for smuggling ancient artifacts into US…
9:15 AM EDT on July 6, 2017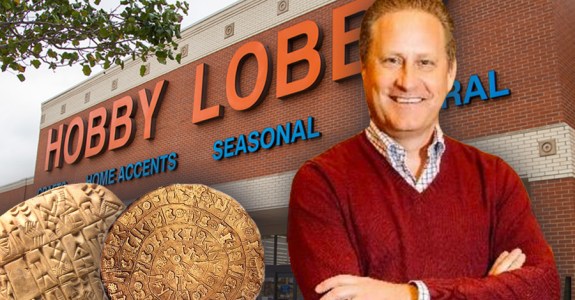 Back in 2015, we let you know that Hobby L0bby and its owners, the self-righteous Green family, were under investigation for smuggling ancient artifacts into the US, and could be facing criminal or civil charges.
Here's what we had to say at the time:
Earlier this week, The Daily Beast reported that the beloved Green family, the billionaire religious zealots behind Hobby Lobby, Mardel, and whatever-the-hell that Hemispheres place is, are under federal investigation for allegedly trying to smuggle biblical artifacts from the Middle East into the United States for that $400-million Museum of the Bible they're building in Washington D.C.

The investigation centers around some 2,000-year-old ancient clay tablets from Iraq that were "mislabeled" as cheap ceramic "Live. Laugh. Love" wall ornaments or something like that. According to The Beast, this was done because the artifacts were likely stolen, and the Museum of the Bible people wanted to sneak them through customs...

It will be interesting to see what goes down next. If found guilty, the artifacts will be confiscated and a fine will be issued. Then again, I've also heard that David Boren has volunteered to house the objects in OU's stolen artwork collection while the federal investigation is underway, so who really knows what will happen.
Well, I guess David Boren couldn't come to the rescue. Yesterday afternoon, news broke that Hobby Lobby and the FEDs reached a settlement where the retailer would return the artifacts, pay a fine, and not face any civil or criminal charges.
Via NewsOK.com:
Oklahoma City-based Hobby Lobby Stores Inc. will pay a $3 million fine and forfeit scores of religious artifacts from Iraq in a settlement announced by the Justice Department on Wednesday.

Under the settlement, Hobby Lobby will forfeit 144 clay artifacts that originated in modern-day Iraq and were smuggled into the United States through the United Arab Emirates and Israel. The packages, falsely labeled ceramic or clay tile "samples," were shipped in 2010 to Hobby Lobby headquarters and two of the company's corporate affiliates in Oklahoma City, according a Justice Department complaint.

In a statement, Hobby Lobby President Steve Green said the company "should have exercised more oversight and carefully questioned how the acquisitions were handled."

"We have accepted responsibility and learned a great deal," Green said. "Our entire team is committed to the highest standards for investigating and acquiring these items. Our passion for the Bible continues, and we will do all that we can to support the efforts to conserve items that will help illuminate and enhance our understanding of this great book."
I think Hobby Lobby learned a valuable lesson here. Next time, smuggle in some other country's ancient relics and antiquities via your connections in China! Seriously, just toss them in the next shipment of cheaply made frames, baskets or artificial Christmas trees. No one will ever notice.
Here's more info on the settlement:
As part of the settlement, Hobby Lobby will pay a $3 million fine to resolve the civil action. It agreed to adopt internal policies and procedures governing the importation of purchase of cultural property, provide training to employees and submit quarterly reports to the government for the next 18 months on any cultural property acquisitions.
$3-million may sound like a big fine and everything, but keep in mind the Green family is worth over $7-billion. That would be like fining Kelly Ogle 2-cents for a parking ticket. It's not going to deter any future bad behavior, and will probably just make him giggle. That's why I think the government should be a little creative and donate the proceeds of the settlement to Planned Parenthood. That will show them.
Stay in touch
Sign up for our free newsletter