ICYMI
Kevin Durant (allegedly) likes lady farts…
7:18 AM EDT on June 19, 2017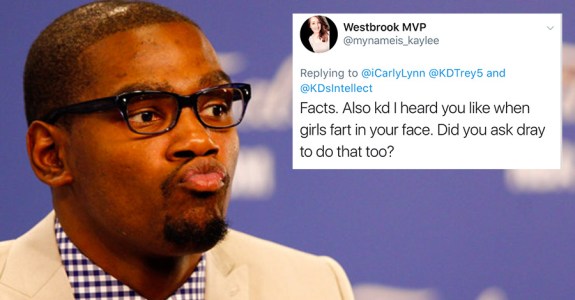 Before we get to this post, I'd like to say that at some point we're going to stop writing about Kevin Durant on this site. I don't know when that will be, or what type of knee or foot injury it will take to make happen, but we will. I promise. Until then, we're going to continue to cover him like the bitter, heart-broken emo kids we really are.
Last night, Kevin Durant took a break from playing NBA 2K17 on amateur level and interacted with his large following of haters, trolls and Trump-bots on Twitter. It started innocently enough:
I don't know who DT is, but if he's good at getting buckets, expect Kevin Durant to join his team.
The tweet garnered a response from a Colorado-based Thunder fan Kaylee:
I wonder which spoon Kevin is when he and Draymond cuddle on the cross-country flights? He has to be the little spoon, right?
For some reason, KD responded.
Wow. I've been following Kevin Durant for 10 years now. I think this may be the first time he's ever been honest with a Thunder fan.
Kevin and Kaylee bickered back and forth a little while longer. Then she dropped this smelly bombshell:
Whoa? Kevin Durant likes it when girls fart in his face?! We should change his nickname to the Dutch Oven!
Actually, I don't know if this rumor is true, but I believe it. At the very least, it explains his stupid ugly chin beard. I bet it helps lock in all the vapors.
KD was not pleased with the accusation:
Apparently, Kaylee heard the news from one of KD's groupies. Naturally, KD wanted to know which one:
Kaylee wouldn't reveal the name of the girl, but did say where the girl was from:
That makes sense. If you're looking for a girl or guy to fart in your face, Coyote Ugly in Bricktown seems like good place to start, especially when there's a wait at Chelino's.
Seriously, ask anyone watching the girls dance on the bar on a Friday night. The ladies at Coyote Ugly have the smelliest farts in town! It's why the bar's most popular shot is called the Stink Bomb.
KD played dumb, which is probably the best tactic when someone accuses you of having a girl from Coyote Fart in your face...
LOL. That doesn't help? Exactly how many girls from Coyote Ugly farted on this man!? Also, I guess we know why OKC broccoli sales have suffered since KD left for Golden State.
Anyway, there's a lot more to the Twitter conversation between KD, Kaylee and Twitter trolls from around the world. Unfortunately, Twitter is a silly, disorganized website so it's all kind of hard to follow. You can try to do it here.
Also, if anyone knows the name of Coyote Ugly girl (or girls) who farted in KD's face, please let us know. We'd like to interview her before KD gets injured and we stop writing about him.
Stay in touch
Sign up for our free newsletter