ICYMI
Tulsa wants a brand new flag…
2:41 PM EDT on April 27, 2017
Before we get to this post, I should clarify that I take a George Carlin approach when it comes to flags, ribbons, and cross pendants from James Avery. They're symbols, and I leave symbols to the symbol-minded (a.k.a religious freaks, patriots, simpletons, etc.). They're not my thing. Well, unless we're talking sports. Then it doesn't count.
With that out-of-the-way, let's mock and ridicule Tulsa for launching a big competition to create a new city flag.
Via The Frontier:
Having presented the three finalists for Tulsa's new flag design to the city council on Wednesday, it's now up to the public to vote on a winner.

The three finalists were selected from more than 300 submissions that came in during a public process that started in late 2016. Last fall, the group seeking to redesign the flag asked for public input as to what themes designers should seek to illustrate. A variety of ideas were submitted, but the group settled on some specific themes to pitch to designers.

"Each design has been carefully thought out, taking into consideration events and landmarks that have shaped Tulsa into what it is today, such as the Arkansas River, the Council Oak Tree, discovery of oil, Art Deco architecture, the Tulsa race riot, Native American heritage and Black Wall Street," stated a media release announcing the finalists. "Each flag also has a unique element that ties the importance community back into the design.
That's sweet and everything, but I guess I'll ask the question everyone is thinking – what the fuck does Tulsa need a new flag for? Isn't the old one nobody knows about good enough? Do they plan on invading Broken Arrow and flying the new flag high over the captured suburb's town hall or something?
Here's the answer:
When the Tulsa Flag group launched the project, they said the city's current flag — which is just the city seal — was stale, outdated, and worst of all, copyrighted.

The result was that the flag was essentially useless. Recreating it was illegal, so unless you spent a lot of time around City Hall, you were unlikely to ever see the flag flying.

The Tulsa Flag effort will change that. Whichever design wins will be free to use, so it can be printed on a shirt, or a bumper sticker, or even — gasp — a flag that can be flown at home.
The current Tulsa flag is copyrighted? I'm not a copyright attorney who specializes in copyright law, but who would do that? Hansen? Biker Fox?? Oral Roberts???
Also, where's Ralph Shortey when you need him? Earlier this year, he introduced a law that would let Oklahoma residents shoot down drones flying over your property. We surely could have convinced him to introduce a law that would let people shoot at any Tulsa flag that's visible from your front yard.
Anyway, here are the three flag options that people get to vote for: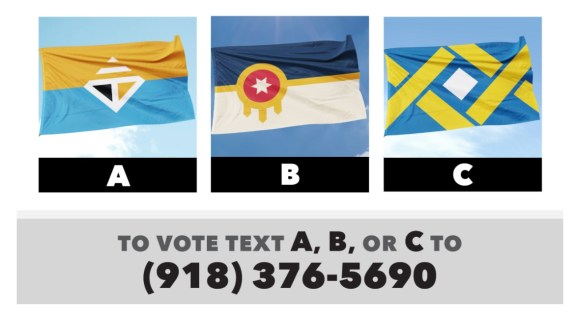 That's embarrassing on a couple of levels.
1. I'm pretty sure those are the same flags they used to represent the various districts in the Hunger Games.
2. Whoever produced that graphic forget about options D and E!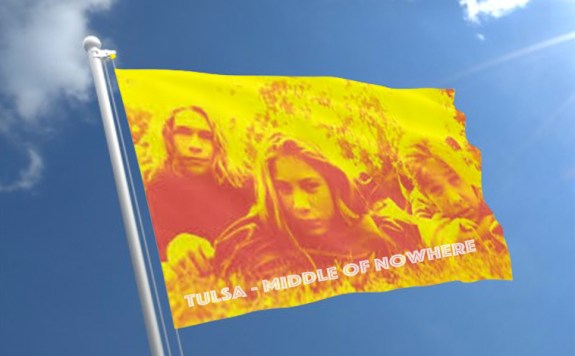 Those are much better options.
Stay in touch
Sign up for our free newsletter