ICYMI
Markwayne Mullin reminded everyone he's still an idiot…
11:50 AM EDT on April 17, 2017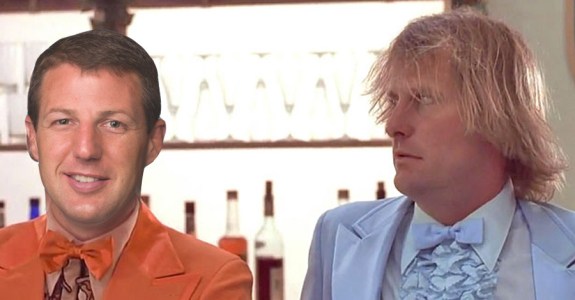 The two big stories to come out of Oklahoma while I was in Chicago last week for legitimate business purposes was:
A) The sudden passing of State Rep. David Brumbaugh
B) Markwayne Mullin reminding everyone he's still an idiot
Regarding A, our thoughts and condolences go out to Brumbaugh's family, friends and colleagues. May he rest in peace.
Regarding B, let's go to CNN, which ran this story in heavy rotation all weekend:
An Oklahoma congressman is facing scrutiny after a video posted Monday showed him telling constituents at a town hall that they do not pay his salary.

"You say you pay for me to do this? That's bull crap. I pay for myself," Rep. Markwayne Mullin told constituents at a town hall in Jay, Oklahoma. I paid enough taxes before I got here and continue to through my company to pay my own salary. This is a service. No one here pays me to go."

"Pays you to go where?" a constituent objected.

"This is a service for me, not a career, and I thank God this is not how I make my living," Mullin responded.

"Oh please, then don't run," a constituent said.
I first heard about this while riding in a cab in downtown Chicago. Let me tell you, it sure is cool to see your home state make news on the national level. Also, it's fun to lie about where you're from when you're chatting with a cabbie.
Anyway, I guess I'll just say what everyone was thinking when they first saw this story: "Wow. What a fucking idiot!" Even by Oklahoma politician standards, that's some insane bullshit. How can he take credit for paying his own salary? We all pay taxes, and therefore, we all have to unfortunately pay the salaries of the idiots who represent us.
Here's the statement Markwayne gave to the Tulsa World after his comments went national. I thought he would blame the comments on all the monkey wrenches he dropped on his head while working as a plumber, but then I remembered he inherited his family's plumbing empire from his father and probably hasn't had to work a day in his life...
A spokesperson for Mullin told the Tulsa World the congressman was referring to federal taxes he pays for his privately owned companies, which include a plumbing business and a ranch.

"The congressman is referencing the federal taxes that he and his businesses have paid to the government over the years, prior to his being in office," a spokesperson for Mullin told the publication. "Like all business owners, Congressman Mullin pays his taxes, which contribute to congressional salaries."
Wow. Instead of apologizing, he doubled down and tried to justify and explain his comments. That's a gamble that will probably pay off down the road. Remember – Oklahoma voters love idiots.
Stay in touch
Sign up for our free newsletter