Everything Else
Who's Got the Best Theta Burger in OKC?
4:53 AM EDT on April 11, 2017
Much like that other beloved Okie culinary compatriot the Onion Burger, hungry historians continue to debate exactly who created the Metro's other meaty claim to fame, the Theta Burger. Some say it was a feller in 1930s Norman named Ralph Geist who ran the Town Tavern and spent most of his days delivering his carnivorous concoctions to the gals at the Theta house to nosh on while they weren't swallowing goldfish, posing for "We can do it!" selfies and looking for runs in their stockings. Hubba-hubba!
Meanwhile, another tasty theory is that the Theta was the specialty house burger at the legendarily much-mythologized Split-T, where they served hickory BBQ sauce with their fries and patrons began using it instead as a ribald dipping sauce for their burgers. Noticing the popularity and inspired by the strong will and conviction President Roosevelt was displaying while in office, they put two and two together and peddled this newfound meat-muncher to the masses. Xtry-xtry! Read all about it!
Well, regardless of who invented it, they're all dead and their stories now mere grains of sand being blown away by the winds of flame-broiled time.  However, their incendiary invention, the Theta Burger, lives on and there's one thing about it everyone can agree on: the ingredients. Comprised of the typical all-beef patty, often flame-broiled over charcoal if you're nasty, flavored-aided with some dill pickle slices, shredded cheddar cheese, gleaming white mayonnaise and, the real game-changer, hickory barbecue sauce slathered on top, it's often sold at a mark-up, but well worth it, son.
Over the past couple weeks, throughout this precious Lenten season, when I have broken my fasts and indulged in the sins of the bovine, I have been using my newly reset tongue to explore the heretofore unknown world of this truly localized hamburger sensation, one that you really can't find anywhere in the world. And, if you are here from somewhere in the world, I don't want you to waste your time going from burger joint to burger joint like I did, so let me help you out by ranking the Metro's Theta Burgers, from not best to the best. ¡Cómpralo ya!
_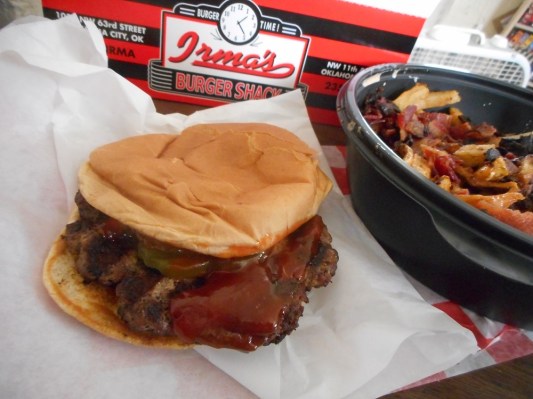 5. Irma's Burger Shack (1120 Classen Dr.)
The pictures of Irma's signature burgers and fries in their ads always look so tempting. Plump, pleasant-looking buns and a hearty slab of sweating beef, fixins spilling out the sides like a muffin-topped lady you can't wait to get home and make love to. So imagine my disappointment when I ordered their Theta ($5.80) and it was…this. I've seen prettier McDoubles thrown at me from the drive-thru window at two in the morning. Flat buns, decent but still haphazard meat unceremoniously christened with a squirt of sauce and pickles. This theta is more like a zeta if you ask me.
_
4. S&B's Burger Joint (5929 N. May Ave., Suite 106)
S&B's has always been one of those places where I've dug the vibe more than the food. Don't get me wrong, they do up some good eats, but with the permeating classic rock vibe—including the TVs screens that run constant musical performances from old episodes of Soul Train and Midnight Special—there's nothing I like better than kicking back with a Fatty after an afternoon of innocent perusing at Best Buy. Sadly, not such a good buy is their take on the Theta ($7.00), which is not only smaller than I thought it would be, but encased in such a thick cocoon of cheddar, that it makes it impossible for the butterfly that is the smoked pecan Theta sauce to fully spread its wings.
_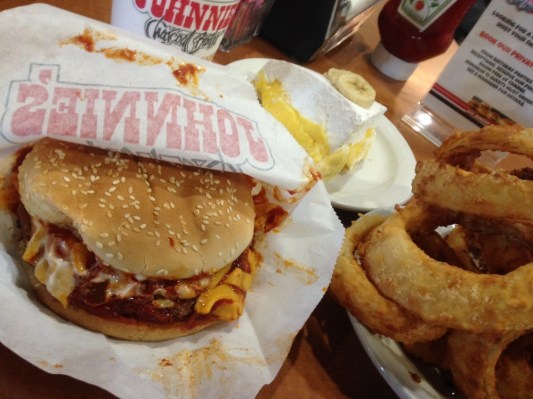 3. Johnnie's Charcoal Broiler (2652 W. Britton Road)
Now I am fully aware this entry will be a point of contention with many of you. Before you leave a comment below about how I should kill myself, please remember that taste is subjective and I am merely giving my opinion and that no matter what, I love you and would like to invite you to church with me this Sunday. That being said, everything about the #9 Cheese Theta ($5.99) is great, from the high quality, perfectly broiled beef, as well as the creamy mayo, crunchy dills and gotta love that shredded cheese—too bad that trademarked Johnnie's Hickory Sauce just overwhelms the entire proceedings it with tongue-tearing tang, an impractical boldness that is a brutal middle finger to your typical run of the mill BBQ sauces that left me choking down as much ice water as my hump could carry. It's a heat some might dig—and I can understand that. For me, however, it was just too darn loud. Peace be with you.
_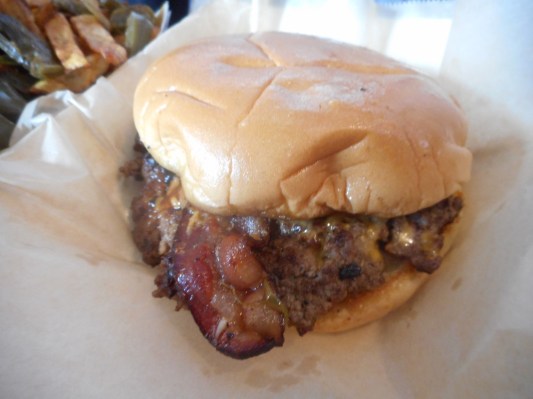 2. The Garage (1117 N. Robinson)
While technically not a real garage, the Garage has always been a great place to tune-up those ol' barely chuggin' along tastebuds with great offerings like their Spicy Guacamole Burger and Spicy Chile Verde Burger, especially when paired with those sinus-clearing Tijuana fries. It should come as no surprise that the BBQ Bacon Theta ($5.99) is the absolute chassis lube my gut had been craving, that 1/3rd beef patty exchanging fluids with that greasy bacon, the cheddar cheese liquefying over a mixture of BBQ sauce and, for an extra kick to the tires, a BBQ aioli. Parts and labor extra.
_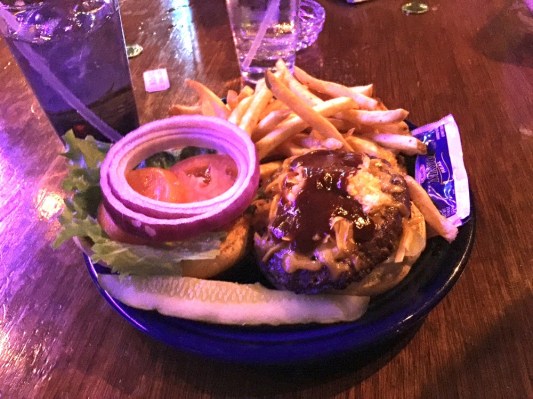 1. Belle Isle Restaurant & Brewery (1900 NW Expressway)
The BIB should totally rename this jam the Montell Jordan, because this is how you do it! Every single facet of this burger has come together in perfect alignment in a way that was not only totally unexpected, but absolutely unheralded when this topic is even discussed amongst the most ardent of local epicureans. Do they even know this exists? Do they know it's Xmas after all? In a quiet, almost daringly nonchalant way, the BIB's Theta Burger ($8.29) takes all of the required parts—the astoundingly thick hand-molded patty, the well-portioned cheddar shreds and an accurate dab of their own house sweet BBQ sauce—but additionally and thankfully paired with exceedingly fresh lettuce, onions and tomatoes and a firm, lightly-toasted bun. This variation is proof that while others might proudly carry on the name, only one local joint is truly doing it up right.
-
Where do you like to get your Theta burger? Don't say the Mont in Norman. Don't. Follow Louis on Twitter at @LouisFowler.
Stay in touch
Sign up for our free newsletter