Everything Else
TLO Restaurant Review: Arbuckle Mountain Original Fried Pies
9:26 AM EDT on April 4, 2017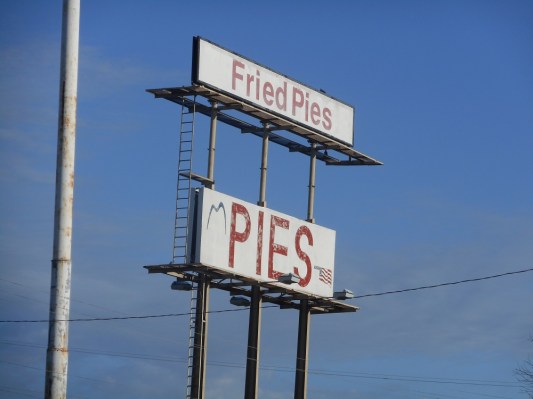 New Yorkers have got their cheesecake and Bostonians might have their crème pies, but they can both go take a leap off a mountain…an Arbuckle mountain, that is. I would happily pass up any other state's most famed dessert for just one more bite out of an Arbuckle Mountain Cherry Fried Pie. It is truly this land's manna from Heaven.
How many among us have driven down I-35, counting the exits down to 51, hoping and praying that their one favorite flavor is still in stock, hot out the fryer and freshly bagged? These hunger pangs have been an Okie tradition since the late 1800s when owner Nancy Fulton's grandmother would make batches of these flavorful pockets of God's love for cowboys freezing themselves to death during those harsh frontier winters.
Decades later, it's become a true Oklahoma success story, with numerous locations all the way from Texas to Ohio, but it's this one located right in the rocky region that remains the best of the lot, a bucket-list destination for sweet-tooth travelers and roadside restaurateurs alike, their signage teasing and taunting every mile of the way with its promises of what homemade delectables await.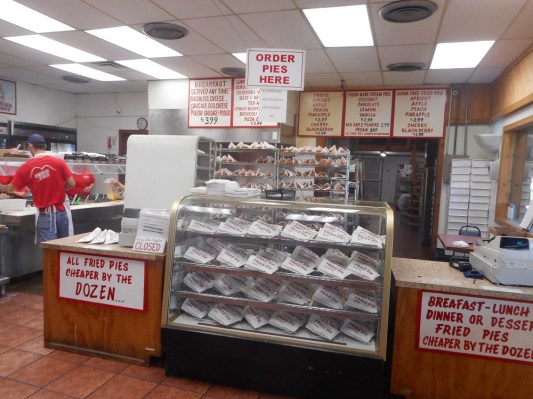 On a recent trip to Dallas, my companion and I timed our leaving Oklahoma City early enough so we would hit Arbuckle just as they were opening up, guaranteeing the freshest batches would soon be down our gullets, that hot fruit and flaky crust luring us in like culinary dowsing rods, the smell of baked berries wafting down the road as far as ten miles from the exit.
Even though I already knew what I wanted—cherry and/or pecan please—once you get to that counter, it's so easy for the mind to go blank when confronted with not only all those confounding sweet selections, but so many of those convoluted savory concoctions as well. Might as well order up half-a-dozen and hope they're a pretty good representation of what this old school joint is truly all about.
I immediately remembered that I wanted—needed—that cherry ($2.99) and I just had to have an old-fashioned pecan ($2.99), while my friend took it upon himself to do up the blackberry ($2.99) and a seasonal offering of apple raisin pecan ($1.49). Looking at the meat-pie menu, we figured when in Rome Davis, might as well partake in the breakfast bacchanalia and we ordered up a Tex-Mex (of course) and a Polish Sausage pie for good measure.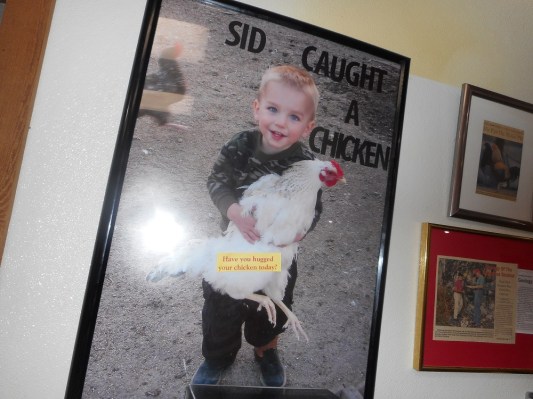 As I waited for my pie, I noticed this poster that read "Sid Caught a Chicken" and immediately wondered not only what the story was behind that and, even more so, if prints were available. I'd like to hang that in my living room and when people ask questions about, become sinisterly silent.
Order up, we grabbed our bag of pies and sat outside in the fresh air, surrounded by those beautiful blasted out rocksides, the green springtime lushness starting to comfortably settle in as the cool morning crispness slowly started to heat up a bit.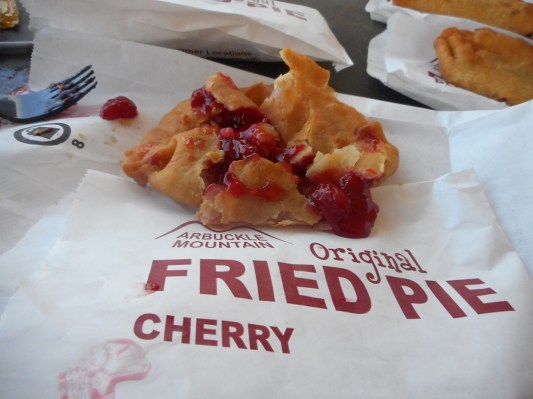 There was nothing to heat up with my cherry pie. This was as fresh out of the fryer as could be, the ever so delicate crust literally falling apart as I pulled it out of the bag, the hot cherries searing my palm as they clumped together like nature's marbles spilling out of a bag. No matter, I gathered what I could with my fork and gently lifted it to my mouth, with each plump cherry gushing out its tart nectar, the warm crust so buttery rich, doing everything it can to contain this Gospel-esque filling.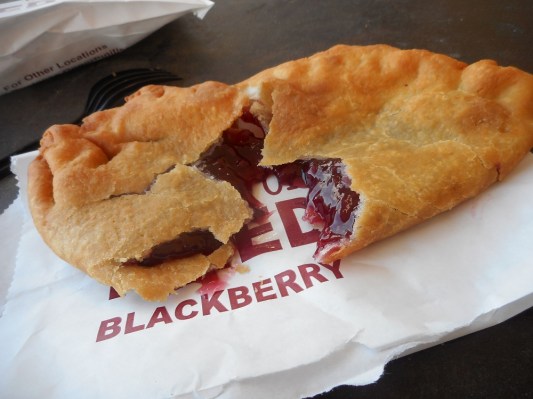 Meanwhile, I look over at my pal and he's doing just fine with his blackberry pie. I greedily took my fork and cut myself off a piece and took a moment…you know how country singers are always singing about how their girl's kisses taste like blackberry wine? Well, biting into Arbuckle's blackberry pie is like straight-up Frenching her under the bleachers at the homecoming game, with each sweet seed from each sweet berry being felt and examined in an effort to get every bit of flavor out before swallowing.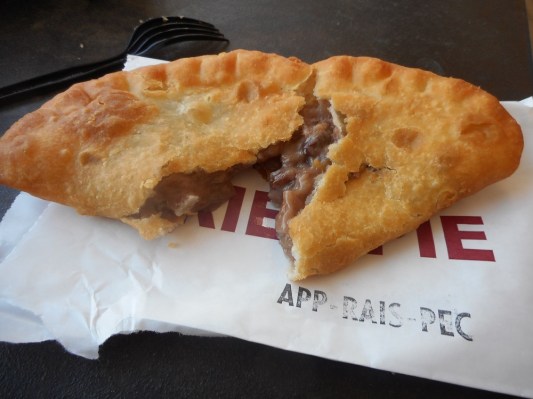 The pair of pecan pies were up next, a steadfast Oklahoma standby, biting into the pecan, I felt cheated, as if up until this point in my life I had never truly had a pecan pie before, with the crunchy nuts permeating the pie, never being overtaken by the minimal filling. But, Lord Almighty, it was the apple raisin pecan that was the clear-cut winner, feeling like a mixture of tastes from a bygone era that you just don't get in modern desserts anymore. It was the kind of pie an old lady during the Depression would sit on the window sill to cool, only to have an Okie hobo come by and steal it.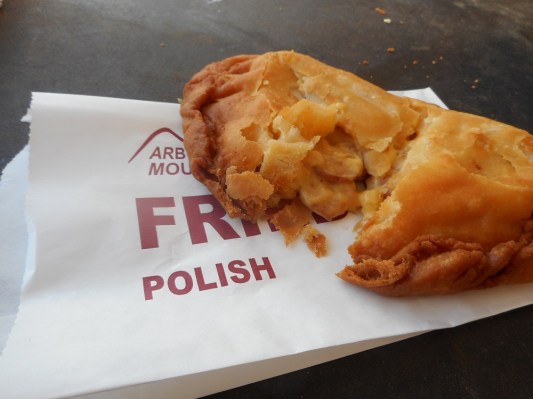 Finally, we saved the savory meat pies for last, which was a mistake as these were full-on breakfast meals unto themselves, with the Tex-Mex astounding packed with spicy bean, bit of beef and plenty of cheese, like a handheld burrito pie. On the other hand (in the other hand), the Polish pie, filled with Polish sausage, potatoes and cheese was more of a casserole experiment, a homemade Hot Pocket that's actually edible and then some.
Pro-tip: eat your savories first, son.
Sure, I know that some of the more cynical of you will say that you can just head up to NW 50th and Portland to grab a few pies—and you should, don't get me wrong—but there really is truly something a bit more memorable knowing you're noshing in the same mountains on the same recipe where manly Marlboro men were ropin' cattle while freezing to death a century earlier, a hot fried pie in their coat pocket being the one sole reason to push through the night until the morning, where another one will be hopefully waiting. I get it.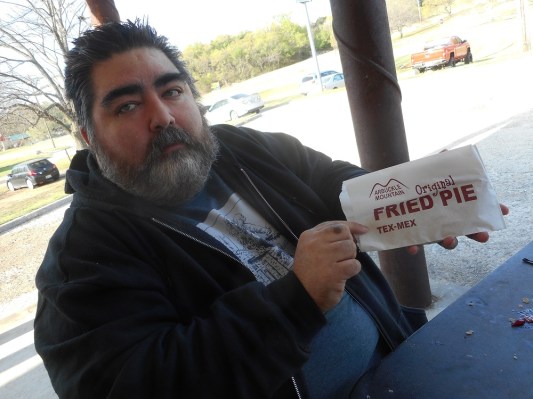 --
I just want to be your Tex-Mex meat pie. Follow Louis on Twitter at @LouisFowler.
Stay in touch
Sign up for our free newsletter