Everything Else
TLO Restaurant Review: Tacos Don Nacho
4:24 AM EST on February 28, 2017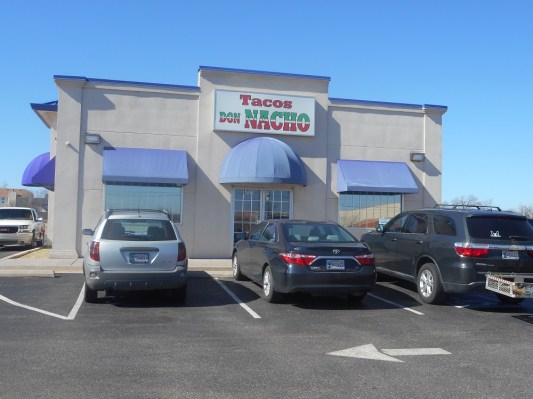 In my tenure as an epicurean scribe here at TLO, never have I received so many recommendations to review one restaurant as I have for the beautifully monikered Tacos Don Nacho.
Whenever I write a piece on Mexican food, the comments section are invariably filled with a mixture of well-meaning fans asking me to try Tacos Don Nacho and angry fanfarróns lambasting me for not trying Tacos Don Nacho yet. To be honest, until it was repeatedly pushed on me, I had never even heard of the joint but, as someone who mostly respects his readers, I have heard your skyward pleas and finally made the journey out to the barren wasteland that is 3721 S. Council Rd. just to see what the continual, communal chisme was all about.
And I'm man enough to say you guys were right. Tacos Don Nacho is mas chingón, bro.
It really is amazing this place has such a committed following; surrounded by warehouses and industrial parks, Tacos Don Nacho stands alone, an exceedingly odd area to have laid down stakes. Featuring a brash menu filled with a mixture of taqueria faves mingling proudly with authentic cocina dishes, Tacos Don Nacho admirably straddles that fine line between taco truck and sit-down fare, all served in the welcoming atmosphere of a fast-food eatery.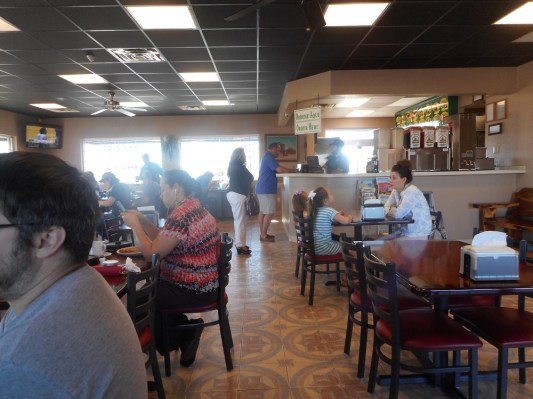 After a good few moments of well-earned indecisiveness, I settled on a couple of barbacoa and al pastor tacos ($1.85 each), a good-sized carnitas torta with everything ($6.40) and, because thank God it's Saturday, let's go ahead and add a large steaming bowl of pozole to the proceedings ($7.40), shall we?
And while I was happy with my order, looking over their full menu at my seat, all I could focus on were the could've beens and should've beens; dishes like the carne asada y chilaquiles ($8.30), caldo de camaron ($9.40) and avocado-heavy taco rico plate ($10.40) taunted me, their collective tastes creating hallucinatory flavors that danced on my tongue like culinary cucuys that could only be vanquished with my lunch order hitting the table as soon as possible.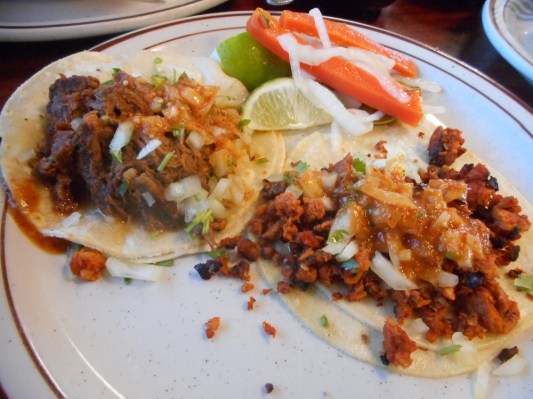 As expected, the tacos were absolute works of art, the fatty texture of the barbacoa topped nicely with onions and cilantro, as well as a couple of pickled jalapenos, with the al pastor's pork chunklets seasoned perfectly, a dose of fresh salsa roja adding a nice runny bow to an already pretty greasy package. And at a $1.85 each, I couldn't help but feel for those pinche gueys stuck paying two or three times as much for half the flavor simply because they're afraid of some railroad tracks and a little brown skin. Start the Revolución without me.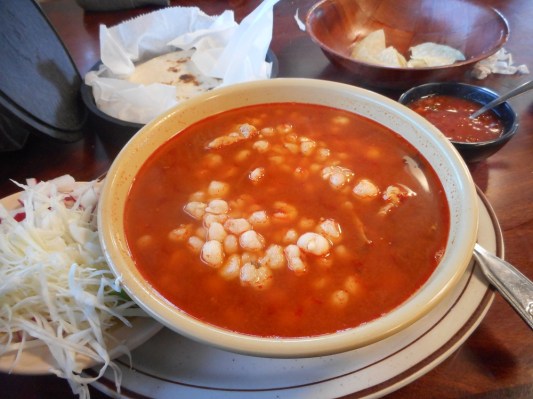 It's been a while since I've had pozole and after a few conciliatory sips—loaded with red chile and heavy on the cumin—opened up my sinuses immediately. Dumping in the traditional cabbage and radishes to make the bowl even more pungent, the bits of stewed pork and rich hominy had me calling on the Gods to accept this sacrifice in an act of pre-Catholic ritual communion, the way it was meant to be served; if I could airbrush the side of a tricked-out van with an image of the carved bowl to my lips, the sangre-esque substitute dribbling down my bearded chin, I would in a heartbeat, cuz.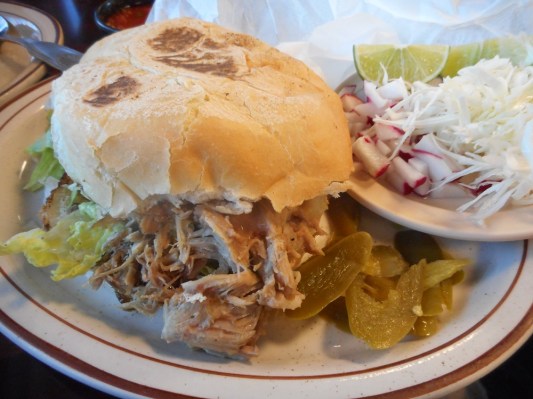 With just enough room left to sample this hot-of-the-press torta, I sliced the Mexican sandwich in half and was impressed with not only how much heavily marbled pork was packed in-between this fresh bolillo, but how the Don didn't skimp on the avocados, mayo and refried beans, packed with precision as I added some pickled carrots and jalapenos, dipping what I could in the remaining vestiges of my pozole like a La India Maria-variation of a roast beef au jus from Los Arbys.
What can I say compadres but, when you're right, you're right. Tacos Don Nacho is an invaluably deleitable part of the Oklahoma City food scene, Mexican or otherwise, encompassing the wide range of authentic-enough Mexican eats without the slightest aspersions of pretension or presumption, easy on the wallet and exquisite in the stomach. In other words…good on you, guys. ¡Cómpralo ya!
-
This stomach kills fascists. Follow Louis on Twitter at @LouisFowler.
Stay in touch
Sign up for our free newsletter