Everything Else
Tate Publishing closes Philippines office. Screws over employees there, too.
11:50 AM EST on January 12, 2017
Uh oh, it looks like the Ogle Mole Network is going global.
Earlier this week, we received a dispatch from the newly established Ogle Mole Field Office in the Philippines informing us that Tate Publishing has closed operations in the country and, surprise surprise, is apparently screwing over employees who worked there, too.
Check out the following message we received from a Filipino Tate Employee. I'm concealing the Mole's identity so they can remain employable.
Dear Lost Ogle,

I am one of the Filipino employees here at Tate Publishing whom Ryan Tate left to starve. Starve because he has not paid my entire December salary, supposed to be paid December 15 and 30. Also, he owes each Tate employee here the government-mandated "13th month" bonus.

We have brought this concern to our local labor department here, but I know there is a slim chance of us getting what is due to us should this airhead Ryan Tate files [sic] for bankruptcy here.

But I thirst for justice. I want that it will be [sic] publicly known in the whole universe that Ryan Tate and his family are the biggest fake Christians that ever existed in this planet. And I want that he'll never ever do business here in our country. He was able to come here due to his connections with Harvest House Ministry in the Philippines, and one of the pastors of this ministry is the registered owner/partner. But not once this dummy partner ever lifted a finger to help us. So shame to all of them.

If Tate family has new endeavors in the making, I hope these will prosper so he can pay each and every employee they have cheated on. But I doubt this douche will ever feel our misery. So let me just say may he crawl and claw his way to success.
Wow! I've received plenty of emails from disgruntled, screwed-over Tate Publishing employees and authors over the years. This one is by far the best written. No wonder Tate Publishing moved to the Philippines!
Kidding, kidding. Kind of...
I sent a series of follow-up questions to gather more info and verify the person worked for Tate Publishing. In addition to a pay stub and certificate of employment, the Mole included this screenshot of an email from the Director of Operations. It all but confirms Tate did not pay Filipino employees their December wages. What a nice Christmas present, huh?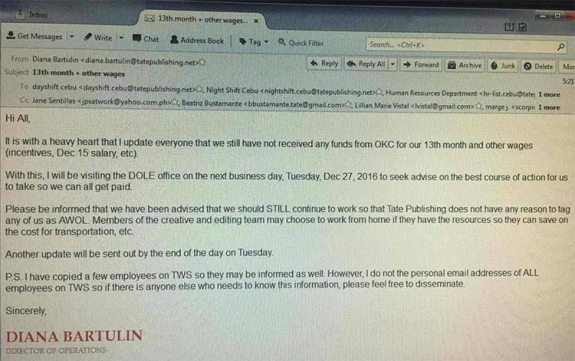 Brutal. I doubt this makes the folks in the Philippines feel any better, but Tate Publishing – led by Fox News Business Expert Ryan Tate – also has its fair share of problems paying people in America, too.
Out of curiosity, I asked the Ogle Mole what the working conditions were like. I got this response:
It started all right, there were incentives, promotions, but when we neared the second year, everything started to get awful. Salaries began to be credited late, and there were [sic] extra work not being paid. By October 2016, constructive dismissals were enforced, making the team leaders like me nitpick evidences [sic] to terminate employees. When they have exhausted the list of people be [sic] terminated, beginning November 15, they moved on to putting employees into floating status (no work no pay for 6 months), with the "guarantee" that we will be called back to work after 6 months.

In my case, I was put on floating status effective December 14, 2016. But I still have salary due to be [sic] paid on December 15, 2016, for the days that I worked from November 26 to December 10. I also have salary due to be paid on December 30 for December 11-14 days. Until now, I have not been paid for all my December salaries. In fact, those who were put on floating status are in the same situation as mine. Those who were NOT on floating status, they received their December salary but in partial amount only.

On top of that, we have a government-mandated 13th month bonus benefit, which is more or less equivalent to a month's salary. A lot of employees were hoping for that. Some were really wanting to leave but stayed because of Ryan's promise that it will be credited on Dec. 24 (this was relayed to us by our operations director). Until now, all of us have not received that benefit.

In those trying times, not one Tate ever e-mailed us, even to apologize. Not a single e-mail. So I guess we don't matter to them.
TLDR synopsis – They treated employees in the Philippines a lot better than the ones in Oklahoma! Seriously, at least Ryan Tate didn't fly to Philippines, pray with employees, yell and scream at them, and then proceed to fire them for spreading "rumors" that they were all about to be laid off in an effort to show cause for termination.
I also asked the Mole if they ever met the Tate family:
Yes, Richard, Rita, and Ryan came to Cebu on May 2013, a year after Tate started here. Can't believe their talks of Jesus and faith would lead to them doing such awful things to us. I guess we paid for what Ryan did to the 25 OKC employees back in 2012.
For fun, the Mole then sent me this pic of the Tate's sweating in the Philippine heat: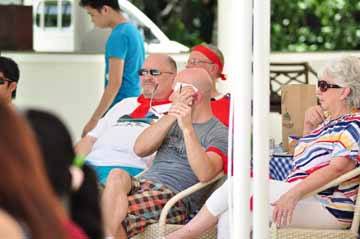 Yeah, I guess someone forgot to tell the Tate's the red bandanas go around the forehead. Not their neck or muscly arm. Someone needs to watch a Bruce Lee movie.
Anyway, I'd like to thank our new Filipino Mole for sharing all this information. Over the past five years, I've made it my personal mission to expose the ethics of this company, their shady business model, and how they intimidated, mistreated and lied to their many employees. Hopefully they'll hurry up and close down and file bankruptcy soon so I can move on to something else.
Stay in touch
Sign up for our free newsletter