Everything Else
TLO Restaurant Review: Luby's Cafeteria
5:24 AM EDT on October 18, 2016
When it comes to cafeteria dining, save me a tray. Always.
If you were to ask me who my favorite cook of all time is, I won't say my mother like most people probably would. No, for me, the lady in my life that fed me and nourished me was a ten-team collective of elderly upstarts that made sure at least nine months out of the year I had a well-balanced breakfast and a four-star lunch. Of course, I'm talking about the effervescent, ever-present lunchladies of the Oklahoma City Public Schools.
To this day it is not unusual for me to cross my arms, recline and gingerly opine on those wistful days of future past wherein free subsidized school breakfast and lunch were the de rigueur meals of the day, from powdered scrambled eggs and pancakes on a stick to the Salisbury steak with whipped potatoes and steamed hamburgers with creamy mac and cheese; I still wish there was a place where, everyday,  twice a day, for about a buck, I could go and get nutritious, homemade foodstuffs.
And what about that rectangular cheese pizza, folks? Still my favorite pizza of all time.
Sadly, as an adult, those experiences are hard to replicate short of either getting a job as a substitute teacher or entering into some sort of Billy Madison situation, but cafeteria dining is something that we can still kind of relive, either through retiring early and moving into an assisted living facility (my personal dream) or, the next best thing, going to a Luby's.
I vaguely remember going to Luby's in South Texas with my grandparents a few times, but then that massacre happened in Killeen and that was enough for them to make the switch to Furr's. But, for all intents and purposes, they're both kind of the same, right? Maybe?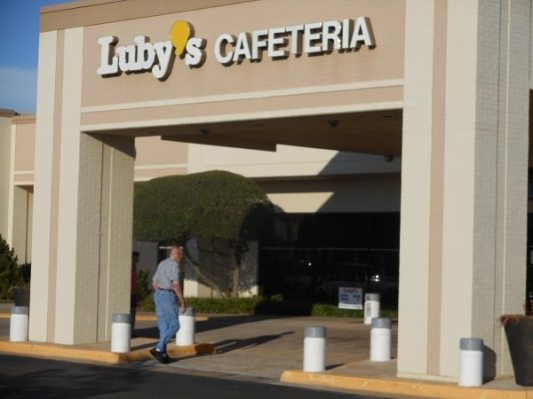 The Luby's at 9410 N. May Ave. has been there for well over thirty years and while I have never dined inside, when I walked in, it was exactly like I pictured, effortlessly grabbing a tray and standing in line before a row of sneeze-guarded delicacies. The menu, however, is a bit confusing for this first-timer, trying to decide between full entrées, manager specials and the always popular LuAnn platter. As a line formed behind me, I panicked and went the full entrée while my dining partner stuck it out with a LuAnn. I wish I had his calm reservoir of Buddha-like focus.
With a selection that encompassed the wide world of dinner meats including liver and onions, blackened tilapia, and bacon cheese steak, I was immediately drawn to—but of course—their chicken fried steak with white cream gravy, a side of mac and cheese and a baked potato, as well as a jalapeño corn muffin and a slimy green dessert, all for $9.99. My friend's selection of carved roast turkey, jalapeño mac and cheese, dressing and cranberry sauce with a baked potato was just as plentiful and only $7.99.
As the sun slowly sank, the place stayed barely busy but was still filled with a wonderfully helpful staff that would go out of their way to help every single senior diner (we were the only people under 45 in the joint, apparently) to their table, setting them up and smiling for even the most insipid of requests. God bless 'em.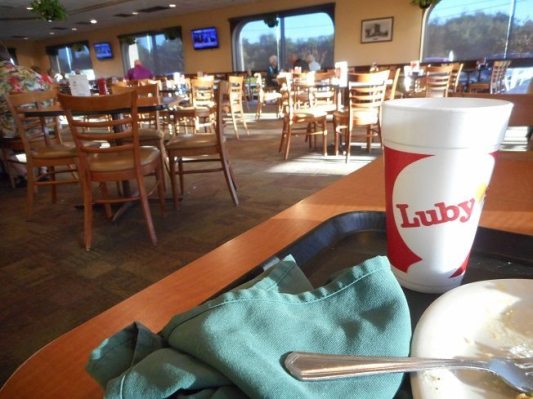 You know, I thoroughly enjoyed the ambiance. Even before I lifted a fork to my mouth, it felt nice to be in a place with no loud indie rock, no hipster waitstaff ignoring you and no young people staring at their phones that whole time. Just old people, making the most of the fragile time they have left on this stinking rock, and enjoying a high class meal while they do it. My kind of crowd!
The chicken fried steak that I chose, while not the best I've ever had, was still mighty delectable, coated in a crunchy casing that left the meat inside tender enough to cut with a fork. Bonus points to the creamy, peppery gravy that flowed all over my plate like the Mississippi itself. The mac and cheese was baked, but still managed to have gooey currents of cheddar flowing through it, while the baked potato could've been better. It was a bit of overkill and part of me wished I had selected the candied yams instead.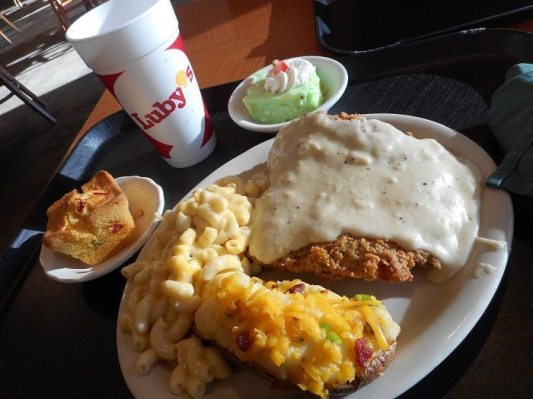 As for that weird green nursing home dessert I picked up, with a look and texture like something out of a Stephen King short story, the taste was even more bizarre, reminiscent of lime, but filled with crunchy bits of…things. Maybe it was pistachio? Who knows?
My pal's pseudo-Thanksgiving plate was a cornucopia of holiday hugs and kisses, with the turkey perfectly maintain its smoky moistness bite after flavorful bite and the cranberry sauce adding the perfect amount of zip to the proceedings, especially after the dressing which, for my lounge, was a bit too salty. This was made up by the toungue-rattlin' jalapeño mac and cheese, something that I'll definitely get a helping of for myself next visit, a fine amount of Mexican heat rampaging perfectly with the solid cheese and noodle base.
The only problem with Luby's was that I shouldn't have rushed myself though the line. I should've taken my time and explored my options. Everyone who passed by our table seemed to have had selected something better, something that I wish I had gotten instead. The grilled liver and onions has such an acrid, pungent aroma I desperately wanted to bite into the woman's portion next to me, while her husband's outing of thick-sliced meatloaf, covered in what I bet was tangy tomato paste, was also begging to have a hurt put on it. A return trip, and soon, is most undoubtedly in order...
As we were leaving, I noticed an advertisement for their Thanksgiving catering service. Now I haven't celebrated this holiday with my family in over 20 years, but, coincidentally, the other day my brother suggested that maybe we try to re-jumpstart that tradition, given he now has a kid and I have a short time left on this here material plane of existence. You think you're up to the job, Luby's?
-
Louis Fowler recommends you sign up for Luby's e-club to get a BOGO LuAnn. Follow him on Tiwtter at @LouisFowler.
Stay in touch
Sign up for our free newsletter