Everything Else
TLO Grocery Store Review: Trader Joe's
10:49 AM EDT on October 6, 2016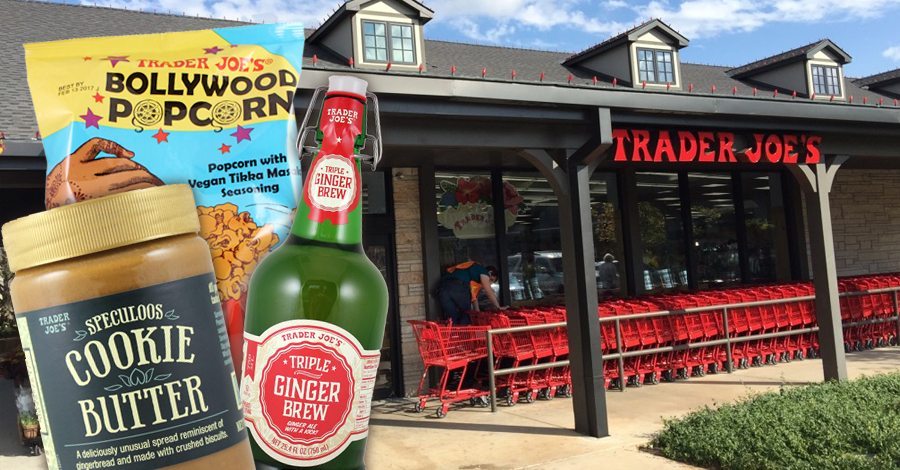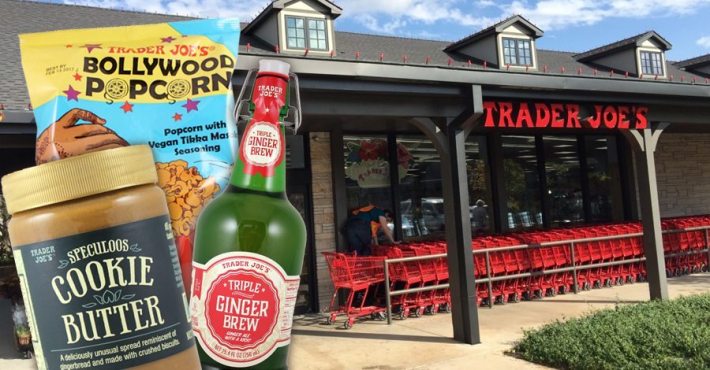 Legit.
If there is one word that I could possibly use to describe Trader Joe's, that would have to be it: legit.
Look, I wanted to hate on the place just as much as the next guy who considers Nichols Hills this city's bête noire, but I gotta say, within minutes of perusing the newly-opened, much-ballyhooed specialty grocery store located at 6409 Avondale Dr., I was sold.
Based around the idea of what it would be like if Jimmy Buffett went shopping at an Aldi, the tropical themed grocery store is absolutely packed with enough supplemental alternative-groceries that when the art of concocting meals from your usual discount supermarket get boring, this joint allows for all kinds of culinary exploration, all at an amazingly comparable price.
And—what what—they take SNAP. That's gotta be some form of protest against the bourgeoisie, right?
Earlier this week, I took a trip to Trader Joe's and, based on suggestions from the TLO fanbase, compiled a list of some of the more-popular items that our friends and relatives in real Big League cities who have these stores for years won't ever shut up about.
-
Super Burrito! ($3.29)
Apparently based on some ancient Peruvian burrito technology that I was heretofore unaware of, this immediately spicy combo of "quinoa, sweet potato and kale seasoned with a Peruvian-style aji amarillo sauce and wrapped in a chili-onion tortilla" is a startling combo of so many aromatic flavors that at first, it can be mildly overwhelming. But stick with it. It grows on you, with the piquant aji amarillo sauce really providing an otherworldly kick that puts other high-quality frozen burritos on the market (Amy's, Evol, etc.) to shame.
-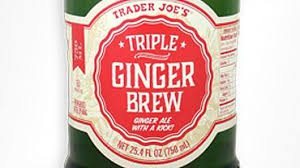 Triple Ginger Brew ($2.99)
After downing a few swigs of this beautifully bottled beverage, I realize now that I don't think I have ever truly had "real" ginger ale in my life. Is it supposed to burn this bad? I don't remember Canada Dry or even Schweppe's stinging like this. Heavy on the ginger, this Triple Ginger Beer is definitely an acquired taste best in small doses. On the other hand, I bet it tastes amazing when you're sick in bed with the flu.
_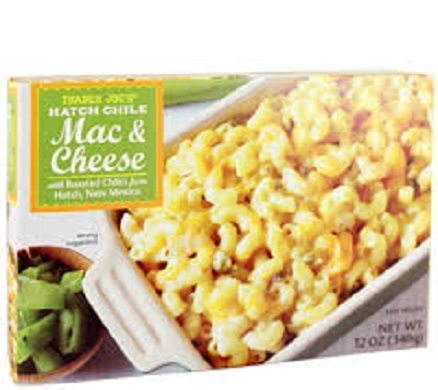 Hatch Chile Mac and Cheese ($2.99)
Stouffer's can go and piss up a rope—Trader Joe's is the bomb microwavable mac and cheese, son! The creamy, gooey cheeses combined with the perfectly heated macaroni—I've never gotten microwaved mac and cheese right until now and it is a revelation—is made all the more relevant to me and my personal tastes with the addition of a slight New Mexico Hatch chile flavor that is more than welcoming for the fact it doesn't overpower the pronounced cheeses, tempered just right.
-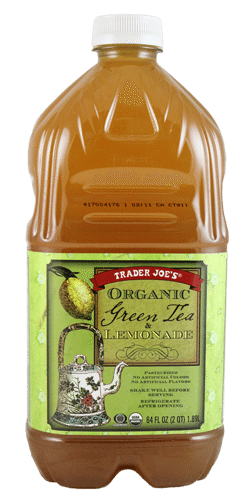 Organic Green Tea and Lemonade ($2.69)
While I am not the biggest fan of Arnold Palmer—the golfer or his signature beverage—a TLO reader recommended this TJ's take on the classic tea and lemonade mixture, saying it would change my mind. While I'm not sure I would go that far, I will say that even though the taste still does take some getting used to, I definitely prefer this brand more than those hyper-sweet cans of Lipton or Arizona Ice Tea Palmers, both of which just make you feel sick by the final tip of that quarter oh-zee.
-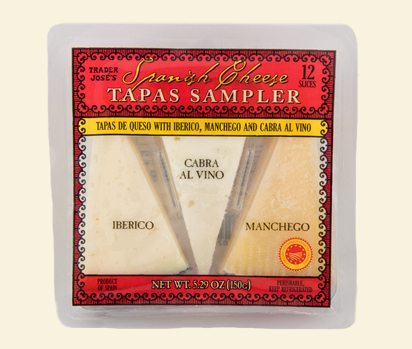 Spanish Cheese Tapas Sampler ($3.99)
If you're looking to impress your friends at a dinner party—or TJ Maxx breakroom, whatever—bust out this effervescent Spanish Cheese Tapas sampler, showcasing some of the hottest cheese coming out of Spain right now. The Iberico takes a few seconds to hit the palate, a hard cheese with a creamy direction, but, sadly, also one with a tad bit of an aftertaste that lingers in the throat while the Cabra al Vino is apparently the requisite skunky cheese in taste, not smell, mind you. The third sample, Manchego, is probably the best of the bunch as it is extremely subtle almost to the point of nonexistent until you are hit with a powerfully moist and nutty coating if the throat that refuses to leave.
My one regret was that I forgot to grab some fancy-ass crackers to pair them off with. Maybe you can rectify that for me.
-
Bollywood Popcorn ($1.99)
O.K., sorry to all who recommended them to me, but that pickle-flavored popcorn sounded nasty. Bagged pre-popped popcorn is terrible enough, but with the salty tart flavor of dill pickles added to that nonsense? No sir, I'm good. But this tikki masala seasoned popcorn on the other? I can work with this. Packing the right amount of Indian-inspired heat, while it isn't something I'd snack on all the time, it's definitely something that I would sneak into Tinseltown when I catch their Bollywood flicks every so often, per the title.
-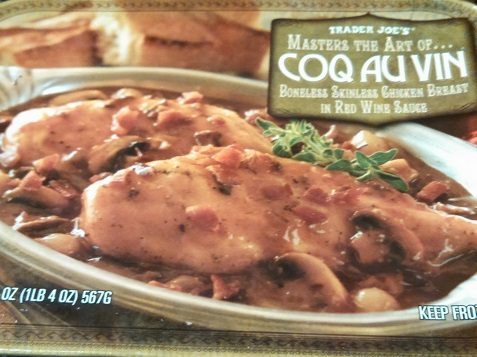 Coc Au Vin ($6.99)
I picked this one up out of my own volition, intrigued that something like this even exists.
I've always thought of Coc Au Vin as the type of dish that the savagely campy characters in a John Waters movie would eat at every meal, made right from a garish 1960s Betty Crocker cookbook. I always thought that it would be something that would be beyond me and my simple means. But this microwavable version of the classic French chicken breast and wine-gravy concoction, swimming in mushrooms and pearl onions, with a box that brags Trader Joe's "masters the art" of Coc Au Vin, is as deliciously kitschy as it is realistically tasty, a divine TV dinner if there ever was one.
-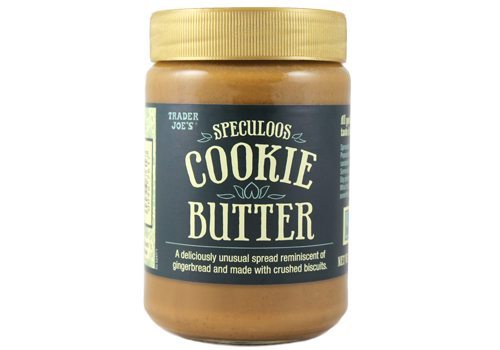 Speculoos Cookie Butter ($3.69)
Now all I've heard since TJ's opened is Cookie Butter this and Cookie utter that. Cookie butter cookie butter cookie butter. Cookie butter. Cook. Ie. Butt. Er.
So what's the final word on this? It's one of those things that at first bite is one of the greatest plays on confectionary Godliness, but, by second bite, that sheer rich sweetness, that sickly sugar-dose starts to turn the tummy inside out as the teeth start to hurt, the compounded crystals burning holes into the withering back molars, necessitating glass after glass of ice-cold milk to cleanse and renew that which should have never been in the first place. You can't play God, Trader Joe's.
_
Wouldn't that be awesome if a second Trader Joe's opened at NW 23rd and Penn? Follow Louis on Twitter at @LouisFowler.
Stay in touch
Sign up for our free newsletter