Everything Else
5 Worst Oklahoma-Inspired Vape Juices
10:09 AM EDT on August 11, 2016
If Oklahoma were to have an official state sport, it would more than likely be vaping.
I've been all over this great country of ours and no one—NO ONE—loves a good vape like Oklahomans do. Be it in fancy restaurants, hospital intensive care units, or even during the sermons at church, Oklahomans will proudly suck in and exhale Monster energy drink flavored nicotine vapor whenever and wherever they Goddamn well please, because hey, it's not like real smoking, right? Right?
It's this dubious popularity that has led to the Sooner State being the proud host of this weekend's biggest party: Oklahoma VapeJam 2016 at the Cox Convention Center. From business workshops to keynote luncheons to the premiere of the film A Billion Lives, this vape-expo is the ultimate vape experience this year and, sadly, will also the be the singular greatest thing to ever happen in the lives of many of the attendees. They'll all tell stories to their grandkids about how they were soldiers in the vape-olution, carrying their e-cigs like fife players entering into razzleberry-scented battle.
But forget the business and political side of things. Let's be honest: what many Okies attending VapeJam 2016 are truly craving is all them free samples, from the corporate exhibitors to the shady distributors to some dude sellin' homemade vials outta the back of his El Dorado; all for the small price of a Saturday badge the serial vapist can load up on enough product to keep his lungs smelling of CinnaBons for the next year.
One word of advice, however: caveat emptor. I was able to check out some of the hottest new vape-juices of 2016 and, as a public service, here's five of the worst Oklahoma-inspired vape flavors that might be best to avoid this weekend, this year, this life…
-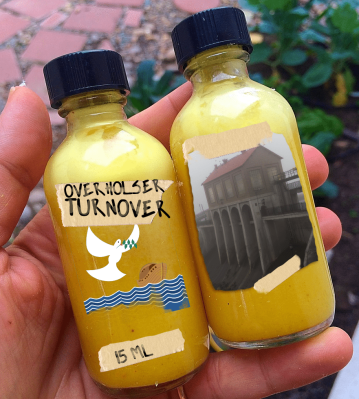 Overholser Turnover
Who doesn't love sittin' on the dock of the bay in late August, watching an old-fashioned Oklahoma sunset, maybe drinkin' a nice, cold glass of Country Time Lemonade as you reminisce about the good times you had with your deceased spouse…when a warm breeze carries the unimaginably Hellish scent of the lower layer of the lake mixing with the upper layer of water, a sewer-like whirlwind of dying fish with cancerous, bulbous growths around their lips and eyes, finally captured in a vape juice straight from the banks of Overholser herself.
-

Thunder Ballsweat
If you're gonna play hard, you better vape hard! Thunder Ballsweat–for that moment when you're at the free-throw line, about to take a make it or break it shot as those salty beads of well-earned perspiration coat your hands and drip down your forehead and chin right onto those taut orange regulation-sized balls, arching those well-honed muscles and unleashing all that manly strumph in a splashy display of masculine prowess. Inhale the Rumble!
-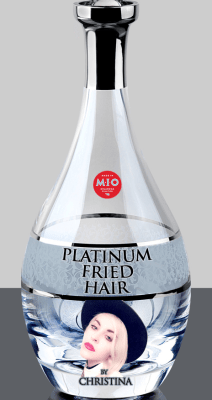 Platinum Fried Hair
When I attended Northwest Classen for 9th grade, across the hall from Ms. Funk's Spanish class was a cosmetology class that seemed to be in session exclusively for the pregnant students. Every afternoon around 2 p.m., that unnerving smell of acidic peroxide and burnt hair would start creeping through the halls and under the doorways, that unmistakable whiff of perms gone bad and relaxer-scarred flesh enveloping every available breathing space. Relieve those woebegone afternoons of failed and faded youth with Platinum Fried Hair.
-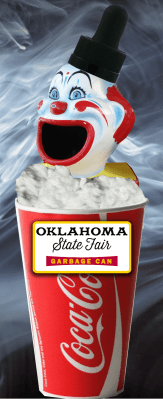 State Fair Garbage Barrel
If there's one place I like to dispose of half-eaten turkey legs, overly-salted cheladas and mildly soiled adult diapers, it's inside the mouth of a clown. As the music of the calliope plays its demonic tune, throughout the day flies gather as deep inside that septic jackanapes' belly, the juices of a day's worth of refuse collect and create a diseased soup of everything that is unholy about the Great State Fair of Oklahoma. Introducing State Fair Garbage Barrel, the vape-juice that allows fairgoers to relive the nauseous excitement of walking past those sunbaked trash receptacles every fifteen feet any time of year!
-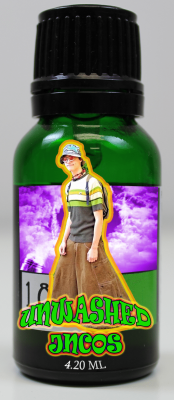 Unwashed JNCOs
From the official pants of vapists everywhere comes the unofficial vape flavor of the summer: unwashed JNCOs. Go ahead and sway and let those hems fray with this unique mixture of floordrobe swamp ass and loosey Carnival menthols with just the right amount of spilled Strawberry Faygo for sticky flava. The perfect size for shoplifting from any participating metro vape shop, nothing says "gateway drug," "latchkey" or "future Juggalo" like a lungsful of Unwashed JNCOs. But you don't have to take my word for it…
-
Special thanks to BH for the artwork.
Louis Fowler gives his personal fave Thunder Ballsweat two snaps up with a double-dribble and a brow-wipe. Follow him on Twitter at @LouisFowler.
Stay in touch
Sign up for our free newsletter