Everything Else
TLO Restaurant Review: The Powerhouse
10:00 AM EDT on March 17, 2016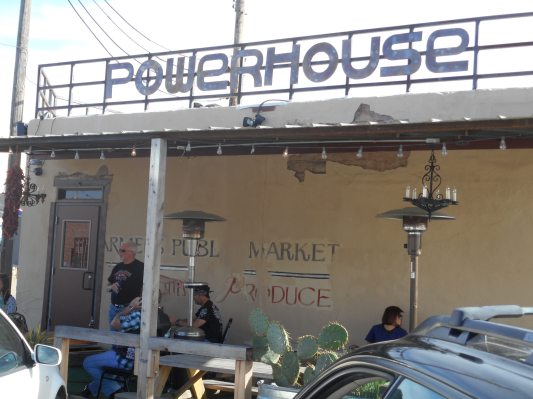 There I was, standing in the middle of the dusty road, waiting for a cement truck to allow me to cross over into the parking lot of the Powerhouse, 1228 SW 2nd Street. The Farmers Market, the latest in Oklahoma City's rejuvenation (read: gentrification) projects, still managed to hold on to its Old West appeal and it's hard not feel like the protagonist of a Spaghetti Western while standing in front of the New Mexico-retro bar and restaurant that wouldn't seem out-of-place in the background of a Robert Rodriguez vampire flick.
I gotta be honest with you: it was nothing like I pictured in my head.
I wrote off the Powerhouse pretty early on, mostly after seeing pics of Hipster Boo-Boo holding court amongst her vapid entourage on one of those obscure local social blogs, immediately figuring it was just another wannabe Plaza District spin-off for the fashionably local to consort in, listening to unsustainable local music and drinking overpriced local brews because, well, that's just the thing to do here.
That all changed, however, when TLO head honcho Patrick and I got into a conversation about chile verde. Having moved here a couple of years back from Colorado—down the road from those fresh New Mexico green chiles—I was accustomed to a certain premium level of concoction, prepared by people who understood it was an artform and not just some "spicy stew."
"You need to go the Powerhouse!" Patrick said.
"That hipster bar?" I indignantly intoned.
"It's not a hipster bar, and they have the best green chile I've had in a while. You need to try it," he said as he handed me a paycheck and drove away.
And that brings me back to the where we started: standing outside the Powerhouse. The patio looked inviting, with a nice mixture of middle-aged bikers and young urban professionals imbibing the rest of the work day away. The inside décor was very atmospheric, with mini novena candles on the tables and rugged roots music on the sound system—all that was missing was Danny Trejo behind the bar, but, in this case, I'll settle for the affable skinny white dude: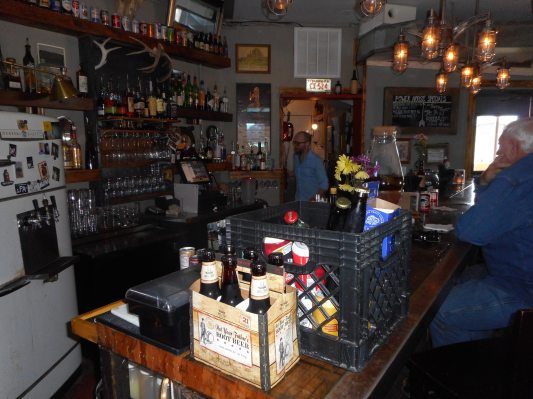 The menu is sparse, but that's not always a bad thing: I'd rather a menu be small and everything done with a great level of expertise than a large menu loaded with mediocre tastes galore. Per Patrick's recommendation, of course I got the bowl of spicy chile pork verde at $11 a shot, but also threw down on their popular Hawaiian Pig Biscuits ($9.00) and, in a deal too damn hot to pass up, Scott's Chipotle Chile Fudge Pie at $5 a slice.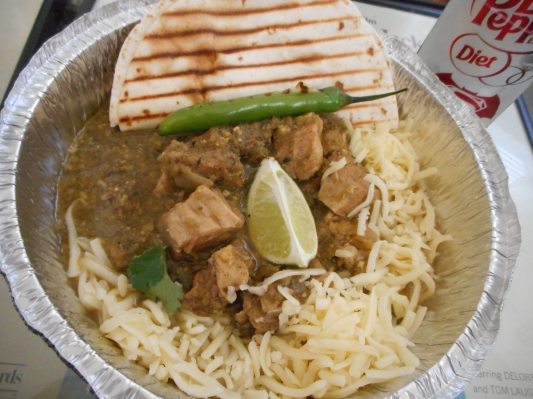 Now I have no idea who the cook at the Powerhouse is, I have no clue where he got this recipe and I have no knowledge of his previous life, whether he's from New Mexico or what, but I gotta say right from the very first steaming spoonful that this green chile is the real deal. This is the way it's supposed to be done, genuinely spicy and with a nice heat that adds to the experience and doesn't ever overwhelm, with tender cuts of juicy pork liberally ladled throughout, sided with some cheese and a couple of tortillas that should do double-time as a spoon.
(Editor's Note: It pairs well with a Diet Dr. Pepper)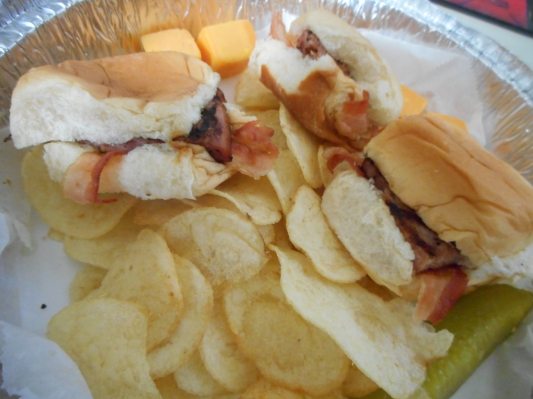 The Hawaiian Pig Biscuits, which are a few slider-sized sandwiches stuffed with thick cuts of salty-sweet pork on a King's Hawaiian roll, do the trick, and act as the perfect accoutrement to the chile, especially when it comes to sopping up the remnants that the spoon couldn't catch.
As my pie was prepped, it gave me a few minutes to really absorb the feel of the place. "This really is a place I could hang out at," I thought. It's hard not to feel like a bad-ass sitting at the bar, or, even better, at a table with the flickering light of the Virgen de Guadalupe dancing across your face. Sitting in the corner, just waiting for some bad banditos to walk in…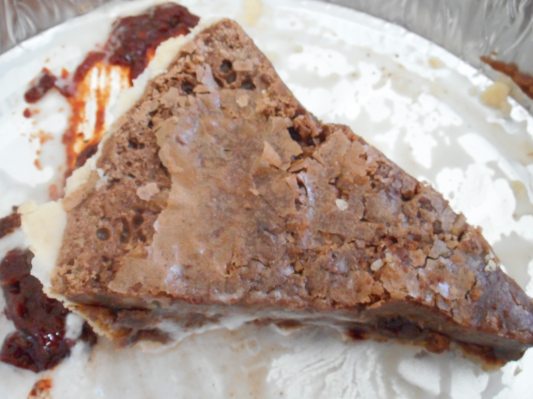 O.K. So now this so-called Scott's Chipotle Chile Fudge Pie….Sweet Jesus. I don't know who Scott is, but he is a confectionary genius. It may not look pretty, but that creamy, chocolaty body hits you with a rich punch to the teeth and then, just as you start to feel safe, along comes hot and spicy KO out of nowhere, combining to make an odd couple of flavor that works brilliantly. Forget a slice; get me a whole pie of that hot bitch and do it soon.
As the dust kicks up around the Powerhouse and the vendors quietly load their goods into those bungalow-style store-fronts, the urge to buy an oversized leather duster jacket and wander the OKC River wastelands filled with crooked crosses in the ground and dirty notches on my belt, here's to wishing and hoping that at the end of this gunslinger's ride a huge, steaming hot bowl of the pork chile verde will be waiting for me, amigo,as  that stuff is—or, at the very least, should be—legendary 'round these here parts. And with damn good reason.
The only thing that would've made the experience even better? If I walked in and some Tito and Tarantula started playing overhead. Get yourself some of that on the jukebox, will ya?
Louis Fowler is knockin' on the devil's door. Follow him on Twitter at @LouisFowler.
Stay in touch
Sign up for our free newsletter