Everything Else
Oklahomans rally to remind businesses why they should never move here…
3:50 PM EDT on October 26, 2015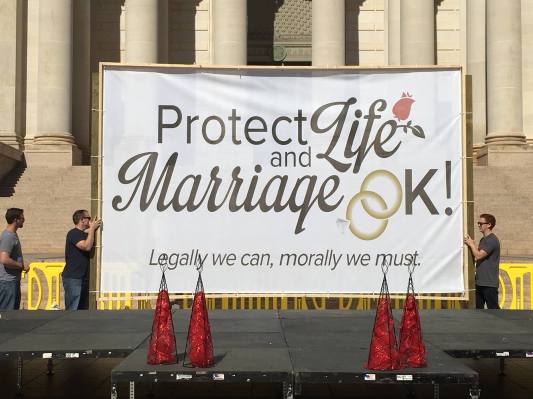 While Mary Fallin's cowboys were making their way back to Texas, Derplahomans from across the state gathered at the Capitol on Sunday to promote some good old-fashioned Oklahoma theocracy, and in the process, remind businesses and people why they should never move here.
Via NewsOK.com:
Abortion and same-sex marriage came under fire Sunday as preachers and politicians urged Oklahomans to take a stand against the U.S. Supreme Court rulings they said go against biblical Scripture.

Several thousand attended the "Protect Life and Marriage Rally" held on the south steps of the State Capitol building.

The gathering, about two-and-a-half hours long, included speeches from congressional leaders and state legislators, plus prominent metro pastors.

The event's organizer, the Rev. Paul Blair, pastor of Fairview Baptist Church and leader of Reclaiming America for Christ, told the crowd that the rally was designed to educate, motivate and, ultimately activate their rights as U.S. citizens troubled by "activist judges" and a "monarch" president.

"It is still 'we the people' and not 'they the Supreme Court," Blair told the crowd.
Rev. Blair has a point. It is "we the people," and not "they the Supreme Court," which is probably as good a reason as any to toss out all Supreme Court decisions that Rev. Blair, a former football player and successful vending machine owner who as never practiced law, doesn't agree with.
Here's more:
Preachers led the gathering in prayer several times during the event, with leaders saying it was important to stand with the Lord and His word on issues such as abortion and gay marriage. The pastors said Christians must rise up if they want to change what they see as a moral decline in America.

"We've lost our way. Our values have been turned upside down," the Rev. Ted Miller, senior pastor of Crossroads Church, said in his invocation at the rally's start.

The Rev. Blake Gideon, senior pastor of First Baptist Church of Edmond, spoke out against abortion.
Question. If we stand with the Christian God on issues such as abortion and gay marriage, do we also have to stand with him on other issues like human sacrifice and putting Red Lobster out of business? Just curious.
Also, I'd like to go on record and state that I agree with Rev. Gideon. The people of Oklahoma, a state that puts more women in prison than Cinemax, botches executions, and refuses federal subsidies to help our sick and poor, has lost its moral compass. If only we could go back to those values-centered days when women, minorities and gays didn't have civil rights and all citizens had to abide by one religion's moral code or fear being labeled an outcast and excluded from society.
The Rev. Kevin Clarkson, senior pastor of First Baptist Church of Moore, spoke out against gay marriage, saying God designed marriage as a union between a man and a woman no matter what the Supreme Court ruled.

"I've got news for you and news for the Supreme Court: they are not supreme. There is a higher court in this universe," Clarkson said, causing the crowd to cheer and applaud.

U.S. Sen. James Lankford, R-Oklahoma City, U.S. Rep. Jim Bridenstine, R-Tulsa, and U.S. Rep. Steve Russell, R-Choctaw, said they were encouraged by the size of the crowd, which Blair estimated at almost 5,000 people.

"There's the belief that government shifts nations. Not so. People shift nations," Lankford said.
Yeah, let's ignore for a second that government and the people are essentially the same thing. Neither one of them shifts a nation. Corporations and special interests do! Of course, corporations are now technically people, which means they're also technically government. Is that what Senator Lankford was trying to say? I'm confused.
Rally participants were encouraged to sign a petition saying the state has the right to set its own laws concerning abortion and same-sex marriage. Speakers also encouraged the crowd to tell others about the movement so that the state legislature will realize that many Oklahomans are supporting the effort.

Blair said with Oklahomans urging the Legislature, state lawmakers may find the courage to stand against the federal laws concerning abortion and same-sex marriage much like the state of Colorado and the District of Columbia legalized recreational marijuana despite federal laws declaring the drug illegal.

Meanwhile, signs held by some in the crowd on Sunday helped proclaim the rally's message.

"Marriage is not ours to change: Impeach un-American judges" and "If the murder of children in the womb isn't an urgent issue, then nothing is."
Life just got easier if you're an out-of-state small business owner or corporate board executive! Now you can officially cross Oklahoma off the list of "potential places where we should move or expand the company." Honestly, I don't blame you. Sure, it would be nice if you could ignore the religious zealots and theocrats and move your jobs here, but thanks to them, we're really not the most welcoming place for businesses that value diversity and freedom for all. Plus, I really doubt you would want to move here. We don't have enough qualified, educated workers. Just stay away from us, you know, like you usually do.
Stay in touch
Sign up for our free newsletter