Everything Else
Meet the people behind Donald Trump's fair visit…
12:54 PM EDT on September 23, 2015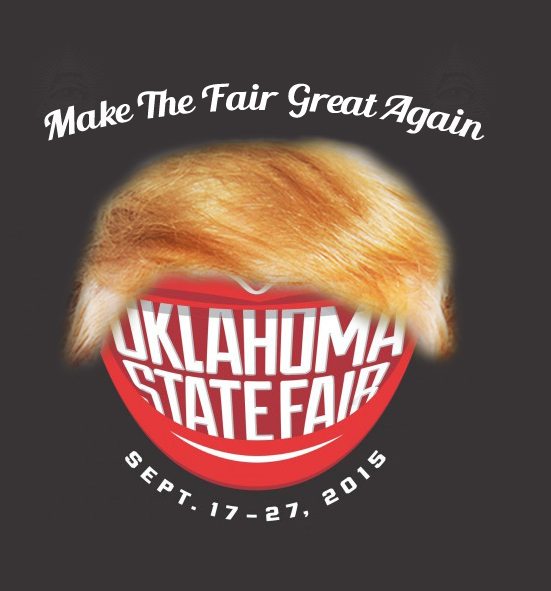 Crazed lunatics like Donald Trump don't just make it to places like the Oklahoma State Fair on their own. It takes a special, equally crazy brand of nut jobs and supporters to bring him here. Thanks to this Facebook post by Ralph Shortey, we know who these people are: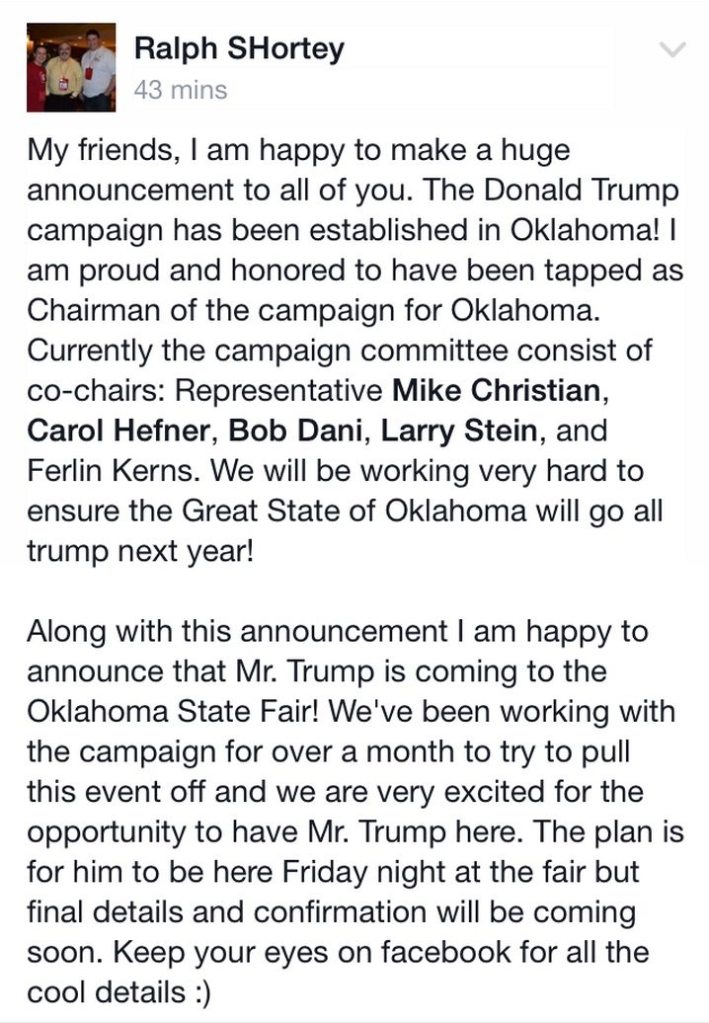 Wow. That's like a who's who list of Derplahoman leaders! I wonder who have to stay behind to guard the secret Agenda 21 documents, monitor Chemtrails and nervously watch illegal immigrants mow their lawn.
Anyway, I thought it would be fun to meet and reintroduce ourselves to the chairs of this committee. Let's begin with the committee's mouth-breathing chairman and TLO material provider State Senator Ralph Shortey: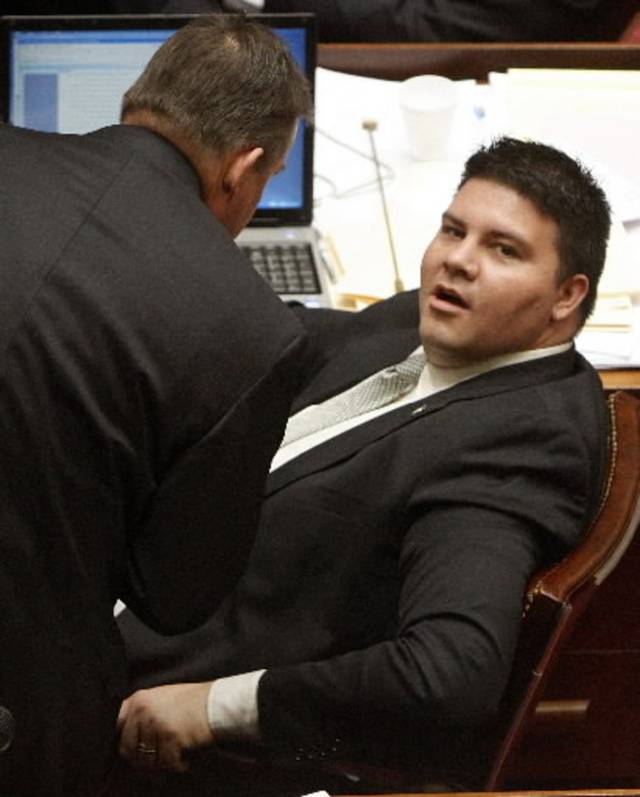 Ralph Shortey
Ralph was elected to the State Senate in 2010, where he quickly made a name for himself and was tapped by Republican leaders to chair the State Senate's esteemed Paranoia and Fear Committee. In that role, he introduced his most famous piece of legislation, Senate Bill 1418, which would have prohibited "the sale or manufacture of food or products which contain aborted human fetuses." Due to intense lobbying by Western Sizzlin', Golden Corral and The National Hot Dog Lobby, the bill was soundly defeated. Regardless, Shortey has vowed that aborted fetuses will not enter the Oklahoma food supply while he is a State Senator. Good to know, huh?
In addition to trying to pass totally crazy, unnecessary legislation, Shortey has brought Dog the Bounty Hunter to Oklahoma for fundraising events. He's also gone all Captain Caveman on everyone and killed a turkey with a club:
Sen. Ralph Shortey said he refuses to get a concealed carry license because he objects to requiring a license to carry guns. He said he started carrying a gun with him in his truck after a turkey attacked him while he was on an oil and gas job.

"Wait until you get attacked by a turkey, you will know the fear that a turkey can evoke in a person," said Shortey, R-Oklahoma City. "So I beat it with a club. That's all I could do. I wish that I had a gun with me.
Shortey was also featured on The Daily Show in 2012 where he defended the Personhood Bill, and came across as the hypocritical Lennie Small that he probably is.
I honestly can't think of a more qualified person to chair Trump's Oklahoma campaign. The Donald should be proud.
-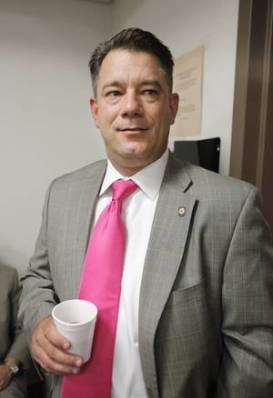 Mike Christian
State Rep. Mike Christian is your typical Oklahoma politician. He's corrupt, hypocritical and crazy. For example:
Corrupt: In 2010, Christian was investigated by Oklahoma County DA David Prater on corruption and bribery charges. Although he was never charged, his pals Randy Terrell and Debbie Leftwich sure were. Terrell was even sent to jail.
Hypocrite: Christian is your stereotypical small government, pro-business, Oklahoma politician, but in 2012, he received $61,560 in workers' compensation benefits after he injured his neck and back while driving to the state Capitol in 2009. Yep, he filed a workman's comp claim for being injured while driving to work. And you thought the GOP was all about reducing those frivolous workman's comp claims.
Crazy:  In 2014, Christian drafted a resolution seeking the impeachment of Supreme Court justices who granted a delay of execution to death row inmates. Thankfully he didn't get injured while writing the letter, otherwise we'd have to pay him more in workman's comp benefits.
-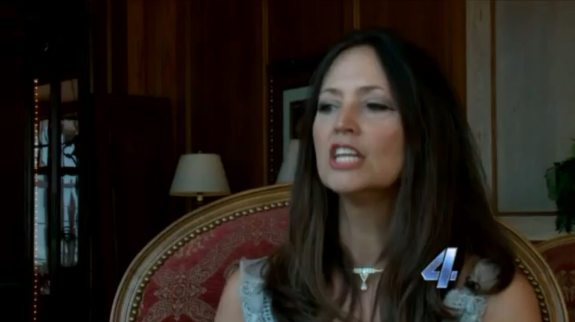 Carol Hefner
Carol Hefner is a wannabe local socialite and probably knows everyone in the Junior League. She was one of the women duped by the fishy Real Housewives of Oklahoma City thing from a couple of years ago.
"Lisa! Lisa Vanderpump! I love her! She is straight forward," Carol Hefner said. "Her husband adores her. My husband adores me!"

"Without being stale boring or dull, we are gracious but we're fun," Hefner said. "We're spicy, we're saucy, we shake it up but we do it with grace and dignity."
I've seen Carol at Vito's once, and let me tell you, she is definitely saucy.
In addition to being duped by a con artist, Carol's biggest achievements in life are losing a State Senate Race, marrying into a family that has a lake named after them, and making the back pages of Slice magazine for six consecutive months.
Knowing how bright she it, it's easy to see why Carol would support a candidate like Donald Trump. But that's not the only reason. Carol has a lot in common with The Donald. For example, they both occasionally do not not pay their bills:
Two Republican candidates for Senate District 47 have had legal and financial issues, court records show.

Civic volunteer Carol Hefner, 49, has a lawsuit pending against her by a credit card company alleging she hasn't paid a $7,888 balance, court records show.

Hefner said she decided to stop paying her credit card bill because of fees she disagreed with.

"This is an issue of fiscal responsibility. People have to hold these large debit and credit corporations accountable for good practices and that's what I chose to do," Hefner said.
That's cool. It must be nice to be able to refuse to pay credit card bill out of principle and not worry about it screwing up your credit or life.
-
Bob Dani
Just like Carol Hefner, Bob Dani is former political hack who lost a primary bid for the State House in 2012. He's the founder of the High Noon Club, an ultra right-wing theocratic tea party group that loves guns and god and hates just about everything else. And based on this pic of his Corvette and Harley from his Facebook account, he also has a very small penis: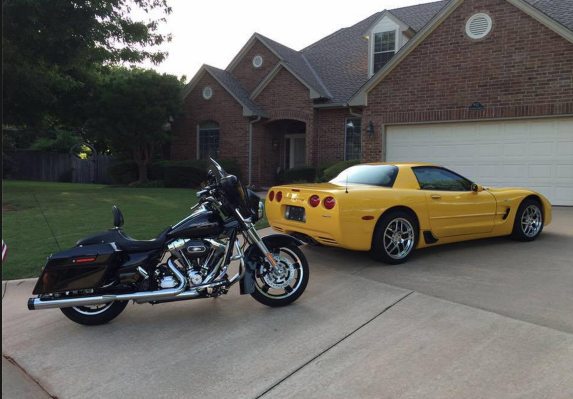 Okay, I'm just teasing. Just because you're and old man in your 60s and drive around a Corvette and a Harley, it doesn't necessarily mean you have a small penis. It just means you probably have a small penis... and self-esteem issues... and no friends... and really high insurance payments.
Seriously, a Corvette and Harley? I'm sure that really impresses all the girls on 39th Street who are still laughing at you.
-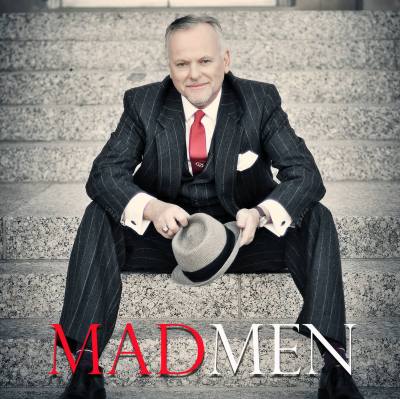 Larry Stein
Larry is the Chief Deputy at Oklahoma County Assessor's Office. As the pic above shows, he's like a cross between Don Draper and Roger Sterling... if they were unemployed, crazy and homeless. He's also a racist blowhard...
Via a KFOR:
An Oklahoma County official is facing some backlash following a controversial statement he posted on Facebook regarding the unrest in Ferguson, Missouri.

Larry Stein, the Oklahoma County deputy assessor, posted, "There hasn't been this great of a racial divide in America since the 1850's. Congrats to the thugs and animals in Ferguson."

Stein has since removed the post, but says he has a right to say whatever he wants under the First Amendment.
Well, I guess we know why he likes Donald Trump. Seriously, what a lunatic. Let's check out his post again:

Yeah, forget about slavery, Jim Crow laws, public lynchings, poll taxes, and all the other forms of abuse, discrimination and racism African-Americans have faced in this country. The biggest racial divide in America since the 1850s are protests by African Americans (a.k.a. thugs and animals) in response to police shootings. That's some spot on analysis, right there.
Also, I agree with Larry's views on free speech. You do indeed have a right to say whatever you want, which includes ridiculous statements that damage your career and reputation and lets everyone know that you're an idiot. Keep the free speech coming.
-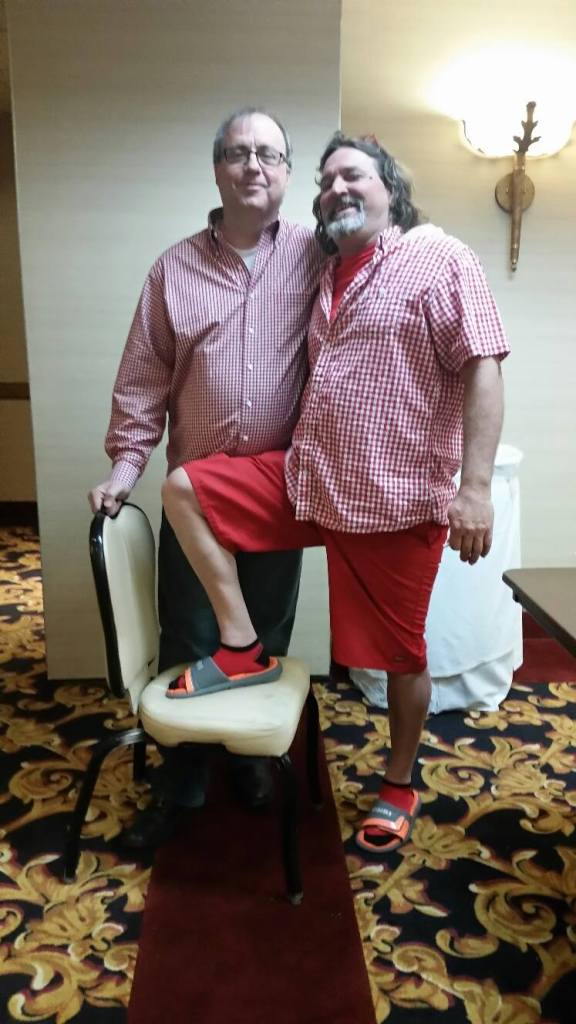 Ferlin Kearns
No, Ferlin Kearns is not a gay wizard from Harry Potter. He's actually a used auto dealer from Edmond who makes a living selling cars with high interest rates to lower-income people who probably can't afford them. Here's a demo reel of his commercials. His marketing gimmick is "You Keep The Flag." He also manages to call women "broads" and thanks patriots who protest the insanity going on in Washington DC.
-
Anyway, those are the chairs for Trump's Oklahoma campaign. What a perfect lot, huh? They remind me of an old question posed by Ben Kenobi:
I'm going to go out on a limb and say it's the people who follow.
Stay in touch
Sign up for our free newsletter