Everything Else
The Oklahoma Homeschool Science Fair doesn't like science…
11:47 AM EDT on August 13, 2015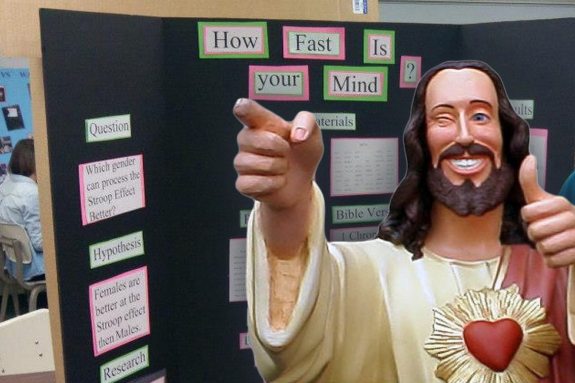 (Update: Since we published this info, OU has removed all the pages in question from it's website. We have linked to the screenshot images from those pages)
Yesterday afternoon, an Ogle Mole alerted me to a strange webpage hidden on OU.edu (OU.edu/science), the official website for the University of Oklahoma. The page has to do with the Oklahoma Homeschool Science Fair, an annual event which aims to help kids discover science and engineering.
Check out the first two goals for the event from the "getting started / information page" of the site:
Goals

1. See the consistency and detail of God's creation

2. Apply scriptural lessons, truths, principles to science topics
Yep, that's real. The first two goals for a science fair are supporting a creation myth and applying lessons from a 2,000 year old book that totally contradicts science. What's the third goal? Converting non-believers to Christianity?
Fortunately, it's not. The rest of goals seem normal:
3. Provide more than a science test can offer; variety, hands-on experience, thinking and reasoning, application and enjoyment

4. Teach the scientific method

5. Integrate all the academics: reading, writing, spiritual application, science facts, math, drawing conclusions, art, graphing, typing reports, oral presentation and time management
After seeing goals 3, 4, and 5, I figured the first two must be part of a hoax or prank. I know most homeschool folks are religious helicopter parents and everything, but a science fair that incorporates religion makes as much sense as a swingers party that bans touching. They don't go together. Maybe OU had been hacked, or perhaps this was a joke intended for a draft and accidentally made its way online. That sometimes happens.
But then I discovered a couple of things.
1. I checked the Internet Wayback Machine. The same five goals have been online since 2012.
2. I located the Oklahoma Homeschool Science Fair Facebook Page. They have photos of projects from 2013 and 2014. They look like typical science fair projects are first glance, but when you actually read what's on the board you can see those first two goals being met: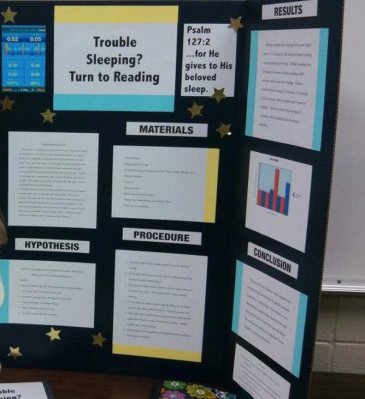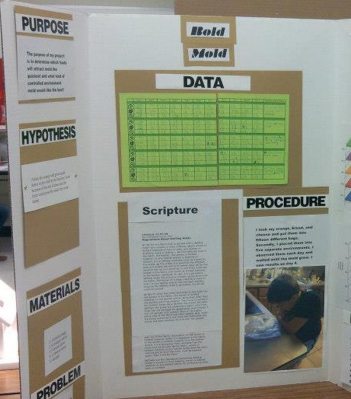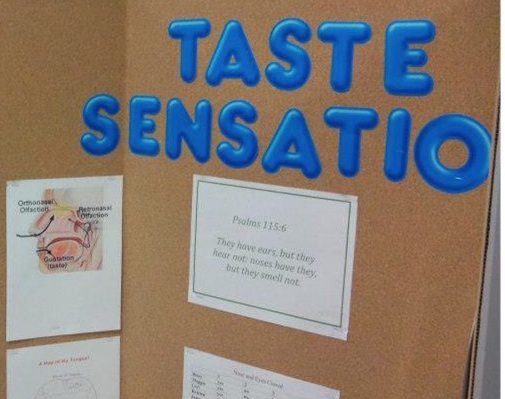 Come on, homeschool parents. I know most of you homeschool your kids for religious reasons, but this is ridiculous.
First of all, what about the six homeschooled kids in Oklahoma who are not Christians? Do they get their own normal science fair, or do they have to promote and endorse a religion they may not practice or believe to participate? Maybe their parents just teach them how to make soap or something instead. Who knows.
Second, science and religion go together like oil and vinegar, cats and dogs, and homeschool and social life. One is based in faith. The other is based in fact. Requiring your children to incorporate the two has more in common with indoctrination than education. The only time religion should be incorporated into a science fair is when you're trying to disprove what's in the Bible... not support it.
For example:
• Adam, Eve and Lucy: Australopithecus in the Garden of Eden
• The Big Bang Theory: God's Laughtrack
• Geology: 4-billion-year-old rocks in a 6,000 year old world
All that being said, I begrudgingly get it. Parents should have a say in their kids education, and if that "say" involves trying to get their kids to believe a lie that science and religion are somehow connected, and that the devil causes volcanoes, I guess they have that right.
What I don't get, though, is why OU is hosting and promoting all this shit on its website? That's the real story here. They're a public institution of higher learning! How can they promote a science fair that encourages students to "see the consistency and detail of God's creation?" Is this part of David Boren's plan to raise a new breed of Oklahoma scientists to tell us the Oklahoma earthquake swarm is naturally occurring, not the fault of the energy industry, and all part of God's plan? Probably so.
Anyway, I guess if you want more info on the Oklahoma Homeschool "Science" Fair, or perhaps want to know why OU is promoting this crap on its website, email this dude (strevett@ou.edu). He's the OU professor listed as a contact for "Homeschool Science Fair Help." I would do it, but I'm busy practicing for the Oklahoma Homeschool Biblical Spelling Bee. I'm going to dominate it.
Stay in touch
Sign up for our free newsletter