Everything Else
TLO Restaurant Review: Eischen's Bar
2:15 PM EDT on July 23, 2015
Not to get all "Is this a great state or what?" on you, but one of the best things about living in Oklahoma is that even driving to get a plate of fried chicken can be a sojourn into a another world and another culture.
For example, take the small city of Okarche. Even though I was only there for about two hours on a Saturday night, I'm willing to bet it's a small town with a big heart, where you can raise your 2.5 kids with old-fashioned American values that won't be deemed anti-progressive by those types.
And while I'm sure there is a dark veil that uncovers itself once night descends, a meth-based criminal underworld that is the town's best kept secret, it still feels like a place where you can sleep without locking your front door and then get a socially responsible haircut in a barber shop filled with men and only men. Where, within one city block, you can get tires for your tractor, cheer on the local high school football team and stop by a national treasure for some of the best damned fried chicken you will ever eat in your life.
For an all-American town, what better way to represent themselves, culinary-wise, then with the most all-American meal possible? And few people do it better than the proud Americans at Eischen's Bar, 109 N 2nd St.
Sure, it's a joint that's been rhapsodically waxed upon by dozens of Okie foodies with far better nicknames than I—since the Food Dude is already taken, can I be El Plato Vato?—and there's a good reason for that: not only is it Oklahoma's oldest bar (since 1896), but their cast-iron skillet fried chicken has been made the same way, from the same recipe since the 1960s when George Eischen cooked up a whole mess of bird for the winner of the weekly shuffleboard tournament. (Note to self: possible TLO Trivia Night prize idea.)
Stepping into Eischen's and biting into that chicken is like stepping into a long-lost time when no one gave a good Goddamn about heart-splints and cholesterol tests and equal rights. Of course we'll devote pages of navel-gazing blogging to this revelation! It's like a trip to Bobo's that you can bring your Confederate-flag waving uncle the next time he visits because Obama is in town.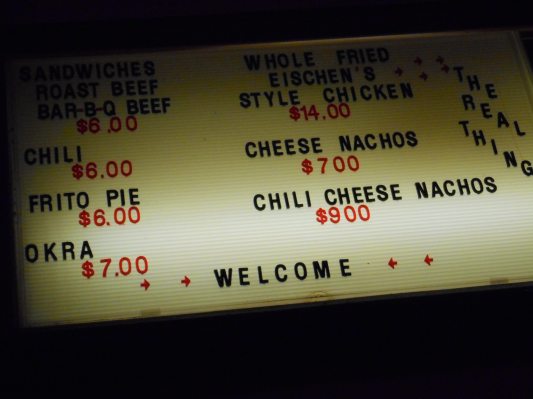 From the rustic entry to darkly-lit dining area, Eischen's is the very definition of the term old-school. Waitresses call you "honey," the seating is communal and they don't even take plastic, so bring plenty of cash. Bring even extra cash for the gift shop, because nothing says "I'm fat and no one will ever love me except food!" like a t-shirt and a coozie celebrating chest pains. Except maybe a Hawaiian shirt.
The menu is limited and that's okay because you're only there for one thing: a whole fried chicken ($14.00). Start there, without any questions. Of course, it's gonna take a little while to fry up that bad boy, so I'd recommend starting off with a Frito pie ($6.00). It's topped with house chili that is almost as famous as the chicken.
In addition to the fried chicken, my partner and I ordered a side of fried okra ($7.00) because, if you've ever read any of my reviews before, you know I am a sucker for this Southern side-dish—it's always a personal litmus test for me to fully discern just how authentic an eatery like this truly is. Fresh and green with a crispy—not soggy—breaded shell, they pass the tests in spades, cookin' 'em up just like your small-town granny would've done in the Dust Bowl. At least she would have if she hadn't died  in the Dust Bowl due to lack of okra, natch.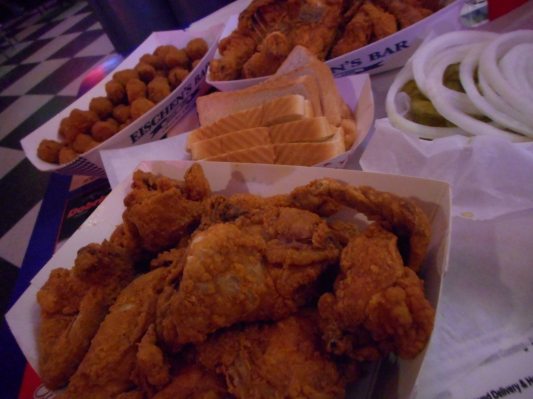 After about 15 minutes, here comes our chicken and fixins (including white bread, sweet pickles, dill pickles and onions), and what an embarrassment of riches it truly was—surely they threw in some extra pieces for us because they just absolutely loaded us down with enough clucking goodness that I practically fell to my knees in thanking our Lord and Savior Jesus for this heavenly bounty.
And Jesus, what a heavenly bounty it was: each hot, juicy piece of chicken just exploded with Godly flavors in each blessed bite; a crispy, perfectly seasoned skin mingling effortlessly with such impossibly succulent meat, glistening in the overhead lamplight like the star of Bethlehem…ooh girl, get me to a Baptist church soon because gasp and swoon, I got the vapors!
Eischen's deserves every accolade it's ever received and even though the town of Okarche's overall crime rate is 79% lower than the national average, they brutally assaulted my heart with their personal warmth and welcoming smiles and, even more than that, with their husband pleasin' chicken. Good thing I can pass for white when I have to. God bless America.
Follow Louis on Twitter at @LouisFowler and recommend a few other out-of-town places he should try.
Stay in touch
Sign up for our free newsletter