Everything Else
The bible college that expelled a student for being gay just hired Dave Bliss…
10:45 AM EDT on April 7, 2015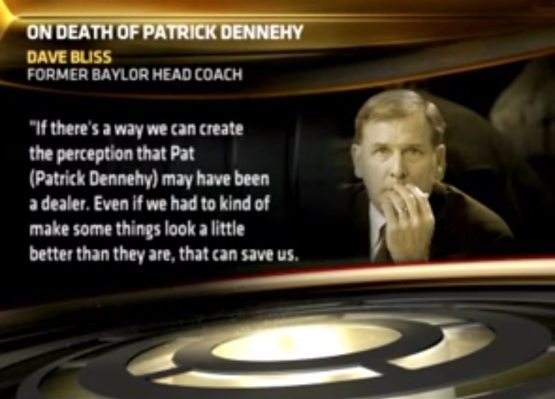 The last time Southwestern Christian University made the news was in July of last year, when CNN reported that the unaccredited Bethany Bible college expelled an honor roll student after learning she married her same-sex partner in a New Mexico wedding ceremony.
That student's name was Christian Minard, and apparently being gay and falling in love violated the school's lifestyle covenant – an archaic, holy agreement all students must sign when applying to the school. The covenant, which is found on page four of this application, has four key sections...
1. We affirm and honor scripture...
2. We strive to live in obedience to Christ in word and deed...
3. We will actively participate in the community...
4. We strive to live with integrity...
Yep, apparently being gay and falling in love violates one of those core principles. That's a shame, because Christian seemed like a good, ideal student. She once played basketball and was on the school's honor roll. If only she could have been more "normal" (a.k.a. straight) and made false allegations against a murdered teammate, everything would have been fine.
I say that because Southwestern Christian University announced yesterday that Dave Bliss, one of the most disgusting sports figures of all time, will be the school's next head basketball coach. If you don't know Dave's history, read this NewsOK.com article about the news:
Shamed coach Dave Bliss, whose career and reputation collapsed in the Baylor basketball scandal 12 years ago, has been hired to coach men's basketball at Southwestern Christian University, an NAIA school in Bethany.

Bliss, 71, who coached 525 victories at OU, SMU, New Mexico and Baylor in a 28-year head coaching career, resigned from Baylor in 2003.

Bliss admitted to making improper tuition payments for Baylor players Patrick Dennehy and Corey Herring, and after Dennehy was murdered by Baylor teammate Carlton Dotson, Bliss attempted to provide cover for his rule-breaking by helping portray Dennehy as a drug dealer...
The school takes that lifestyle covenant pretty seriously, huh? Gay basketball player who displays positive traits such as love and commitment by marrying her long time partner? Sorry, you're expelled. Straight basketball coach who cheats and falsely accuses one of his murdered players of being a deadly drug dealer? Hello, you're hired!
Here's what the school's leadership had to say:
Southwestern Christian athletic consultant Jim Poteet, who coached at then-Bethany Nazarene College when Bliss coached at OU 1975-80, said SCU officials believe in redemption and believe Bliss has been transformed.

Southwestern president Reggies Wenyika said, "Coach Bliss fits well within our mission and culture and embraces what a Christian-based education is all about."
Yeah, Dave Bliss embraces what Christian-based education is all about. Who can't forget that Bible passage where Jesus talks about paying amateur athletes and slandering dead people. I think it's Hypocriticus 12:13.
Seriously, what a bunch of pathetic homophobes. How can you expel a gay student for violating a lifestyle covenant and then turn around and hire Dave Bliss to coach your basketball team 10 months later?! Even people who don't return the favor after oral sex think that's a hypocritical double standard.
"But Patrick, Christianity is about forgiveness."
Well, then the school should have "forgiven" Christian for being gay and married let her finish degree.
Since she was expelled from Southwestern, things appear to have worked out for Christian. She was accepted into UCO, where the only covenant they make you sign is an agreement that you won't park in faculty parking spots.
An honor-roll student who was expelled from Southwestern Christian University in Oklahoma after she married another woman is now enrolled at a different university in the same state.

Christian Minard said in a post to Facebook Tuesday, "Finally got into classes!! In the end this will all have worked out for the best! I now get to attend a university that is more than happy to have me there and has been extremely helpful towards me! Excited for this new beginning!"...

In a conversation through Facebook with CNN, Minard said Wednesday she has received mixed reactions from the public, but said many people reached out to share their own stories.

"The LGBTQ community greatly reached out to me. Many of them had also attended religious universities and experienced problems. They connected with me and tried to help me in anyway they could. The support I received from everyone was incredible and pushed me to move forward!

"The most important thing I've learned is to always stand up for what you believe in," she added. "It's okay to not be accepted somewhere, there is somewhere else out there that will accept you and encourage you to be who you are."
That's cool. It's good that Christian found a place that will accept her for who she is. I guess you can say the same for Dave Bliss. Southwestern is a great fit for him. The next time he wants to slander or ruin the reputation of one of his a student athletes, he won't have to say the person was a drug dealer. He can simply out them for being gay.
Stay in touch
Sign up for our free newsletter