Everything Else
11 storylines to follow for the 2015 Severe Weather season…
2:59 PM EDT on March 25, 2015
According to the local weather gods, the 2015 severe weather season kicks off today in Oklahoma. As the map of doom below clearly shows, we may be in for some large hail, damaging winds and a 4-hour scream therapy session with David Payne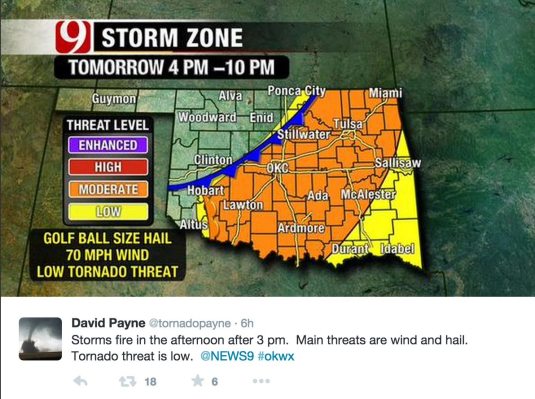 In all honesty, that's pretty tame compared to the maps we usually see in April or May. Wake me up when that map turns all red and purple like Emily Sutton in a triathlon.
Anyway, with a new severe weather season coming down upon us like a wall cloud, I thought it would be fun to preview the Severe Weather Coverage season by taking a look at some storylines to follow.
Before we do, lets review some basic weather safety procedures:
• Difference between a tornado watch and a tornado warning. A Tornado Watch simple means there's a good chance there's going to be a state map on the bottom left of your TV screen for a good part of the day. Be cautious and aware. A Tornado Warning means the Chief Meteorologist is going to cut into live programming to likely show you helicopter footage of a slow-moving wall cloud located 30-miles north of Woodward... or a funnel cloud approaching your neighborhood. One of the two.
• Tornado Safety Precautions. If you hear sirens or see Bob Moore Chopper 4 from your backyard, either get underground, hide beneath a pile of pillows and blankets in a hall closet or bathroom, or head south and try to outrun the storm. It's your call.
• Clean out your shelter. Also, consider how you're going to address that awkward moment when your neighbor frantically knocks on the shelter door, pleading for you to unlock it and save his life, but you don't have extra room because you brought your dogs.
With that out-of-the-way, here are 11 storylines to follow for the 2015 season...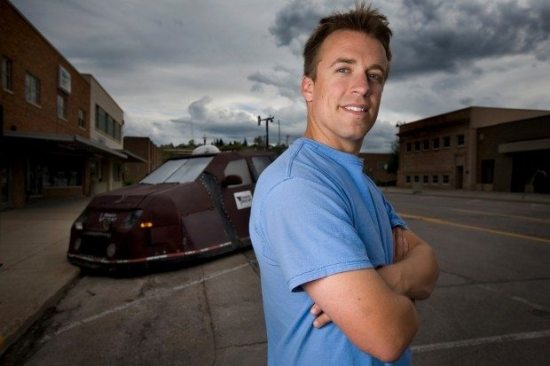 1. What's up with Reed Timmer?
This winter, Mike Morgan's Bionic Storm Chaser Reed Timmer was noticeably absent from KFOR's winter weather coverage. This led some to wonder if he's parted way with Mike and Emily. According to a source who may email us vacation photos from time to time, Reed will still likely cover spring storms for KFOR, but his availability may depend on the schedule of his Fox News Weather Babe fiancée.
That leads to this...
-
2. Will Emily Sutton stay in studio or chase storms?
This is a tough call for KFOR. We all adore Emily Sutton the morning weather princess, but Emily Sutton the hardcore stormchaser had mixed results. Not only did she nearly die, but she and Mike and other storm chasers had difficulty developing chemistry. Who could forget the time she yelled "Mike! Mike! Mike!' over another storm chaser as she chased a Twister to the Shawnee mall:
If Reed Timmer is going to busy moonlighting with his fiancée, it may make sense for Emily to give storm chasing another shot. For one, she could use the experience. Two, who else are they going to send out? Aaron Brackett? That guy would see a mega vortex grinder and pee his pants.
-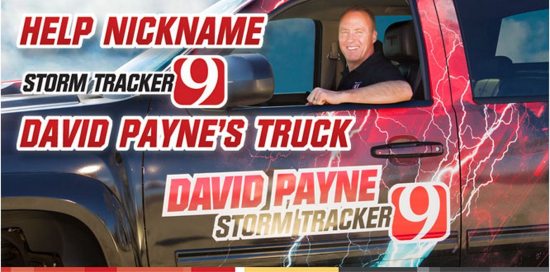 3. Has David Payne calmed down?
Before he was the successor to Lord England's throne at News 9, David Payne was the star hyperactive stormchaser for Mike Morgan. He could be hard listen to at times, but the guy was good and fearless. Who could forget that time he literally drove into a tornado:
Now that he's the studio emcee for News 9's weather coverage, Payne needs to calm down a little bit. You can tell he wants to toss the clicker and get out and chase the storms. I understand that. That's what he was good at, but he's no longer a player. He's the coach. It's time he acts like. Maybe he can get on the gentner and live vicariously through Val.
-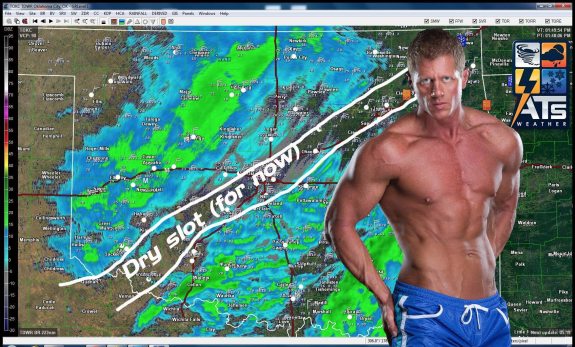 4. How many personalized weather forecasts will Aaron Tuttle sell?
While he's searching for a copyright attorney who specializes in copyright law, Aaron Tuttle is trying to raise money to fund his diabolical weather prophecies. One of them is to sell personalized forecasts:

Will somebody email Aaron and get some rates? This could be a game changer in the industry. Let's just hope it's more successful than his subscription-based fitness website.
-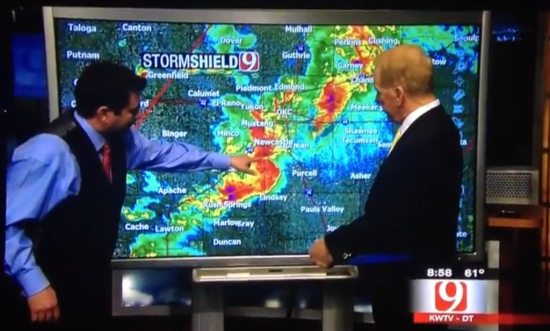 5. Will News 9 bring back the giant iPad?
One of Gary England's darkest moments at News 9 was the time he couldn't operate the giant iPad during a Severe Weather outbreak. It was kind of like watching Super Man nearly drown in the pool while chained to Kryptonite. Fortunately, Mike Armstrong pulled a Miss Teschmacher and saved the day.
With Gary England now providing personalized weather forecasts to David Boren, maybe News 9 will try the experiment again. David Payne is younger and bit more savvy with technology. I think they should give it a shot. Worse case scenario is the touch screen malfunctions and David starts yelling at it.
-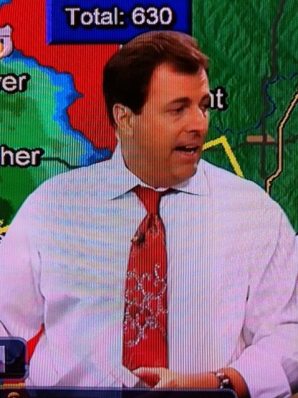 6. Will Mike Morgan bring back the Bedazzled Severe Weather Tie?
I was a big fan of the tie. In fact, we made it a central component of the now extremely dated Mike Morgan Drinking Game:
Pregame:Before the game starts, you need to determine who is "Mike Morgan" (if you were playing asshole, this would be the President) and who is "Rick Mitchell" (the asshole equivalent to being the Asshole.)

How to pick Mike Morgan:For each person playing the game, put a necktie in a paper sack. Make sure that one necktie is sparkly and bedazzled. Each player then blindly grabs a tie out of the sack. Whoever grabs the sparkly bedazzled tie must wear it for the entire game and has the title of Mike Morgan. As Mike Morgan, you oversee the rules and instruct the players when it is time to take a drink. You can appoint one player as David Payne to assist you in keeping track of drinks.

Additionally, as Mike Morgan you can make one additional rule (like the little green man on the beer or make yourself Thumbmaster) for each time the National Weather Service issues a new tornado warning.
Wow, that seems ancient. Anyone else think it's time for new Severe Weather Drinking Game? Send us your ideas to thelostogle@gmail.com
-
7. Will Channel 25 even try this year?
I think I use this example every time I write about Channel 25's weather coverage, but let's say the tornado sirens go off while you're hanging out at a friend's house and that friend flips the TV over the Channel 25. How long would it take before you punched your friend, grabbed the remote, and changed the channel? 3-seconds? 5-seconds? That's what I thought.
Honestly, Channel 25 shouldn't worry about interrupting live programming. Like people who watch Judy Judy and Big Bang Theory really care about the weather or their well-being.
-
8. Should Damon Lane wear a cape?
First of all, it must be nice to be a weatherman in Oklahoma City. It's almost as cool as being a celebrity blogger.
Second, it's taken us eight spots on this list to even get to Channel 5 and Damon Lane. They're kind of like the accident child in a family. Sometimes you forget they are there. This is sad, because Damon Lane is actually a cool dude and weatherman. Maybe to stick out and get attention, he should wear a cape. Who wouldn't want to watch a caped weatherman?
-
9a. What's up with the new girl on Channel 9?
The girl pictured above is Cassie Heiter. She's the newest weather vixen for News 9. She joined the station this past August after a stint is some place called the Quad Cities.
I have no clue what her role will be during weather outbreaks. Will she herd the stormchasers, man the doppler or simply look cute and adorable like a chipmunk? I guess we'll find out soon.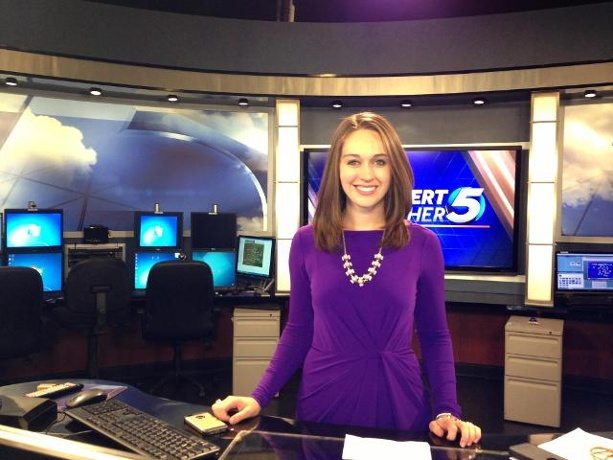 9b. What's up with Shelby Hayes on Channel 5
Before she was the morning meteorologist for Channel 5, Shelby Hayes was one of Gary England's severe weather babe interns on News 9. Is she going to stay in the mornings, or work overtime and help Damon Lane and Jonathan Conder in the afternoons? What if they put her in the chopper! Wait. KOCO doesn't own a chopper.
Actually, it looks like KOCO finally applied for a loan and got a chopper... or at least they stole one and put Channel 5 logos on it. Get a Bob to sponsor that thing and put Shelby in it.
-
10. Will KFOR employees park in the hanger to avoid hail damage?
Let's hope not.
-
11. Will someone please put this man back on television!
Amen.
-
Anyway, that's it for our little severe weather preview. I now have to run to the store and grab supplies for my modified version of the Mike Morgan Drinking Game. Please remember, we like to laugh and joke about the severe weather culture in this state because it helps us deal with living in a constant state of fear and paranoia each spring. These storms are serious stuff. Respect them, get a safety plan in place, and stay with The Lost Ogle.com. We'll keep you advised.
Stay in touch
Sign up for our free newsletter