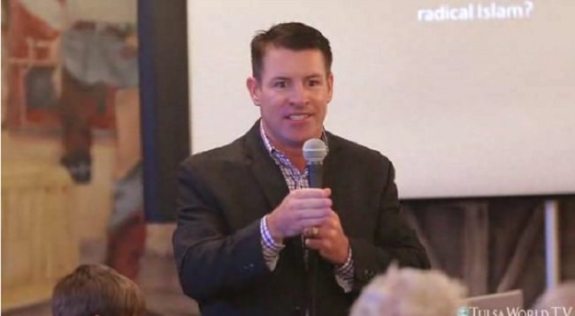 The lilliputian pictured above who is about to go down on a microphone is Oklahoma State Rep. John Bennett.
We've written about John a few times on this site because he is a xenophobic, fear-mongering bigot that capitalizes on the irrational, discriminatory fears that a lot of Derplahomans have towards Muslims. Knowing that, you'd probably be surprised to learn that he is obsessed with guns and has introduced a bill that would make it legal to carry them inside the State Capitol, because if there's one thing our political process needs, is armed idiot lawmakers.
Via NewsOK.com...
Anyone with a license to carry a handgun should be allowed to take the weapon into "the people's Capitol," a state legislator said.

"It's our God-given right and our constitutional right," said Rep. John Bennett, R-Sallisaw, who has filed legislation to allow weapons to be brought into the Capitol.
Uhm, "God-given right?" Listen, I didn't go to vacation Bible school and the only Bible verses I know come from Pulp Fiction, but I really doubt there's a verse in the Bible where Jesus says "And you shall owneth thy firearm?" Does it follow that passage where he preaches from the mountain "You shall all be paranoid weirdos and hateth all American Muslims?"