Everything Else
College Football Musings from the Train: Week 13
10:00 AM EST on November 24, 2014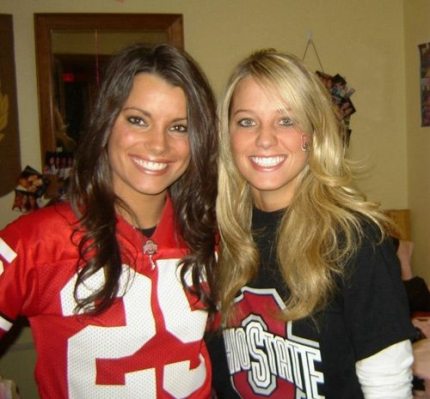 -
10) Samaje Perine
Last week, Wisconsin running back Melvin Gordon broke LaDainian Tomlinson's 15-year-old NCAA single game rushing record when he rushed for 408 yards against Nebraska.
Hello 427.
On a rainy afternoon in Norman, a game where dozens of people cared... where alums stayed home (e.g. this guy)... where the game was delayed 90 minutes for "lightning"... where Cody Thomas couldn't complete a forward pass... where the receiving corp was horrendous... where Keith Ford started the game...
Samaje Perine ran for an NCAA record 427 yards. 5 touchdowns. 12.6 yards a carry.
And he's only 18.
Perine's level of dominance was eclipsed only by the Sooners offensive line. After watching the Kansas linebackers and safeties explode through the Oklahoma line of scrimmage for a cool quarter or so, the O-line went straight medieval on that ass, hammering the second level of the Kansas defense, and allowing Perine to be part of history.
But let's not give the line all the credit. Keith Ford – and his two fumbles – averaged 4.2 yards a carry. Alex Ross averaged less than a yard per carry. Thomas could not complete a pass. Perine was amazing. He broke tackles. He broke off long runs. He broke the will of Kansas.The same Jayhawk team that nearly upset TCU last week. No, Kansas isn't going to be mistaken for the 1985 Bears (or 2000 Jenks), but 427 on the ground is amazing regardless who you play. Perine and his line were completely dominant and the record provides a level of solace for an otherwise craptastic season.
-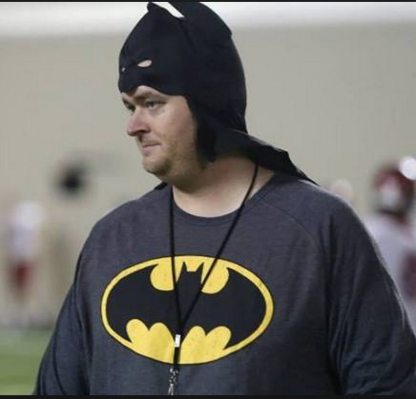 9) Oklahoma/Kansas
This marked the second time Oklahoma has rushed for 500+ yards this season, which makes you wonder how in the blue hell did that mongrel idiot in the press box called 30 plus passing plays in any game at any point this season. The Sooners called 13 pass plays to 55 run plays, an acceptable ratio when your quarterback has the accuracy of Rick Vaughn.
Speaking of throwing the ball, thank god for Perine. Otherwise this offense is shit. Cody Thomas can run the ball fine. He was the only OU sooner not named Samaje to average more than 5 yards a carry. Sooner fan better pray Justice Hansen can throw the forward pass, because Thomas is a terrible throwing quarterback. Just effing awful. Not that his wide receivers are any good, or offer him any assistance. Good passes were dropped. Screw the weather - you are a Division I ball player. Catch the ball when it hits your hands. Michiah Quick must have more drops than catches. Durron Neal is a certified bust. Sterling Shepard is hurt. Stop putting him in the game. Also, stop calling 3 yard outs that require the ball to be in the air for 25 yards. But the real problem with the passing game is the guy throwing passes. He is not the answer.
The defense again proved it can dominate bad teams, holding Kansas to 103 total yards, a paltry 19 yards on 35 carries and 7 first downs. Despite rushing 3 and 4 defenders for most of the game, Oklahoma was able to harass Kansas quarterback Michael Cummings into an 8 for 22 game, no touchdowns and a pick. Jordan Phillips and Eric Striker cock slapped the Kansas offensive line all game. After having been embarrassed by, well, pretty much the entire conference, Oklahoma proved it can play defense. As long as the team it is playing is at the bottom of the conference.
Average team beats bad team. Yay.
-
8) The Crowd
What do you get when a disappointing Oklahoma team plays a terrible Kansas team, in the rain, with a 90 minute delay?
About 60,000 fans, of which 14 were students. And that was at kickoff. When Perine broke the single game rushing record, somewhere between 20,000 and 30,000 fans were present.
But the real crowd highlight was the strange obsession by the Fox camera crew of two young gentlemen who elected to remove their shirts early in the game. Brent Musburger was blushing. I get it. I have never looked like that. Never had a six-pack near my midsection. But that was damn weird. Katherine Webb was creeped out by the attention given two random cross fit crazies.
In any event, no one wanted any part of that shit ass game with shit ass weather. Can't blame them. Unfortunate byproduct - can't give OSU fan shit anymore. Thanks me.
-
7) OSU/Baylor
Two and a half minutes into the game, OSU was down 14-0 and looked for all the world like the worst team in the conference. Then something happened. Maybe it was the new savior of the program at quarterback. Maybe it was the two interceptions throw by Bryce Petty. Maybe Baylor just stopped playing. For whatever reason, though, OSU made a game of this matchup, down only two scores in the fourth quarter with the ball, only to be thwarted by Mason Rudolph's second interception.
The final 55 minutes, OSU's defense played pretty well, "holding" Baylor to 35 points and 450 total yards. The way OSU has played the past few weeks, trust me, that is "holding" Baylor down, especially in Waco. Hell, the Pokes at least put up a fight. Unlike the that gaping vertical hole they pummeled in Norman.
The offense managed to find a level of consistency. Amazing how that happens when you don't mail it in on 3rd and 7, and you find a guy that can complete a pass against a FBS program ... unlike a certain signal caller just south of Oklahoma City, whom shall be called Dody Dhomas to protect the inept. Though the Pokes still can't run the ball (2.7 yards a carry), and Tyreek Hill still doesn't get the ball enough (11 touches on offense), Gundy and his high school offensive coordinator let Rudolph run offense, throwing the ball down the field to the team's best athletes - the wide receivers. Shepard, Washington, and Glidden all caught passes over 30 yards.
To amend my statement from last week - when is a loss actually a win? When you don't get your doors blown off and you discover your future at the quarterback position.
-
6) Welcome to College Football, Mason Rudolph
His numbers weren't great. Good, but not great. Like Daxx Garman versus Missouri State good. He didn't lead OSU to a win. But Mason Rudolph looks the part. Big kid. Poised. Huge arm. Good athlete.
Oklahoma State is going nowhere in 2014. That has been evident since the last weekend of October. Poke fan is desperate, looking for any positive to take into 2015. OSU found something in Rudolph. He reminds one of Brandon Weeden. A Brandon Weeden that can move. Or pretty much the antithesis of JW Walsh and Daxx Garman.
Moreover, what does this say about the OSU coaching staff? Rudolph is infinitely better than the aforementioned. He is a big, smart athletic kid. He threw for over 280 yards and two scores. Yes, he did throw two picks. But this wasn't Tulsa or Kansas. This wasn't at home. This wasn't an unmotivated opponent. Rudolph looked the part on the road as a true freshman against a motivated Baylor squad.
Would be nice to have him in Norman after seeing the passing ability of the non-redshirts on campus.
-
5) OSU D
Where did that second half performance come from?
After allowing nearly 400 yards of offense in the first half, the Oklahoma State defense nutted up, allowing Baylor less than 200 yards of offense in the 2nd half, forcing 3 punts, and picking off Petty for the 2nd time. Two of Baylor's three scoring drives came from Rudolph interceptions and short fields.
Emmanuel Ogbah was again a man. He is a holy terror on the OSU defensive line. And despite their relative youth, the cornerbacks held their own against the explosive Bear offense.
A few weeks ago, it looked as if Oklahoma State's lost season would have far greater ramifications than a 5-7 or 6-6 record. But the improvement from the quarterback position, the offensive line, and the 2nd half defense in Waco should give Poke fans some pause at jumping into Sooner Lake with cinder blocks.
-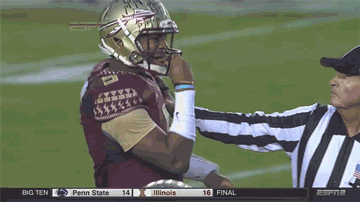 4) Florida State Done Sells Soul
How does this keep happening?!
They aren't playing the By God SEC West. They are playing in the Good God ACC. They escape a poor Oklahoma State to start the season. They beat Clemson in overtime. They spotted NC State a three score lead. They beat Notre Dame in Tallahassee on a bad offensive pass interference call. They squeak by a bad Miami team. Same Miami team that was undressed by bad Virginia and it's Journey loving goose.
And then this.
Boston College, they of the 3-4 conference record, they of the losses to Colorado State and Pitt, went into Tallahassee and had a 42 yard field goal to go ahead of the Seminoles with four minutes left. And missed the kick. Because of course they did. Jameis Winston then did what he has done all year and took FSU down the field for the game winning chip shot field goal.
HOW?! Karma is the program's punching bag. How else does one explain the sexual charges and stolen crustaceans and the delayed student conduct hearing, all in the face of continuing to win football games? If karma does ever fight back, that university is going to burn to the ground.
-
3) Bedlam 2014
Speaking of spitting in karma's face, and in honor of Bedlam 2014 in two weeks, I bring you this:
HOLY GUACAMOLE!!
-
2) Final Four
Florida State - either FSU gets clobbered in the playoff or they are 2002 Ohio State reincarnated.
Alabama - Defacto best team in the country. Which this season is like saying my ex-girlfriend was the tallest midget and not just 4'11".
Oregon - Pac 12 Championship looms.
TCU - The Horned Frogs will be off this list this time next week after their Thursday game in Austin.
-
1) Prediction
Bedlam
I won't have a column next week, so lets look forward to the Dec 6th Bedlam game...
Neither team is worth a shit. Oklahoma has managed to piss away a good pass rush and great offensive line with terrible coaching and quarterback play, culminating in another 3-4 loss season. OSU had no hope until 36 hours ago.
The only real issue in doubt is whether I will be more drunk at our family's Thanksgiving dinner, or during bedlam.
Oklahoma: 21
OSU: 20
Stay in touch
Sign up for our free newsletter