Everything Else
College Football Musings from the Train: Week 8
10:45 AM EDT on October 20, 2014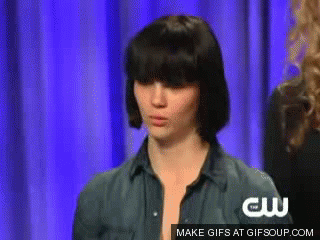 10) The meltdown
It is October 18th, 2014 and I have no idea whether the University of Oklahoma is any good at football. I thought they were pretty good....one month ago. Now two losses and a ridiculous win later, I have my doubts whether this team is any better than the 2013 or even 2009 squads.
Saturday afternoon, at home mind you, Oklahoma out gained Kansas state by 200, won the time possession by five minutes, and committed only three penalties, yet lost 31-30 on what can accurately be described as a colossal meltdown of global proportions. The offense committed monumental mistakes. The defense was hideous the first 40 minutes. Special teams ... a shitshow. It was a total loss by what I thought was a pretty good team entering October.
The Sooners were pwned in the first half until a final drive to end the first 30 minutes, which ended in a shanked field goal and pretty sums up the 2nd half. Despite rushing for nearly 200 yards and passing for over 300, the offense was unable to overcome a pick six and an insanely idiotic reverse pass INT in the end zone, as well as a terrible defense, losing 31-30 to Kansas state on homecoming no less.
At some point OU fan must succumb to the realization that Mike Stoops has done a terrible job with this defense. This is the most talented OU defense in a least a decade, and they can't stop anyone. They made Texas look good and Kansas State's QB look like the second coming of Johnny Manziel. They can rush the passer (when allowed). They do an average job against the run. But they are horrible ... HORRIBLE ... defending the pass. There is no one at the back of this defense that can cover anyone with a pulse, save Zach Sanchez. Ahmad Thomas can't be the best Stoops can put out there. I can't be convinced he's the best free safety on this team. It just isn't possible.
This team is schizophrenic. I don't know what to expect drive to drive, much less game to game.
Of course, if the offense could just stop doing stupid shit ...
-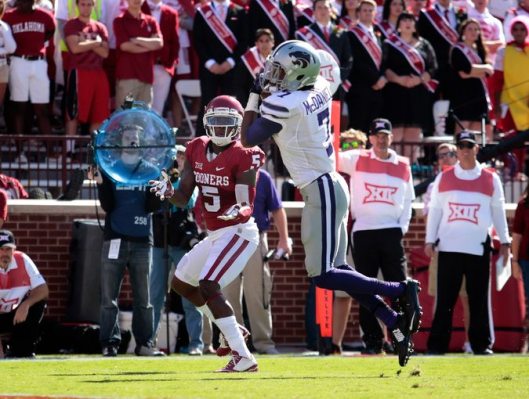 9) Trevor Knight and the play calls
Trevor knight channeled his inner Sugar Bowl and played like a different player Saturday afternoon. A guy whose completion percentage has hovered around 50% went 26 for 32 for 318 yards and three touchdowns. A guy who struggled completing any pass over 10 yards was fantastic down the field Saturday afternoon, both along the sidelines and in the middle of the field. He didn't have good numbers running the ball (and with an apparent shoulder injury, don't expect it the rest of the season). He didn't need to run. The running game was well executed and at times dominating. Knights passes were crisp and pinpoint. It was an excellent offensive performance from a team that had 3 scores the previous 21 drives.
well, except for two really huge ... exceptions.
With the game tied at 7 early in the second quarter, the Sooners were pinned deep in their own territory. Forgetting that OU got nicked with a delay of effing game penalty on the change of possession, Heupel pulled one of his patented "WTF" play calls, and instead of running the ball (Oklahoma had 80 yards rushing in the first quarter) or calling a play action down the seam (which he would call on the Sooners next play from scrimmage), Dipshit calls for a boundary out route intended for Durren Neal – a risky 30 yard pass at your own goalline for an attempt at a 4 yard gain. The TCU cornerback read Trevor's eyes. Rest is history. Dumb idiotic mind-blowing ghostly.
Not to be outdone, Heupel called a reverse half back pass with Neal after having driven down the field on the Wildcats. Knight is rolling. Perine is starting to get some room between the tackles. And for some insanely idiotic reason, the OC requests a Wide Receiver who touches the ball four times a game to throw a one route touchdown pass. Sure, something similar worked earlier in the year, but this was different and completely nonsensical. I get that Neal should have done pretty anything other than under throw sterling Shepard, but don't call that play.
Two terrible play calls - 14 point swing. Game over.
Well, almost game over ...
-
8) Because Michael Honeycutt had his Ray Finkle moment
I laughed. I actually laughed. Because it was so ridiculously unpredictable and a prefect microcosm of the day, I laughed.
The last guy I would have picked on this team was Michael Honeycutt. To completely gack on a 19 yard field goal wasn't in the cards. Not possible. Not the best kicker in the country. No chance. 5 minute drive. Running, passing, running some more. 19 yard field goal to take the lead with four minutes left. No chance he duck hooks that kick.
And he did. After shanking a 32 yard field in the first half. After having the game tying extra point blocked. He blew an extra point to perhaps win the game.
So there's that moment when you know you are going to lose? Happens when your All-American kicker blows a combined 70 yards worth of kicks in 30 minutes.
-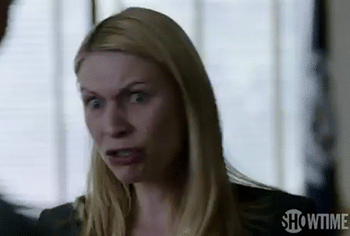 7) Meltdown II
So Oklahoma was bad, but showed some good. Oklahoma State?
Nope. Nothing good. Whatsoever.
The Cowboys were completely undressed by TCU Saturday afternoon, losing in Fort Worth in a game where the numbers are much worse than the final score of 42-9. The Cowboys were horrific on offense. They were held to 258 yards, most of which came in the first half. They didn't complete a single pass in the second half. The running game was OK at best, still shit at worst. 38 rushes for 126 yards isn't going to win you many games, especially against the best team in the Big XII. Speaking of the running game, am I the only one who thinks Gundy purposely stopped throwing the ball in the second half because he didn't want the game to get too out of hand and knew the Pokes weren't going to win?
Didn't matter what plays were run on Saturday. Because the defense was awful. Oklahoma State gave up 676 yards of offense to TCU. Yes, the Horned Frogs' offense is better in 2014 than it has been in previous years. But good God man. This was supposed to OSU's strength. And they were boatraced on the ground (261 yards) and through the air (415 yards) on 82 plays, 20 more than OSU ran.
OSU had no answer to B.J Catalon, who was able to go over 100 yards on the ground on only 10 carries. They could not cover the forward pass, as shown by Boykin's career day through the air. I figured OSU was going to have problems on offense. But I also thought they would give the TCU offense problems. I stand corrected.
OSU is in deep shit. They are staring down the barrel of a 6-6 or even 5-7 season. No one expected OSU to contend for the conference title. But this is shaping up to be a catastrophe of a result, reminiscent of Texas in 2010, a program that has yet to recover despite its overwhelming talent and resources. I know OSU is "young", the sound off for pretty much every bad team in college football. Don't give me that shit. They might be young, but they are also bad. OSU doesn't have what Texas has to spur a rebound. It is a frightening possibility in Stillwater.
First and foremost, OSU needs to find a quarterback because ...
-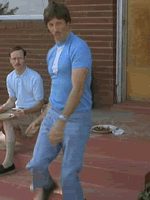 6) Garman was abysmal
Just effing horrible.
He was 0-6 in the second half with a pick. I don't even know how that is possible. I would like someone in the blogosphere to tell me the last time an OSU quarterback went an entire half without a pass completion. Probably during the rough and tumble days of the great Real Jim Traber LADIES AND GENTLEMEN!
And he wasn't that great in the first half either: 10-19 for 132 yards and a pick.
I recognize the kid is still getting his feet wet having played one season of organized football the past 8 years. But he is missing BADLY on passes. He is terrible under any semblance of pressure, and that with Texas, Baylor, Kansas State, and Oklahoma still on the schedule. He's been sacked 17 times. His completion percentage is a TK-like 55%.
Again, this isn't about him being young. He isn't very good. He's wasting an excellent OSU receiver corp and Tyreek Hill. Take it from me Poke fan, guys who can't handle pocket pressure don't suddenly develop that sense mid-career (see Jones, Landry).
If Garman truly is the future of Oklahoma State football, they need a new offense and/or a new offensive line or it's going to get ugly in Stillwater.
-
5) The second half
It bears repeating ... OSU was as bad as bad can be in the second half of the game Saturday, especially on offense. 18 plays, 51 yards. That is Oklahoma v. Texas bad. 6 passes, no completions. Four yards a carry. Tyreek Hill touches the ball three times.  Zero points. No real threat to put the ball near the end zone. And from an objective perspective, an apparent attempt to shorten and not win the game.
-
4) Florida State beats Notre Dame
Rather, Notre Dame gets hosed. Because this: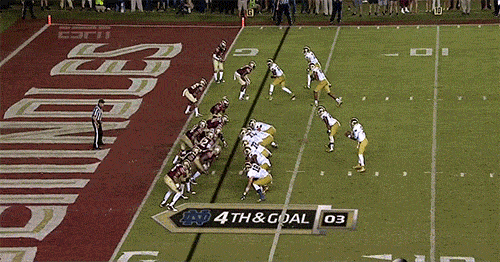 ... happens on pretty much every pass play in this new era of spread offenses. Moreover, I like how BOTH defensive backs for the Seminoles were allowed to mug the other Irish receivers.
-
3) By the numbers
What a crazy ass weekend of college football. A few numbers that boggle the mind:
Baylor amasses 313 total yards against a bad West Virginia defense.
Missouri scores 42 points on 119 total yards.
Texas A&M gets embarrassed 59-0, out gained by 430 yards.
Oklahoma State gives up nearly 700 yards of offense.
Oklahoma out gains KSU by 150 yards with 30 first downs. And loses.
-
2) Final Four
Florida State - It's all downhill from here. Though football karma has a way of evening things out (see OU/Texas and then OU/K State).
Mississippi State - The most impressive team of the 2014 season. Still must go to Alabama and Ole Miss.
Notre Dame - Only loss will be to FSU. They will get in if that holds true.
Oregon - I guess ... can't really pick a Big XII team. This is unless the committee wants two SEC teams
-
1) Predictions
Oklahoma State/West Virginia
West Virginia is almost as schizophrenic as Oklahoma. I don't know what to expect from them, but I do know what to expect from OSU, and I think they have enough to win at home this weekend. Just enough.
OSU: 27
West Virginia: 24
Oklahoma: Bye
The Sooners have yet another week off. No idea what in the hell is going to happen when they take the field in 12 days. But I do know that Ahmad Thomas just let another guy get behind him for a touchdown. Though in all fairness, those Lambda Chi's are pretty quick.
ED - I learned this afternoon we lost a good and decent man way too soon. A loyal TLO reader and fellow Sooner. Clay, you will be missed. See you on the other side, my friend.
Stay in touch
Sign up for our free newsletter