Food
TLO Restaurant Review: KD's Southern Cuisine
9:03 AM EDT on October 16, 2014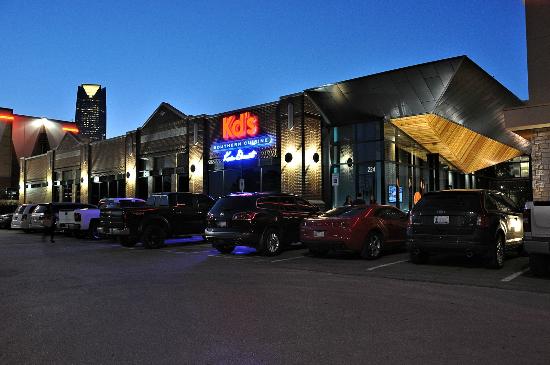 One afternoon, coming out of a movie at Harkins, I was walking to my car parked in the lot clearly marked for Toby Keith's I Love This Bar and Grill patrons only. I was pretty terrified that my vehicle would have a boot on its wheel—it's the American way!—but that fear was temporarily waylaid as I noticed that next to the Moore country superstar's eatery was a soon-to-be new food option under construction, a sign reading "KD's Southern Cuisine– Coming Soon."
Wow, I thought. Oklahoma City must really be growing as a progressive city on the world stage if Canadian alt-country singer k.d. lang is going to establish a downhome dining joint here. What a great way to provide an alternative for those of us who enjoy fine Southern eats in Bricktown, but without the hassle of supporting the dude who was actually inspired enough by the disposable receptacle that holds his beer to sit down to write a song about it.
When I tweeted out my excitement about this prospect, lang herself immediately replied back to say that she didn't know anything about it but would "love to try it." Mildly heartbroken, I was left with one question: who the Hell was K.D.? And what's he got to do with Southern Cuisine?
After a little bit of research at my local public library (thanks, helpful Belle Isle staff!), I learned that it was Kevin Durant. You know…the star of Thunderstruck. Turns out that, in addition to acting, he's also a much-beloved local basketball star some of the time, slam dunkin' and double dribblin' and air-ballin' up and down the Chesapeake Arena for the Oklahoma City Thunder.
Born in the great Southern state of Washington D.C., it would only make perfect sense for him to open a Southern-style eatery, filled with such great District of Columbia home-cooked classics like Chicken Liver Dip and Jambalaya. Yes, KD's Southern Cuisine does all the faves and TLO head honcho Patrick and I were there to try it out, both our first times.
Upon entering, the Southern vibe is very strong, but only if you mean Southern Japan in the year 2147. With its frosted glass and icy blue lights emanating upwards, it looks more like a futuristic Asian strip-club where cybernetic Replicants are hunted down with extreme prejudice. I wouldn't be surprised if the place wasn't based on a manga by Katsuhiro Otomo.
This impressive vision of Neo-Tokyo was quickly dissipated when, looking around, the place was filled with plenty of small-towners and State Fair regulars, sitting at the bar watching the game, spittin' chaw into an empty Mountain Dew 20 oz., which we'll come back to later.
Due to the wait to be seated in the dining area, we settled at a tall cocktail table near the gigantic bar. As our adorable barely-legal waitress handed us our Gutenberg Bible-esque menus, I pulled a small wrist ligament from under the weight of the thing, which turned out to be two large iPads imitators that, when opened, became the briefcase from Pulp Fiction.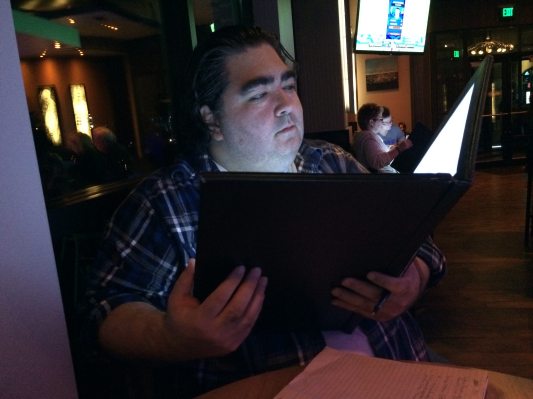 For the sake of the article, my eyes wandered to the right side—THE BALLER MENU—noticing delicacies such as the two-tiered iced shellfish collection featuring two dozen fresh blue point oysters and two dozen jumbo shrimp or the 28 oz. tomahawk bone-in-ribeye. Then I noticed that they were both $99 and seriously doubt that I'd get reimbursed for it. But, as my eyes slowly wandered back to the left side, under my breath I muttered "Someday Baller Menu…someday…" as I bit into my cheek.
OK. So the Non-Baller menu included such plantation-friendly Dixie dregs as blackened stuffed catfish ($24), Southern-style shrimp & organic Texas grits ($16) and meatloaf (not your mama's) ($16). Basically it was everything that you'd find at any random Grandy's, but at five times the price. So it has to be good, right? Right??
Patrick and I started off with an app of—a personal fave of mine—fried green tomatoes ($9). It's hard to screw these time-tested staples of Southern cooking up, but I'll be damned if KD's didn't succeed. With a stale Panko-breaded coating that offered absolutely no flavor, tomatoes that had a fresh-from-the-freezer taste and a dill aioli and cucumber salad that had absolutely no business on that plate, we were not off to a good start. I called an immediate foul.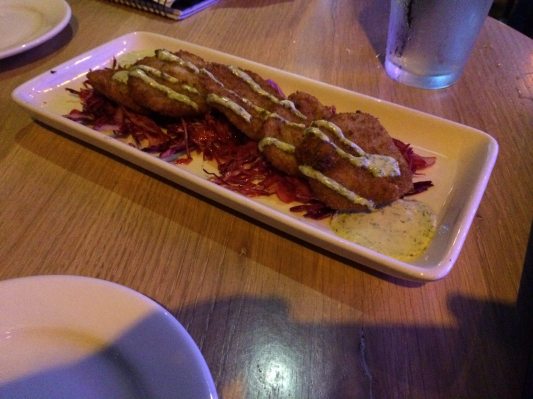 Waiting for our entrees to arrive, I noticed that, aside from the big-screens showing all sports, all the time, there was a total lack of anything having to do with Durant once you get past the front doors. No real sports memorabilia of any kind, no animatronic band singing "I put my hand upon your hip when you dip I dip we dip!" and certainly no bartenders wearing striped referees' jersey. There didn't seem to be too much pride in their namesake, which I found strange considering he's the main reason why people would even go there in the first place.
(I did think that this one glowing chamber towards the back of the room might have either been a memorabilia vault loaded with Nikes or the lab where Dr. Sam Beckett initiated Project: Quantum Leap, but turns out, according to our waitress, it was just a wine cellar.)
For the main meal, I was torn between the honey chicken ($15) and the chicken and waffles ($17). Remembering my personal promise to Bobo's that I would never eat honey-covered fried chicken anywhere else, I went ahead with, as our waitress put it "the tourist favorite", chicken and waffles. When in Rome, I say.
The chicken was salty and crispy, but also extremely succulent. Topped with sample cups of butter and maple syrup, it was a real delicious surprise. The waffle, however, was dry and tepid and necessitated plenty of ice water to wash it down. I would've asked for more butter and syrup to drench the breakfast brick with, but our waitress was nowhere in sight. Not her fault, it was a pretty packed Thursday night.
(In the end, however, there are plenty of places in OKC where I can get this as a lunch special for five bucks, most namely the absolutely wonderful This Iz It, 2831 NE 23rd.)
Patrick, on the other hand, went with the smothered pork chop ($24) with caramelized onion & mushroom gravy, mashed potatoes, and smoked black-eyed peas. He seemed to like it just fine, but when I took a bite of that pork chop, once you got past the sweet glaze all that was left was a big fat dry piece of pork that got caught in my throat, unable to wash it down because I drank all my water eating that damn waffle.
(It just wasn't all that great, for me at least. I can get even better smothered pork chops—on a buffet mind you—at A Family Affair, 1742 NE 23rd St., for about ten bucks.)
I then finished things up with a cobbler for dessert, while Patrick ordered another Chimay White, a beer he tells me that is brewed by monks and difficult to find on tap in Oklahoma.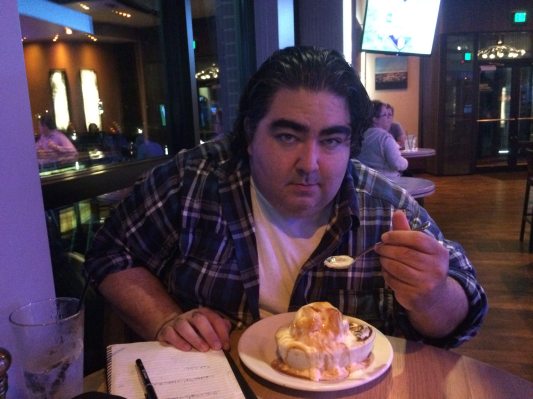 As we sat there, digesting the meal—both literally and figuratively—both Patrick and I came to the same absolute conclusion: this is the type of place you take out-of-towners. The dudes sitting at the bar in the John Deere ballcaps. The homeschooling mom and her four jean-skirted daughters named Rebekah. The oilmen looking for a place to take their inner-city mistress. It's a safe place to flash some cash—why else have a Baller Menu?—that caters to people who don't have that much of it.
It's a place to take a selfie and to hopefully see one of your fave b-ballers. Shaq apparently is a regular there when in town, enjoying the Baller menu in-between filming Gold Bond commercials and mastering the ancient art of Shaq-Fu. It's the closest thing we've got to an NBA Café/tribute to Blade Runner and that means something to people who don't get it everyday, God bless 'em.
But for the rest of us, we're really so lucky to live in a city where just a few minutes up the road, on NE 23rd, in a historic part of town, served fresh daily is some of the greatest and most authentic (and incredibly affordable) Southern cuisine you'll ever have the privilege to taste, no celebrity endorsement needed—the food speaks for itself.
That being said, however, if k.d. lang's I Have This Constant Craving Bar and Grill decides to open up in that space once K.D. retires thanks to a career-ending foot injury, I will be first in line with a bolo tie and a hearty appetite.
Stay in touch
Sign up for our free newsletter