Everything Else
Do's and Don't's of Tulsa Oktoberfest
10:15 AM EDT on October 15, 2014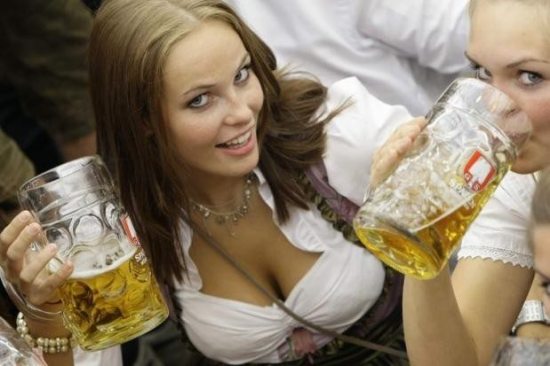 Dig up your spiffiest lederhosen gang, because the alleged best Oktoberfest in the country is back in Tulsa this weekend!
If you've never hiked across the river for this hot mess of an occasion, this is a great year to start. The weather's projected to be perfect, our home state's football games are early-ish on Saturday, and I for one can never think of a sound reason to pass up a bratwurst washed down with a cold dunkel.
I'm a veteran of this high holy holiday...but in case you aren't, I've listed out a few need-to-know tips to maximize your utility for the weekend. Here's goes.
Don't forget cash. The one thing that sucks about Oktoberfest is that they force you to convert your money to tickets. Naturally, this means that you'll be stuck with extra tickets and a whole lot of wasted money. If you've got small bills, at least you can go halfsies with a friend. This help should cut down on the Ahhh-I-Really-Want-A-Strawberry-Shortcake-But-Need-Two-More-Tickets-But-They-Only-Sell-Them-In-Increments-Of-Ten problem.
Do take an Uber or a Lyft. Because ain't nobody got time for drunk driving, paying for parking, and fighting over taxis.
Don't try to order a pitcher. Although last year Oktoberfest's PR teams claimed it was for safety purposes, the real reason why plastic pitchers were banned was to force people to either a) drink beers out of tiny Dixie cups and spend the evening waiting in line, or b) buy a way-too-expensive souvenir stein. And because they haven't shaken us down enough, now there's the option to buy a fast pass to cut the beer line. I see your ways, Tulsa Oktoberfest.
Don't get wasted too early. It's a marathon, not a sprint my friends. Well, until you break the seal. By all means, then you have my full blessing to sprint to the port-o-potty.
Do chicken dance. Link arms and twirl with the little old man in a feathered hat. Flap your arms with reckless abandon. If you need inspiration, picture your 8-year-old self at a roller rink.
Don't be a douche. We get it, Oktoberfest in Munich was 4569346 times better. I'm sure the beer was stronger, wieners were smokier, and bar wenches were sluttier. And wow, that stein your got at the Hofbrauhaus is certainly shiny. I'm also sure you wait all year-long for opportunities to slip this experience into conversations. Shaddup already.
Do bring pennies. The tossing of the pennies into stranger's steins is a hallowed tradition that I hate nearly as much as I enjoy.
Don't ride the Tilt-A-Whirl. After three liters of hefeweizen, two brats, a giant pretzel, potato pancakes, and drunken boogieing to the house Bavarian band, voluntarily hopping on a whirling dervish might not be the best way to end the night.
-
Follow Chelsea on Twitter at @xCawoodstock
Stay in touch
Sign up for our free newsletter