OKC Media
You won't believe what clickbait duped the KFOR Social Media Bandit
10:51 AM EDT on September 3, 2014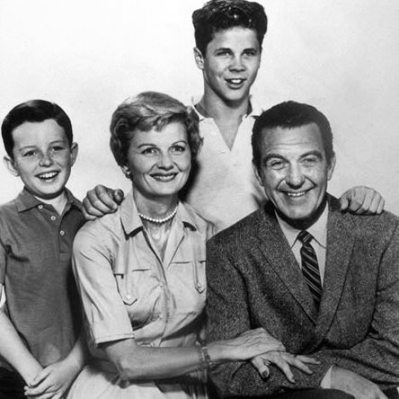 Sorry for the headline. I'm just trying to fit in with all the other websites in the world.
Yesterday, I received an email from a person with a company called SafePointSecurity.com. They were trying to pitch some clickbait about the safest cities in Oklahoma:
I just wanted to let you know that the 2014 list of Oklahoma's Safest Cities has finally been released from Safe Choice Security.

To ensure the accuracy of our rankings, we compared crime statistics (including both property and violent crimes) of over 300 cities in Oklahoma to determine our list of the safest cities. Oklahoma should be very proud to have such great cities representing their state. Check out the full list of Oklahoma' safest cities here: http://www.safechoicesecurity.com/blog/safest-cities-oklahoma/

Feel free to show off the list on your blog or social media channels to let future and current residents know about the ratings! We have included an easy to embed code at the bottom of the list (click link above)
Emails to clickbait like that are pretty common. In fact, we get them all the time. It seems like every day some random website with a SEO optimized name throws out a hastily put together list of states or cities without any real context, knowledge or insight, in hopes that a gullible, desperate-for-pageviews publisher will share the cobbled together list on Facebook or some other website, and in the process, give the clickbait site some easy referrals which helps them sell ads and backlinks. Get all that?
For the most part, we're pretty good about not taking the bait and reposting this crap. When we do, we generally call it our for being BS. Unfortunately, not every local publisher is as strong-minded as we are. Most of them fall for these Jedi Mind Tricks like stormtroopers.
Cue the KFOR Social Media Bandit:
A security organization has put together a list of Oklahoma's safest cities.

Safe Choice Security compiled the list by comparing their own crime data on over 200 Oklahoma cities with the FBI's and local police department's.

After sorting through crime data, they came up with the nine safest cities in Oklahoma.

According to Safe Choice Security, the nine safest cities in Oklahoma are:

Verdigris
Blanchard
Coweta
Holdenville
Sulphur
McLoud
Roland
Vinita
Hugo
Giving this clickbait the time of day is pretty sad. Know what's even sadder? Including a poll about it: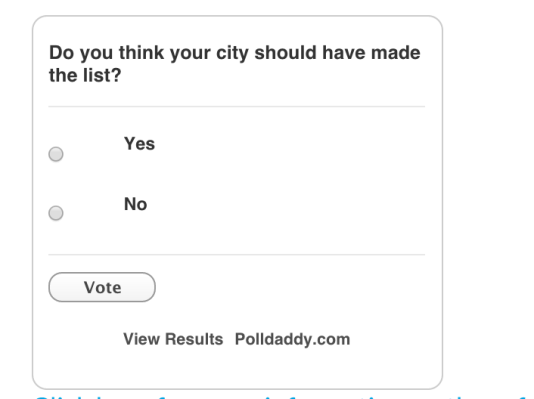 And know what's even sadder than including a random poll??? The Facebook shares the KFOR story has received: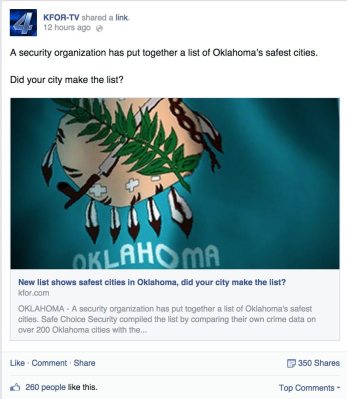 Clickbait is kind of like the common cold of the Internet. It won't kill you, but it spreads easily and is annoying as fuck.
Anyway, I know the KFOR Social Media Bandit has bills to pay and pageview quotas to meet, but can't they share a story about an adorable dog or a "you won't believe happens next" of a toddler at a birthday party instead? At least those things are kind of real. That list is total B.S. The website came up with their findings using random FBI data that's about as reliable as a Dodge Neon. It can be twisted any way they want. Plus, I'm pretty sure the entire thing was written and compiled by a Tate Publishing ghostwriter from the Philippines. It makes the stuff in SO6IX look Pulitzer worthy.
Here are a couple examples:
1. Verdigris

Our safest city, Verdigris, is located in the Rogers County, in the northeastern corner of the state. It is part of the Tulsa metropolitan area. Verdigris is a small, quite town and is considered to be the best option for families with children due to it's low crime rate rankings, compared to the rest of the country, and reasonably priced real estate. Although Verdigris doesn't have its own police department, safety is assured by the Claremore's PD through various special programs such as the neighborhood watch, house checks and rape aggression defense training.
So, the safest city in Oklahoma doesn't have a police department? According to the people in Ferguson, maybe this list isn't so bad.
3. Coweta, OK

LA suburb of the greater city of Tulsa and incorporated in the Wagoner County, is Coweta, Oklahoma. The town is located in the northeastern part of the state. It is a primarily residential area with some of the country's most beautiful streets. Coweta offers an all together relaxed lifestyle while being very city accessible, with Tulsa so close by. If you choose to move to Coweta, you are likely to benefit from a comfortable and safe home in a town with a dedicated, trustworthy and productive police department.
Yes, good old Coweta. The famed LA suburb of the greater city of Tulsa that's incorporated in Wagoner County.
Anyway, I think I've dedicated way too much time this morning to clickbait and the KFOR Social Media Bandit. I hope you enjoyed our article on it. Please share on your Facebook Page or social media site.
Stay in touch
Sign up for our free newsletter