Politics
It still sucks to be a gay person living in Oklahoma…
10:42 AM EDT on September 2, 2014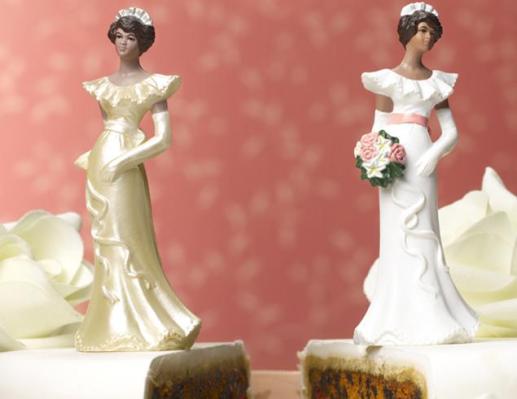 Remember back in June when we told you about that wannabe politician from Moore who wants to ban divorce and thinks it's okay for the state to stone homosexuals to death?
Well, his name is Scott Esk and his head is about to explode right now.
Yesterday, The Oklahoman's Nolan Clay took a quick break from investigating lap dances (actually, he didn't) to let us know that a flip-flopping judge vacated a lesbian couple's divorce decree just a day after approving it because Oklahoma laws do not recognize gay marriage. I would come up with a silly analogy to point out how ridiculous that is, but it's the Tuesday after a Labor Day weekend, my brain is fried and I don't think such an analogy doesn't exists.
Via NewsOK.com:
A same-sex marriage that began two years ago in Iowa ended in divorce court in Oklahoma in August — for a day.

Oklahoma County Special Judge Don Andrews signed the divorce papers Aug. 18, officially ending the lesbian couple's troubled marriage.

The next day, the judge vacated the divorce decree "upon further review of the laws of the state of Oklahoma." In his order, he pointed to a law on the books since 1997 that prohibits Oklahoma from recognizing another state's same-sex marriage as valid and binding.

Deanne R. Baker filed for divorce from Julie L. Baker on July 30, less than two weeks after a federal appeals court agreed Oklahoma's ban on same-sex marriage is unconstitutional.

The Baker divorce case is an example of the confusion felt by many about the status of same-sex couples in current law.

Deanne Baker, 45, was happy to be divorced. On Facebook Aug. 18, she thanked "the people who supported the recognition of equality here in the State of Oklahoma!"

She was not aware the divorce decree had been vacated until The Oklahoman contacted her Friday.

"That is not cool," the Tinker Air Force Base worker said.
Yeah, no shit. That is not cool. Deanne went to bed thinking she's all happy and divorced and free to move on with her life, and then woke up the next day to some newspaper reporter mouth-breathing into the phone that her divorce was overturned. If that would have happened to me, I seriously would have cried.
Seriously, what a sad way to find out. Looking at your approved divorce petition in the newspaper is one of the coolest things about getting a divorce. Leave it to droopy old Nolan Clay to ruin it for her. Hopefully he invited her to a strip club to mourn. Trust me, that's great post-divorce therapy.
Here are a couple of other random thoughts:
1. This is so stupid. I thought activist judges weren't supposed to follow the law like this. Who cares if a couple is gay or straight? Other than bigotry and hypocrisy, what's the point in forcing two people who no longer want to be married to stay married? If Christina Fallin can get an annulment, these ladies should be able to get a divorce.
2. Doesn't the ruling set some dangerous precedent? Expect clingers like Scott Esk to suddenly convert to lesbianism to prevent their wives from leaving them. He's probably watching Orange is the New Black right now for research. If you see him buying flannel or getting a bad haircut, you'll know something is up.
Stay in touch
Sign up for our free newsletter