Everything Else
Don't expect a version of Yo! KSBI 52 Raps anytime soon…
9:00 AM EDT on July 22, 2014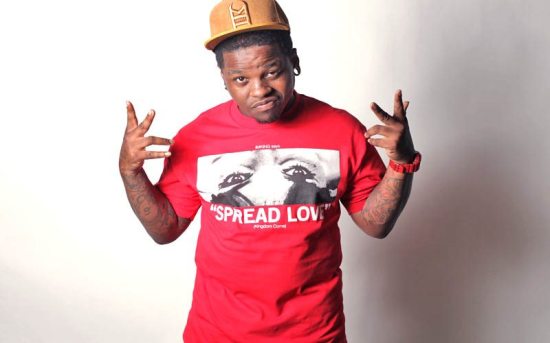 The guy pictured above is the local balla, shot calla, and rapper extreme, Jabee. He's one of the most talented rappers in town, so you better back down... clown? He's a pimp and playa and likes Pizza Hut, look at the Goodyear Blimp and your mamma's a...
Okay, maybe I should experiment with my new alter ego P-Nugget some other time. The last thing we need is another rapper mad at us.
With all apologies to Josh Sallee, Jabee is probably the most popular rapper in Oklahoma City. In fact, the local advertising community really loves him. Whenever they need a rapper for a project, Jabee is their man. He's rapped in commercials for the Omniplex, intros for the Ad Club, and even narrated the 2013 OU Intro Video. The guy is everywhere, and as far as local rappers go, he's pretty safe and mainstream for your stereotypical Oklahoma audience.
Knowing all that, you may be surprised to learn that KSBI Channel 52 cancelled Jabee's performance on their fledgling talk show Oklahoma Live! yesterday afternoon. They did this despite booking Jabee to appear on the show three weeks earlier. They didn't give him a notice or anything. According to Jabee, this is due to the station's "No Black Rappers" policy: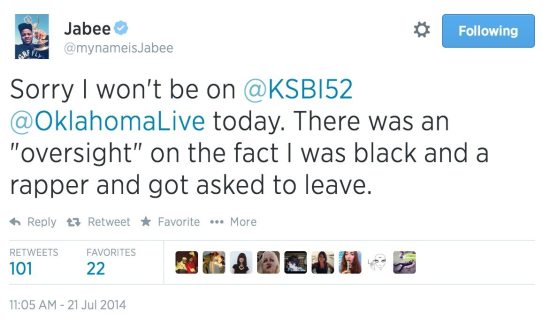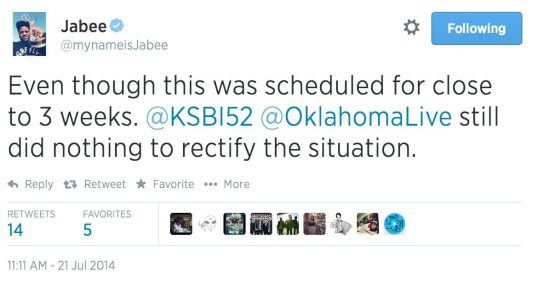 Cancelling his spot was a dick move by KSBI. That being said, I think Jabee was little too quick to play the race card. From what I've gathered through the Ogle Mole Network, KSBI recently hired some asshole producer who knows nothing about Oklahoma City to change the direction of the Oklahoma Live! program. Apparently, that included no more rap or metal performances on the show. The producer apparently thought Jabee was a country act, booked him as a country act, and then realized before the show that Jabee was, in fact, not a country act. To avoid the wrath of station management, the producer figured he'd just quietly remove Jabee. Oops.
According to one of JB's PR Flacks this is how it went down:
The whole band had been there for about 30 minutes ready to load in all of their equipment, and Jabee and I went to sign in at the office to go into the studio. We sign in, are lead to the studio, and the exec producer Ted Maguire comes in and asks to speak to Jabee.

The whole band is set up and ready to go. Ted Maguire says, verbatim, "Hi Jabee. There's been an oversight, and I need you to leave."

We all thought he was joking. We asked if he was serious and he said "if you need help, we can help you load your stuff." Jabee asked if they were expecting a country act, and he said "honestly, yes. Upon seeing you, we realized there was an oversight."

I asked if Jabee was still going to have an interview about his new Emmy and an event coming up, and he said "that's going to be canceled as well."

No offer to reschedule. We were just asked to leave immediately. He even said he would stay and wait for us to get all of our things out and watched us all load out.
Before you could say "Ladadadada," KSBI President Vince Orza, a guy who loves himself so much that he should be a rapper, issued the following apology on Facebook:
Earlier today, Monday July 21, 2014, a decision by a KSBI employee cancelling a performance on short notice inadvertently resulted in insulting Oklahoma's award-winning musical artist Jabee. Jabee was scheduled to perform on KSBI's daily lifestyle program, 'Oklahoma Live'.

Jabee arrived at KSBI on time ready to perform as he had on multiple occasions in the past. The decision to cancel Jabee's performance was incorrect. 'Oklahoma Live' typically doesn't feature rap, heavy metal or similar types of musical guests to perform. However, Jabee has been a guest on 'Oklahoma Live' several times in the past.

KSBI President and CEO Vince Orza, was at the hospital when the incident occurred. When he learned of the mistake a few hours later, he placed a personal call to Jabee to apologize to the artist. Since the scheduling error was KSBI's not Jabee's, his appearance should not have been cancelled.

"Jabee should have been allowed to perform. He is a professional, who showed up on time, ready to entertain our audience as he has in the past. I wanted him to hear directly from me, that he is welcome to perform on 'Oklahoma Live' and KSBI. I apologized to him and he very graciously thanked me for calling. We spoke for several minutes and I extended the personal invitation to him to be with us anytime he wanted, hopefully sooner rather than later," said Orza.
It will be interesting to see if A) KSBI does the right thing and invites Jabee back on the show and if B) Jabee does the right thing and tells them to go fuck a Red Dirt song.
Here are three other things:
1. Jabee has performed on the show before. Even Brady Brus thinks that's hysterical.
2. I wonder what Vince Orza was doing at the hospital, and if he draws on the paper bed covers like he's dining at Garfield's?
3. That apology is one of the most desperate things I've ever read. They should have just been honest with everyone and said "Fuck, we didn't know this guy was popular and that kicking him off the show would create such a shitstorm. Tune in tomorrow for country sensations Zero and the Okie Boy Goonz."
Stay in touch
Sign up for our free newsletter