ICYMI
Stage Center is being demolished. Good riddance.
3:06 PM EST on January 20, 2014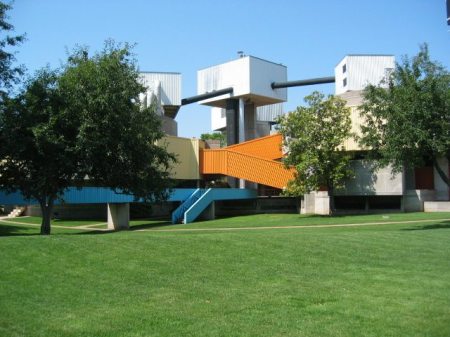 Farewell, really weird unusable building on prime real estate that looked like it was built by a disturbed 10-year-old boy.
Last week, the Oklahoma City Downtown Design Review Committee voted 3-2 to allow the demolition of the Stage Center. The vote came less than a week after city planners recommended the vacated facility be saved.
From a Slackmeyer column in The Oklahoman:
A coalition of architects and preservationists say they will not seek to appeal a decision by the Downtown Design Review Committee to allow the demolition of Stage Center to make way for a new OGE Energy Corp. headquarters.

A 3-2 vote by the committee on Thursday had spectators on edge as to the last unknown vote, Gigi Faulkner. She said she was troubled that the design committee did not have a firm idea as to what might be developed at the site.
But she also quoted Stage Center's architect John Johansen from an interview he gave to The Oklahoman during his last visit to the landmark in 2008 — two years before the theater was devastated by severe flooding.

"John Johansen himself said proof of a building is its use and its occupants," Faulkner said, adding proponents of demolition had made the case that the abandoned theater was no longer feasible for nonprofit performing arts groups.

Chuck Ainsworth and Dick Tanenbaum joined Faulkner in voting for demolition, while Ike Akinwande and Connie Scothorn voted against demolition.
I'm fine with this for a many reasons. Here are four of them:
1. Sure, the facility is internationally recognized, historic, and has won something called an international Gold Circle award from the American Institute of Architects, but what does that matter if the building is impractical and unusable? I'm not Art Vandelay or anything, but I think modern award-winning architecture should be a combination of art, engineering, practicality and sustainability. I bet there are tons of architects who can design an award-winning structure if they don't have to worry about it being usable. Hell, just look at Rand Elliot's work.
2. Steve Lackmeyer, who should probably pitch an idea for a TV show called "The Old Building Whisperer," doesn't seem to care that Stage Center is being torn down. That's probably a good sign. For example, if you're in a plane, hit some turbulence, and notice the flight attendants don't seem bothered by it, you're probably fine. The same goes for old buildings and Steve Lackmeyer. If it's being demolished and Steve brushes it off like some crumbs from Hobbie's Hoagies, there's nothing to worry about.
3. It's on prime real estate. If Stage Center was located on 23rd and Classen and they wanted to replace it with a Walgreens, I'd be in the "Sure, let's try to save the thing and make it a children's museum" camp. But it's not. It's located in the middle of downtown and is vacant. Which leads to the most important reason to destroy the building...
4. It gets rid of the last remaining failure of the Pei Plan. In case you're not Doug Loudenbeck, Stage Center (Mummer's Theater) was one of the crowning achievements of the Pei plan of the 1960s – a well-intentioned but ultimately catastrophic Iron Curtain-themed urban renewal plan launched by OKC leaders in the 1960s. It was such a bad and poorly executed plan that it has its own Wikipedia page. It led to the demolition of many historic downtown structures, zapped the remaining life out of the city, and helped set downtown OKC back a generation. Most of the projects were not fully completed. It's effect was basically the opposite of MAPS and one of our city's great failures. It seems both fitting and symbolic that we get rid of the last unsuccessful remnant of that disaster in the same way it arrived.
p.s. - If you're bored, watch this cheesy early 1970s Chamber of Commerce video about the Pei Plan.
All that being said, I am concerned by one thing. It seems like we're not learning from our past mistakes. Although it was useless, Stage Center was an eccentric and recognized piece of art, and instead of replacing it with an equally iconic structure, they're building this: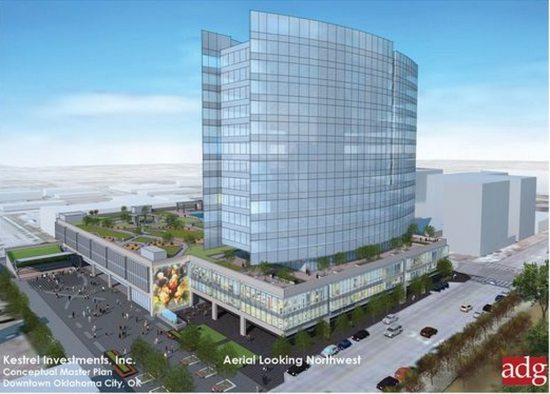 As we mentioned in December, that piece of Generica is the 14-16 story structure they want to build in the place of Stage Center. Not only is it boring and look like any other tower in any other city but it's going to be the home of OG&E. Is it possible to get any more boring and stale? If you're going to destroy an "iconic" piece of architecture in your town, at least pretend like you care.
Stay in touch
Sign up for our free newsletter