Everything Else
TLO Restaurant Review: I had lunch at Little Mike's Hamburgers. Thanks Obama.
3:41 PM EST on November 25, 2013
It turns out Meers isn't the only Obamaphobic restaurant in Oklahoma.
A few weeks ago, we told you about the nutty anti-Obama rant posted by the famous Meers hamburger dive located outside Lawton. The CliffsNotes version is that Meers changed hamburger buns, bought a new bun slicer, raised prices, and then wrote a manifesto to customers claiming it was all Obama's fault. You know, because of the Obamacare tax on carb-loaded oversized hamburger buns that doesn't exist.
After we published the story, we received tips from several Ogle Moles that there's a hamburger joint in Northwest Oklahoma City that also has extreme views and in-your-face political messaging. The name of the restaurant is Little Mike's Hamburgers. It's located in a rundown little strip mall near Northwest Expressway and Rockwell.
Coincidentally, the same day we posted the Meers story, a stereotypically heated political debate flared up on the restaurant's Facebook page. I guess some customer vocally complained about the decor in the restaurant. She was banned from commenting and eventually "Little Mike," the owner, left this post: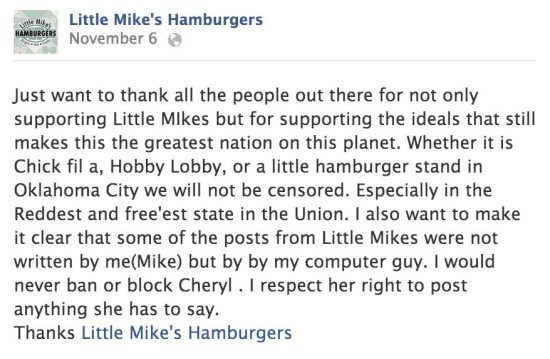 So he blamed the IT guy? That's a pretty good excuse. Middle managers and executives have made careers out of doing that. Little Mike obviously knows how business works. I'm just surprised he didn't blame Obama.
Intrigued by the Facebook debate, I stopped by Urban Spoon to read some reviews. There was a common theme. Decent food. Crazy political messaging:
If you're in northwest OKC, then try Little Mike's which is located in a strip mall on NW Expressway...The burgers are great, and I also like the grilled chicken and salad, too. There are lots of political quotes posted on the walls, so be prepared if you are easily offended.

-

The hamburger is delicious! As for the decor....I have more moderate political views but I definitely appreciate that the owner is standing up for what he believes.....It's nice to know that someone still cares so much about the direction of the country. I'll definitely eat there again....

-

Not a huge place. Not shiny and new. No hip and trendy decor. I'm sure the political prints turn some people off. But none of this takes away from a great burger and rings.

-

It's hard to visit Mike's without walking out feeling like you've just been accosted by Glenn Beck. Politics and burgers don't mix well for me. That being said, if you can look past the political nonsense, it's a pretty good burger place.
After reading the reviews, I knew that I had to try Little Mike's. Not only do I get a good laugh at ignorant tea party rhetoric and like a good burger, but I've always wanted to pull a Video Vigilante and write a restaurant review. Obviously, Little Mike's seemed like a good choice for my first attempt. So I called one of our trivia hosts – local band groupie Ryan Drake – and off to Mike's we went.
---
When you arrive at Mike's, you get the crazy uncle vibe right when you walk to the front door. Not only does the place look dirty and a bit run down, but you're greeted with the following sign:
Nothing says "Welcome" like an ALLCAPS sign that the screams only customers may use the restroom. What does it say about your restaurant when you have a problem with people just stopping by to use the bathroom? Makes me want to order hamburgers.
Once you enter, there's a walkway to a counter where you place your order...but you don't notice it. You're immediately surrounded and overwhelmed by anti-Obama messaging everywhere. It looks like a bucket of bald eagles exploded in the place. The windows, walls, TV's and pretty much everything are plastered with cheap 8.5 X 11 inkjet print-offs of fair and balanced political messaging. It's so bad that Snopes should open a field office next door.
Here's a poster board that covers a window by the entrance. You walk by a couple of them on your way to the order counter/register: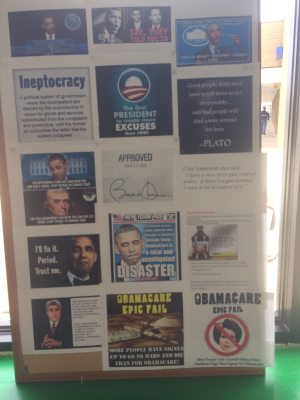 You place your order at a counter. The menu board is located above. I heard they give you a 5% discount if you recite the Pledge of Allegiance or denounce Islam: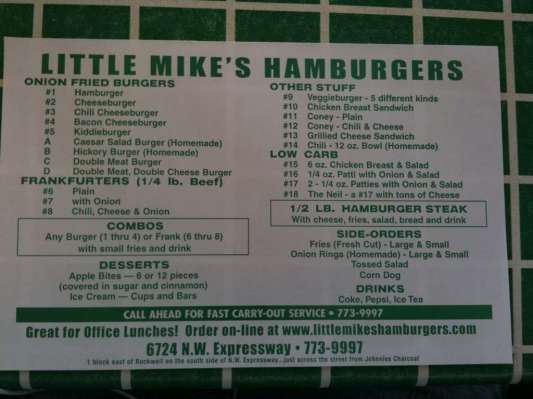 The restaurant was pretty slow when we got there at 12:45. I asked the guy who was taking our order what was good. He recommended the hickory and caesar burger. Ryan ordered the hickory burger with fries combo. I went with the bacon cheeseburger and rings combo. In all, the two combos cost about $18.
After placing your order, you head down to the soda fountain. It's hard to figure out what drinks they have because all you notice is this: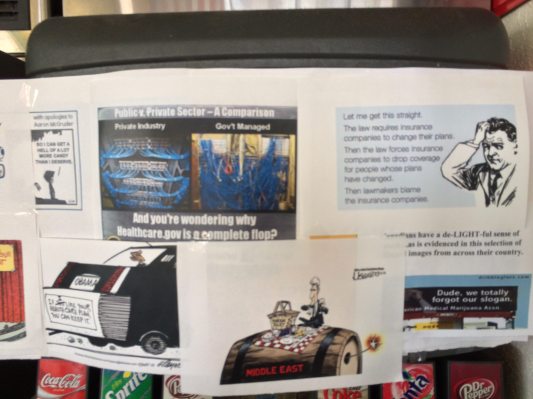 After we filled our drinks, we searched for a booth. We passed by this TV, which oddly enough, was tuned to Food Network instead of Fox News or the lunatic channel: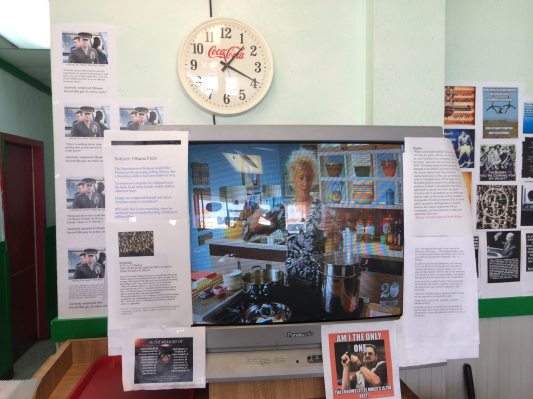 We found a booth near the entrance. Every one of them had this hastily put together list of Obamacare jokes.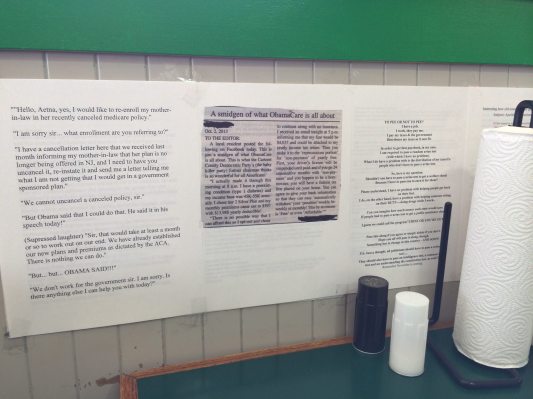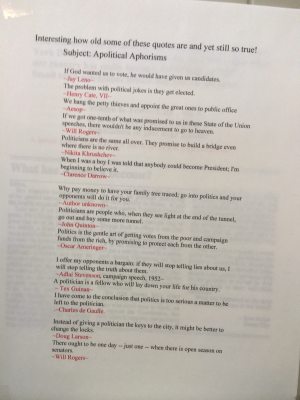 That was nothing compared to the rest of the restaurant. They have an Obama hate wall that takes up the entire west wall. Here's what it looks like: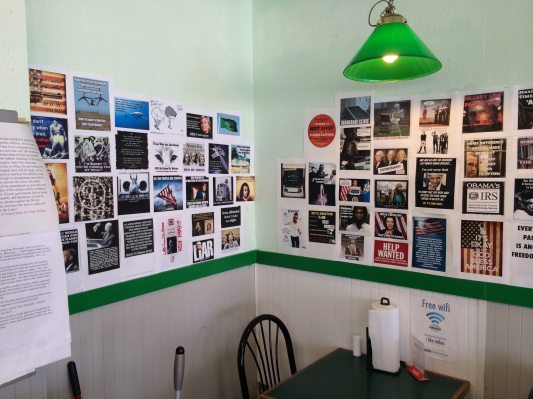 Hey, free wifi! I think that's the only non political sign in the place.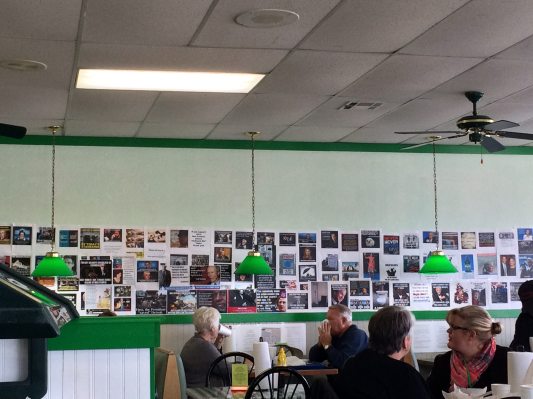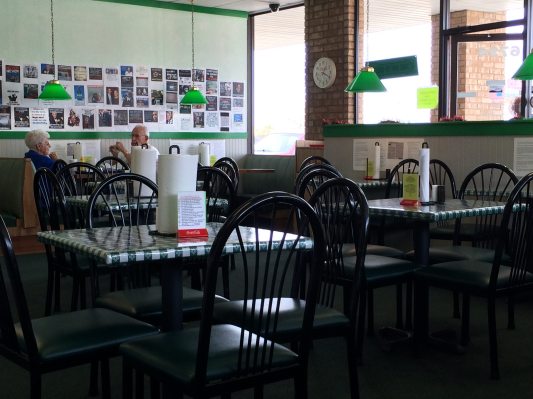 Here are some random close-ups: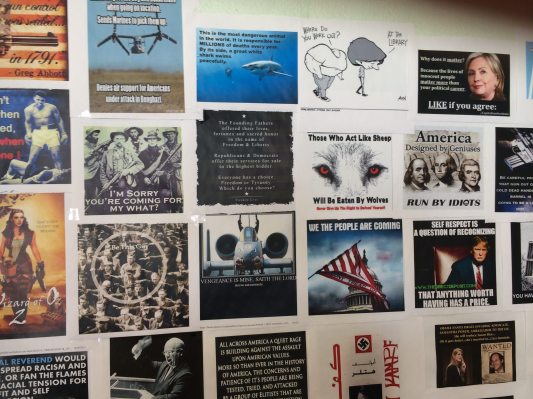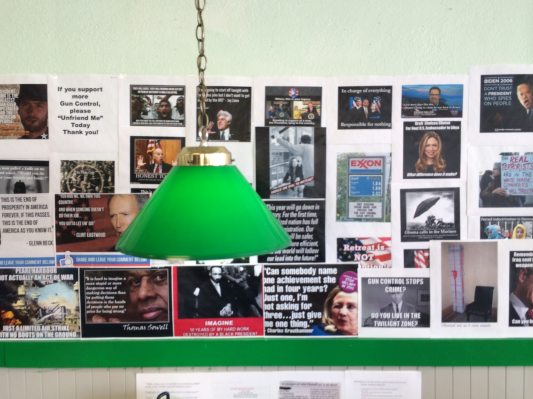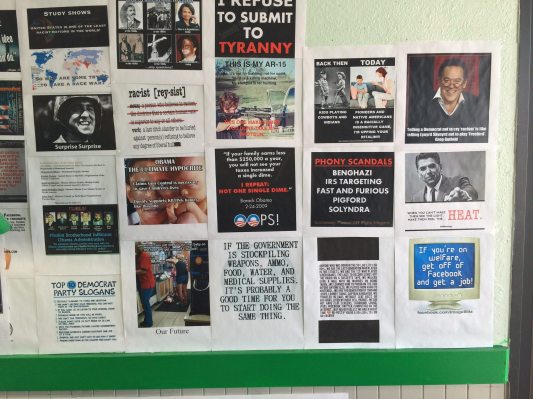 With all that around you, you're supposed to somehow enjoy a hamburger, and that's what Ryan and I tried to do. After about 5 - 10 minutes, our name was called. The burgers are served open face with nothing but meat, cheese and sautéed diced onions. They have a little salad bar area where you add toppings. Not that it mattered to me, but they don't offer tomatoes.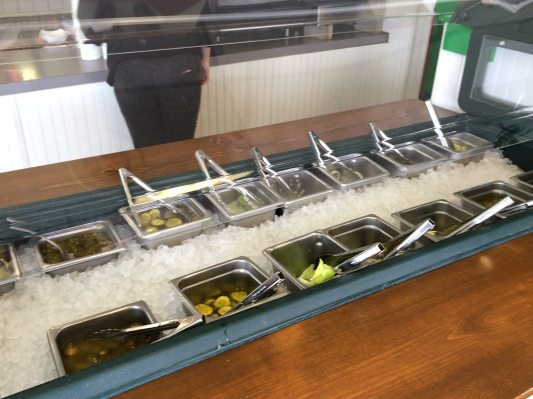 I wanted to actually taste my burger, so I left it dry other than a squirt of ketchup. Here's what my burger looked like: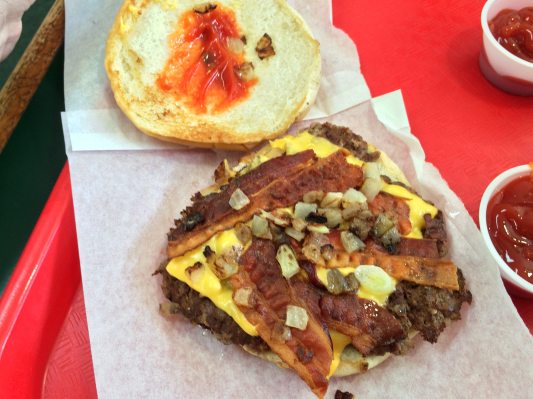 I was alarmed by three things:
1. The size. I didn't want or expect something huge, but it was pretty small for non-fast food burger. I don't think we have to worry about his bun supplier changing things up on him anytime soon.
2. The bacon. I'm pretty sure it wasn't fresh. In fact, I think it was pre-cooked.
3. The onions. Diced? Really? My old perverted roommate's family owns the JW Grill in Chickasha. I know what an onion burger is. Mike's doesn't appear to market themselves as a true onion burger stand, but dicing them up and tossing a few onions on a burger is a waste of time. They don't have the flavor to melt your taste buds. If you're going to offer grilled onions on a burger, do it right.
After examining the burger, I closed it up and took a bite and, well, maybe Little Mike should focus more on making a good burger instead of hating Obama. Just like Fox News and the restaurant's atmosphere, the patty was tasteless. It lacked flavor. I'm not sure the beef had any seasoning. In fact, the only thing I could really taste was the bacon. It may have been pre-cooked, but pre-cooked bacon is better than no bacon.
Even though the burger sucked, these were pretty good: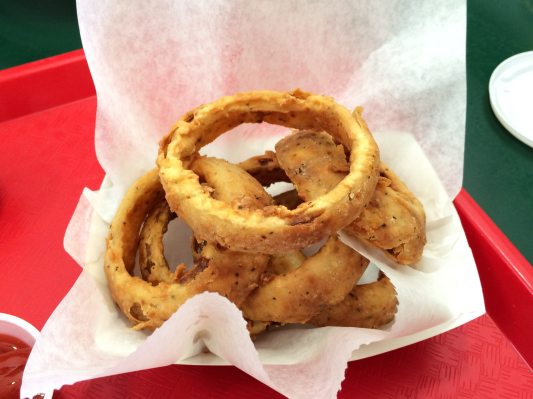 I'm pretty sure the onion rings were made fresh and they were not too greasy. They were not as good as Johnnie's, but they sure beat Sonic's onion rings. Then again, every place beats Sonic.
As I mentioned, Ryan ordered the Hickory Burger. His wasn't much better than mine. The one saving grace was that it was drenched in Little Mike's Hickory Sauce, or as Ryan called it, Fox News Semen. He also like the Diet Dr. Pepper. It was actually syrupy and good: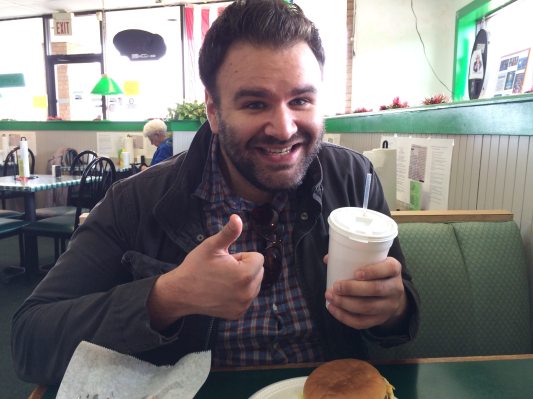 Don't worry. After taking that pic, we checked on the lady in the back. She was alive.
Overall, I would give Little Mike's a 2 out of 10. Once again, the onion rings were not bad, but you don't go to a burger place for the rings. Ryan was a little nicer and gave it a 3 out of 10. He really liked that Hickory Sauce, but had similar complaints about the burger. The burgers lack taste, seem cheap (they give you terrible heartburn) and are not any good when compared to other places around town. You can get a better burger that's cheaper at Braum's or Sonic, or a better, more expensive burger at McNellie's, Irma's or even Republic.
What you can't get at those establishments, though, is the quirkiness that comes with eating at a place that doubles as Glenn Beck's masturbation chamber. That's why I gave Little Mike's a 2 instead of a 1. It was kind of like eating at Medieval Times, Rainforest Cafe or Chuck E. Cheese. You don't go for the food, you go for the show and the atmosphere. In fact, the the former marketing guy in me would like to applaud Little Mike for promoting his Derplahoman side. It's actually a very smart tactic because...
A. It provides free advertising and exposure. This write-up helps his restaurant. For example, now that you've read this post you probably do want to stop by and see how bad the food and atmosphere really is. You're just curious, right? Worst case scenario, the pics on the wall would make a funny Facebook status or two.
Also, now that we've covered Little Mike's, expect other media outlets to do the same. Then the dominos will fall and Little Mike's will get more exposure. Hell, I wouldn't be surprised to see something in the Gazette on Wednesday. They're always a day or two behind.
B. It helps fellow Derplahomans forget the food is below-average. I think this is a big reason why the restaurant's Yelp and Urban Spoon scores are kind of high. Derplahoman's get such a sugar rush from the anti-Obama rhetoric that it makes their burger taste 10-times better.
C. It gives a great retort to negative reviews. If someone complains about the food quality, Little Mike can always say "They just don't agree with my outspoken politics." I'm sure some of you think that about me. You probably think that I have a bias or grudge or something. That couldn't be farther from the truth. The Obama Hate Walls didn't make the hamburger tasteless or pre-cook the bacon. Once again, I laughed off the political stuff as a weird novelty. It was like walking into a living freak show exhibit. Also, who cares what's on the walls as long as the food tastes good. They could display dead fetus anti-abortion posters at Braum's and I'd still eat there and complain when they get my order wrong.
On that note, if you want to see Little Mike's Derplahoman Emporium and get a good burger, I have an excellent idea. Go to Little Mike's, look at the walls, take a few pics, and then cross the street and go to this place: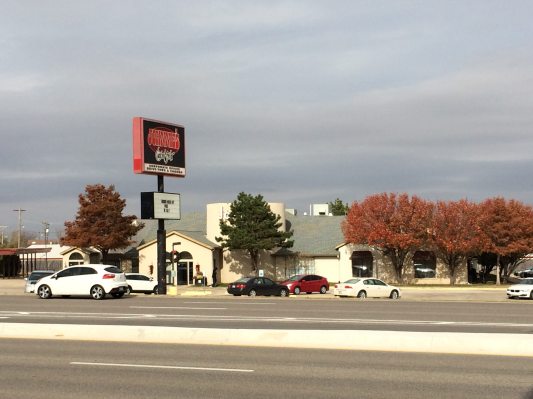 Just don't get hit by a car when crossing the road...especially if you don't have Obamacare.
Stay in touch
Sign up for our free newsletter