Everything Else
College Football Musings from the Train: Thanksgiving, Bedlam, and the Undressing of Baylor
11:30 AM EST on November 25, 2013
10) Oklahoma/Kansas State
Yeah, piss off OSU fan, I am not starting with your beat down of Baylor because Bedlam is coming up and eff you.
So ... about that Iowa State game being OU's last win ...
The Sooners ran over and around the Kansas State Wildcats in Manhattan Saturday morning to the tune of a 41-31 victory. The Sooners amassed 301 rushing yards and 472 total yards, while holding the Wildcats to 24 yards rushing. The Sooners averaged just under six yards a carry and gashed Kansas State, allowing Trevor Knight to play well in his first start on the road.
It was a tale of two halves for both the offense and the defense.
In the first half, the Sooners rushed for 234 yards, and surrendered 271 total yards to the Wildcats, which seems low considering Tyler Lockett had five million receiving yards on the Sooner secondary in the second quarter. But the Wildcats being who they are couldn't keep up that frenetic pace passing the ball and the Sooners' defense held K State to 101 total yards after halftime, forcing two turnovers including a pick six. This week everyone will bitch about OU's defense against the pass in the second quarter, but Stoops did a fantastic job gearing his defense to stop what Kansas State does best - run the ball.
It is amazing to watch this same OU team that committed a dozen idiotic penalties in Waco and wasted timeout after timeout on offense turn around and play smart, efficient football on the offensive side of the ball. This was truly the first OU game this season that the Sooners looked like the Sooners' of a decade ago.
-
9) Welcome to 2013, Trevor Knight. Clint Chelf is glad to see you
When Knight was named the starter in August, this is what OU fan expected out of the offense. 51 rushes, 301 yards. 20 passes, most of which were of the play action variety, for 171 yards, one touchdown, and an interception that frankly didn't seem to be the fault of the quarterback. Oklahoma held the ball 11 minutes more than K State. They outgained the Wildcats by 100 yards running one more play. It was what many OU fans (this one included) has wanted to see from OU against a decent team this year. Moreover, it what OU fan expects to see the next three years.
Trevor Knight isn't Johnny Manziel. He isn't Vince Young or Pat White. But he is an excellent running quarterback - a guy who is likely to rush for 1000 yards a season the next few years. And he is a guy that given a few more starts will be a good passing quarterback. It is hard not to compare the development of Knight and Clint Chelf, as both in September were at best struggling, at worst left for dead. Now it is apparent that both and Knight and Chelf are the present for their respective teams.
-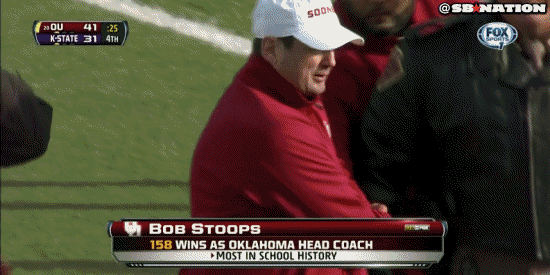 8) Stoops passes Switzer
25,000 daywalkers sobbed. Big ol' Camaro riding, mullet sporting tears.
-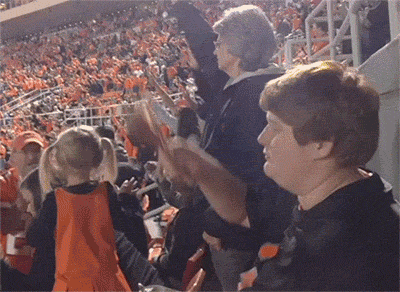 7) Oklahoma State - class of the Big XII
I guess OSU is the best team in the conference.
The Pokes dismantled previously unbeaten Baylor 49-17 in a game that never seemed that close. The Pokes did it with a suffocating and timely defense, and Tom Brady, who stole Clint Chelf's jersey for a few hours Saturday evening. The Cowboys forced three turnovers, "held" the Bears to 453 yards of total offense, and stifled the Baylor run game to the tune of 2.6 yards a carry. Even when Baylor tried to run the ball (e.g. first half), they had very little success, especially outside the tackles where their playmakers have made a living this year.
But let's be honest - we kind of expected OSU to have some level of success on defense, which has been the best in the conference all season, and continues to prove the doubters *pointing in my direction* wrong. The play of Clint Chelf on the other hand was nothing short of stunning Brandon Weeden and torch the Bears' secondary, completing 19 of 25 passes for 370 yards, three touchdowns and no picks. He also caught a 48 yards pass. This wasn't one of those "throw a few bubble screens and watch the playmaker run down the field" type days. Chelf has looked like a completely different passer the past two weeks, throwing darts into coverage and giving his wildly underrated receiver corp chances to make plays down field.
It was global domination by a team no one in the country is going to want to play. How good was OSU? Jeremy Smith averaged 5.9 yards a carry.
-
6) The evolution of Oklahoma State, circa 2013
On Saturday, October 5th, Oklahoma State was six minutes away from losing its second straight conference game to a lesser opponent, trailing Kansas State 29-23 at home. The Pokes would come back to win that game 33-29, but were outgained by the Wildcats and were the recipients of five KSU turnovers.
Since that game, OSU hasn't allowed a team to finish within two touchdowns of them when the final gun sounded. The Cowboys have scored 38 or more points all but one game. The defense has allowed an average of 16 points a game. Most recently, they crushed Texas and Baylor, now two of the top three teams in the conference, by a combined 87-30. Chelf has rattled off four straight games of QB ratings over 110, with 10 TDs and three INTs to go along with 64 yards rushing per contest. The defense, in 2011 fashion, has forced 17 turnovers the past five games. The Cowboys rank in the top 15 in both offense and defensive scoring. It has been a turnaround predicated on a good, fast, opportunistic defense and a complete reversal of its signal caller.
-
5) Baylor is 2008 Oklahoma
Baylor saw what happens when your record-setting offense runs into a good defense. In 2008, the Oklahoma Sooners rattled off something like 34 straight games scoring 60 or more points in route to a spectacular shit storm against Florida where OU's inability to run a ball control offense led to a paltry 14 points and a loss against a good, but not all-world Gator squad.
All those points are awesome and fun and make for great television. But when you turn the ball over and can't grind out a drive and your opponent has the ball 12 minutes longer than you and is able to shorten the game (e.g. Baylor ran only 35 plays in the second half), you don't win. When Oklahoma played a defense that has speed and was stout up the middle, they simply could not grind out a first down or punch in a goal line run. Having the ball for 12 seconds on a three and out  is going to hurt your defense at some point. And the Bears fast-paced basketball offense was exposed Saturday night.
That offense will always destroy bad teams and struggle against good teams.
-
4)  Clint Chelf and Trevor Knight ... Sorry, I was a bit off
I guess I owe at least one guy an apology.
Both schools are at a crossroads regarding the development of a quarterback that can lead each to a conference title in the future. It would appear neither school will accomplish that goal this year

...

It's time for Gundy to stop the flip flop and give Walsh the keys for good until a better option emerges on campus.
Then there is this from September 30, 2013:
Bell is more than a serviceable quarterback. He can complete the easy to average pass. He can make plays when said plays break down. He provides a legitimate running threat at the quarterback position. And best of all, he doesn't seem to turn the ball over…five times…when he plays a good opponent on the road.
-
3) Florida ... Bwhahahahahaha
Florida is 4 and fucking 7. Think about that pissed off OU fan.
Wait ... wait ... that includes me.
This is the same program that won back to back championships 5 years ago, and lost to a middling FCS also ran at home in the form of Georgia Southern. Not Georgia. Not Georgia Tech. They of the 429 total yards of offense without a completed pass Georgia S- ...
Yes, you read that correctly. Georgia Southern, who is 4-4 in a FCS conference, ran for 429 yards and passed for 0 in a 26-20 defeat of the Gators. The Bulldogs (?) ran 54 times and threw three incomplete passes in the most statistically improbable win of the year.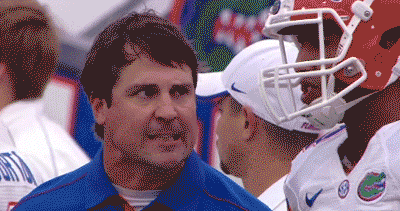 Will Mushchamp is going to kill someone this week.
-
2) The Heisman no one wants to win
Two weeks ago, Johnny Manziel, Jameis Winston, Bryce Petty, and Macrus Mariota were locked in a four way dance to determine who was the Heisman frontrunner.
Manziel, seeking to become the first back-to-back winner of the trophy since Archie Griffin has commanded three losses this season, including an ugly performance Saturday in Baton Rogue, going 16-41 with 2 picks against an average LSU squad.
Petty and the Bears' offense was undressed by a Big XII defense Saturday night.
Mariota's Ducks were embarrassed by a mediocre Arizona Wildcat team 42-16, a game which included 2 picks from the Oregon quarterback.
Winston is a little rapey (allegedly).
If he can avoid stealing a Buick ... A.J McCarron, welcome to New York.
-
1) Bedlam prediction
We get sometime off this weekend. Then we have Bedlam.
Unless Clint Chelf is in fact the second coming of Colt McCoy, Oklahoma should be able to somewhat limit the Cowboys on offense. Unfortunately for Sooner fan, the Pokes' defense is legit. The Sooners will struggle to score in Stillwater. I reserve the right to amend this prediction when I see the line.
OSU: 27
OU: 13
Stay in touch
Sign up for our free newsletter