Everything Else
Oklahoma Christian hosted a big awards ceremony for Lord England, Mike Morgan and that Damon Lane guy (photos)
2:00 PM EDT on September 30, 2013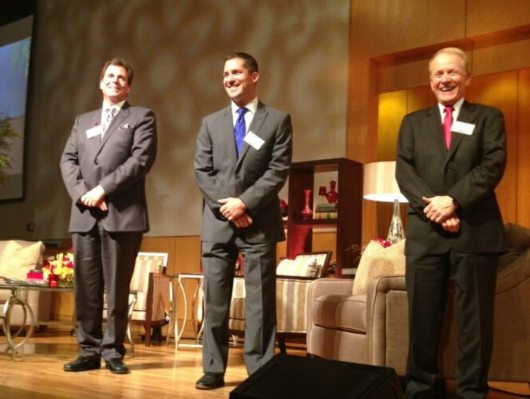 No, that picture isn't fake. Also, Mike Morgan, Gary England and that other dude are not about to block a free kick. They were actually receiving the Lee Allan Smith "Spirit of Oklahoma" Award (whatever that is) at their annual Associates Gala (whatever that is).
From NewsOK.com:
Three lifesaving meteorologists will receive the Lee Allan Smith Spirit of Oklahoma Award at Oklahoma Christian University's Associates Gala.

The 11th-annual dinner, featuring Oklahoma City Thunder broadcaster Grant Long as the keynote speaker, will be at the National Cowboy and Western Heritage Museum on Sept. 26 at 7 p.m.

OC will present the Lee Allan Smith Spirit of Oklahoma Award to KWTV's Gary England, KOCO's Damon Lane and KFOR's Mike Morgan for their tireless efforts to keep people safe and informed during the May tornadoes.

The award, given annually to individuals who have devoted themselves to the betterment of Oklahoma, is named for Lee Allan Smith, a tireless proponent of Oklahoma City and the state as a whole.

Previous Lee Allan Smith Spirit of Oklahoma award winners include Oklahoma City mayors Ron Norick, Kirk Humphreys and Mick Cornett, and former Oklahoma governors and first ladies George and Donna Nigh, Frank and Cathy Keating, and Brad and Kim Henry
That's cool. It's about time that someone else around town learned that heaping praise on local weatherman will bring visitors and attention to your obscure local university and/or website. It's just a shame that we weren't there to appreciate it. Clark Matthews could have read some of his dirty weather limericks and I could have shared the Gary England origin story. Seriously, how did we not get tickets to this??! We're the authority for local weatherfolk. Who do the people at Oklahoma Christian think they are? The New York Times???
Overall, we heard the ceremony went great. There were only a few complications. The first was when the state map of Oklahoma suddenly appeared at the bottom right corner of the projection screen and alerted the audience to a flash flood watch in Roger Mills County. The second problem took place when something called a Damon Lane got lost in the moment and wet his pants on stage. You also had some hyperactive toddler and David Payne making strange, loud noises in the back of the room, but that happens at any event.
Here are some pics and tweets from the ceremony. I'm going to warn you, some of them are surreal. First, we had severe weather deity Gary England pose for a pic with Princess Snowflake Emily Sutton:
Both of them seemed to be mutually starstruck:
I wonder what Lord England did to warrant the "Jokester" label. I bet he used a common weatherman pickup line like "Nice mammatus," "Let me analyze your contours," or "Want to see my lightning rod?" Or maybe he literally made it rain or lit a cigarette with a bolt of lightening.
In all honesty, it's kind of weird seeing Lord England and Princess Snowflake share a moment together. I guess we now know how Jason Schwartzman felt when Bill Murray hooked up with the pretty British girl in Rushmore. I'm not going to complain, though. As Mel Brooks says, "It's good to be the king."
Anyway, if you think that pic was weird, check out this one that was sent to us by our favorite Ogle Mole and Roman Travel Correspondent Marla Morgan: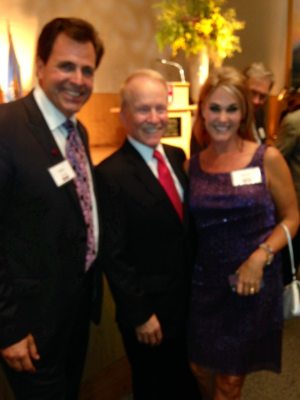 If that pic looks a little blurry, it's because the camera was in the process of fainting.
That just bizarre. These guys are rivals and according to the Ogle Mole Network do not like each other. Maybe tomorrow we'll post a pic of Bob Stoops and Mike Gundy sharing a root beer, or black shoes having lunch with a brown belt.
Finally, the other weatherman who's not Rick Mitchell was also honored at the event. He was tweeting and retweeting like there was going to be a blizzard on Christmas morning: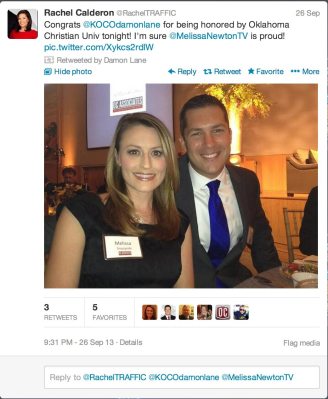 -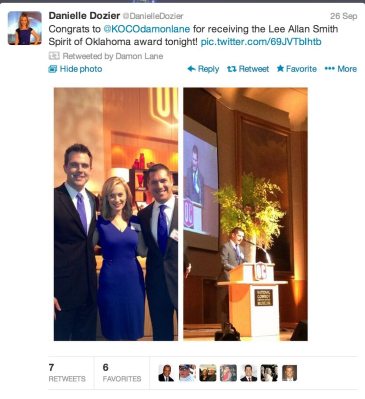 -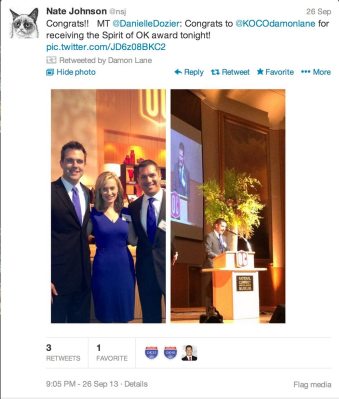 When he wasn't re-tweeting other tweets, he was sending out his own:
So imagine you're Gary England. You went to this cheesy awards ceremony and got to hang your arm around Emily Sutton and Marla Morgan. You're big time. Then, out of the clear blue, you have this Damon Lane character sending fanboy tweets to you. That would suck, although Gary England handled it like a pro. He acknowledged Lane's presence three days later:
Classy move, My Master. In your name we trust. May you always keep us advised.
Anyway, I think it's now about time that we launch our own weather awards show. We could probably think of 20 good categories. They could range from best meteorology team, storm chaser, and doppler radar to best use of the OKC skyline when reviewing the current weather conditions. We could sell tickets, have the proceeds benefit a charity, and most importantly, be able to attend the damn thing. That would be cool.
Stay in touch
Sign up for our free newsletter